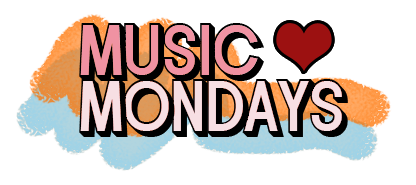 Sara Bareilles - Love Song
Record Executive: Hey Sara, I think you need to write another good love song to be successful in the music biz. Just look at the top charts! They're filled with love songs.

Sara Bareilles: What?! I just wrote you one the other day! And you want another?!

Few days later.

Sara Bareilles: I've just finished writing another love song.

Record Executive: I'm glad you took my advice. What's it called?

Sara Bareilles: Love Song.
And that's exactly how
'Love Song'
, Sara Bareilles' biggest hit to date, came about, in a nutshell. Sorry to disappoint, but the song,
'Love Song'
, is definitely not about Love. Ironic, much?
'Love Song'
pretty much expresses the frustrations that Sara faced with her record company, which explains the lyric,
"I'm not gonna write you a love song / Cos you asked for it / Cos you need one."
"I'm not gonna write you to stay / If all you have is leaving / I'm gonna need a better reason to write you a love song today
" She's trying to say that it's not worth having to write a love song under so much pressure and no one really cares about the song except for the money that the record company will earn from it so she'd rather leave.
And I really loved the concept of the music video. I loved how they portrayed this whole situation as a music jukebox.
"You want another love song? Sure. Just put in a coin."
Until it gets to a point when she gets tired of singing the love song and she just refuses to do so anymore and just stops playing.
Brilliant Love Song, ain't it?
(Even if it's not about a love song at the end of the day. Heh.)
Labels: Music Monday
Happy Birthday Dad.
... he who turns 49 on this very year.
"Just pass it to me. I will fix it for you"
was what my dad said to me when he saw me struggling to connect the parts to my mini Tamiya Car. There I was drenched in sweat, figuring which part goes where and my dad, almost without any effort at all, took over and fixed my Tamiya Car with ease. He makes it look so easy, I'm actually ashamed of myself.
"Anything else you want me to do?"
I told him I needed to buy some other parts from the shop opposite the street near our house. It was quite late at night but he got dressed in an instant and brought me to the shop to get the parts that I was missing and my frown turned into a smile.
Tamiya Cars were really the biggest thing back then in the early 2000s. Knowing that, my dad bought me an entire race track so that I can play my toy car at home. The race track was huge, so huge it took up almost my entire room. But I was happy because that was actually the best birthday present he had ever got for me.. ever.
Without fail, he'd bring me to various places in our hometown area to play my car
(cos there were race tracks everywhere.. outside provision shops)
probably because he didn't want me going there alone. Unfortunately for me, that was the last sweet memory I had.. spending quality time with him.
My dad and I share a very complicated relationship. We don't talk much to each other anymore. In fact, we hardly talk at all. Save for our good looks, that was the only thing we had in common. I get envious every single time I see my friend interacting so well with their dad. Makes me wonder, why isn't my relationship with my dad like that?
He was never there for any of my achievements since primary school. I took part in a Relay Race and landed 3rd place but he wasn't there to share my joy. When I collected my PSLE & O Level results, he wasn't there either. I understand. He's just too busy with his job, which takes up too much of his time.
I realised that every single time he's present at a key milestone in my life, I only had nothing but bad memories of it. When I first got enrolled into Bedok Green Secondary School, he shouted at me in public at the school canteen for not knowing how to tie my shoe laces. Until now, I find it ridiculous how he never got the patience to teach me. I slowly figured it out on my own in the end despite taking the shortcut and just tucking the strings inside the shoe.
When I got enlisted into NS, he had nothing good to say to me. All I remember was that he told me,
"You're gonna die"
Well, not literally. Thanks for the support dad!
And on my first book-in to camp, he said a lot of hurtful words to me, which was seriously very degrading to me and not needed at all. It seemed as if he had been bottling up all of those feelings for a very long time and he just exploded there. He regretted after that because he tried to give me a hug and made an apology to me
(for the first time ever)
and said he only said what he said because he cared for me. Being hurt by his words and actions, I just shrugged him off and I said,
"Go away. I do not want to talk to you."
And on that very day, I booked in to camp with tears in my eyes. It was embarrassing. Everyone was looking at me, but I just couldn't control it, as much as I had wanted to.
My dad wasn't there to share his NS experience with me. But there he was sharing his experience with my other cousins when that should have been me. My dad wasn't there for me when I needed someone to stand up for me when my aunt was spewing lies after lies about me. Instead, he took her side, forced me to apologize to her and once we reached home, I received a good beating from him. I just wished he'd asked me, what happened in the first place. But he didn't. The whole world was pretty much against me at that point of time. No one stood up for me. And I just took everything in despite it not being the truth.
When others asked my dad about my favorite sport, he told them I'm not that much of an athletic person. You think I asked for any of this? My dad never brought me out to play soccer or hardly any sports at all. My dad wasn't that much of an influence to me.. at all so why was he making it seem like everything I do is entirely my fault?
Sometimes, all I ever needed from my dad was something that no amount of money can buy. And that something is his precious words of encouragement, which may mean nothing to others but might just mean a lot to me.
I just needed someone to tell me,
"Congrats on your results!"
instead of
"Why (insert cousin's name) did better than you?"
in reference to my O Level results, which was one digit away from being a single digit.
(I thought that was good enough. But not good enough for him, I guess.)
Or even,
"Don't worry about NS, you'll be fine. Take every day as it comes."
instead of
"Just let him be la. He never go exercise. He will just die in NS."
But I'm glad I had my uncle in Sydney calling me to talk about his experience and what to expect.
Even until now, when I left for Brunei, while we were at the airport departure gate, I wanted to see if he'd say anything.. a goodbye at least. But he didn't. He said nothing to me for the whole week before I left. It seemed like he didn't care about me at all. Maybe I'm just expecting too much. Or maybe he did cared about me but he didn't know how to put it into words.
Relationships are broken most of the time because of words being left unsaid.
I try my very best to be that perfect son to him. I know I'm different from most guys out there. But I try, no matter how harsh he was and still is to me, I listen, do his bidding and respect him. His words always have their way of affecting me. When he commented that the house was messy, I pick up a broom, despite the time, and start sweeping the floor till it's dust free. When he said I'm always eating, I just stopped eating.
Despite all of this, my dad should know that I'm proud of him for being a Prison Officer. And I can only imagine what it's like for him looking at the photos he brought back home after every event or when he gets promoted to a higher rank. He never talked to any of us about his job, but I wished he did.
We may feel awkward talking to each other but that never stopped him from being a father to me. He actually does care for me, I just have to open my eyes wider to see it. And this side of him does exist.. and only shows rarely in certain cases when I'm sick.. or when I lost my phone, in which I was expecting him to shout at me but he didn't. He just bought me a new one, straight after work.
That's my dad for you. It may seem that I do not care or bother about him at all.. but in fact, I do. I don't know what our family would do without him because though he may not be there at key milestones in my life, he was there for me most of the time when I was so much younger, fixing my bicycle whenever it broke down or replacing the tyre whenever it gets flat, fixing the television, computer and the list goes on and on.
He may know how to fix almost everything.. but I just wished he knew how to fix and mend this broken relationship between him and me.
Happy Birthday Dad.
Thank you for everything you've done for me all this while since young. And don't worry, I won't dump you into the old folks' home when you're older and.. irritating cos that's the right thing to do.. after all you've done for me.
Labels: Daily Musings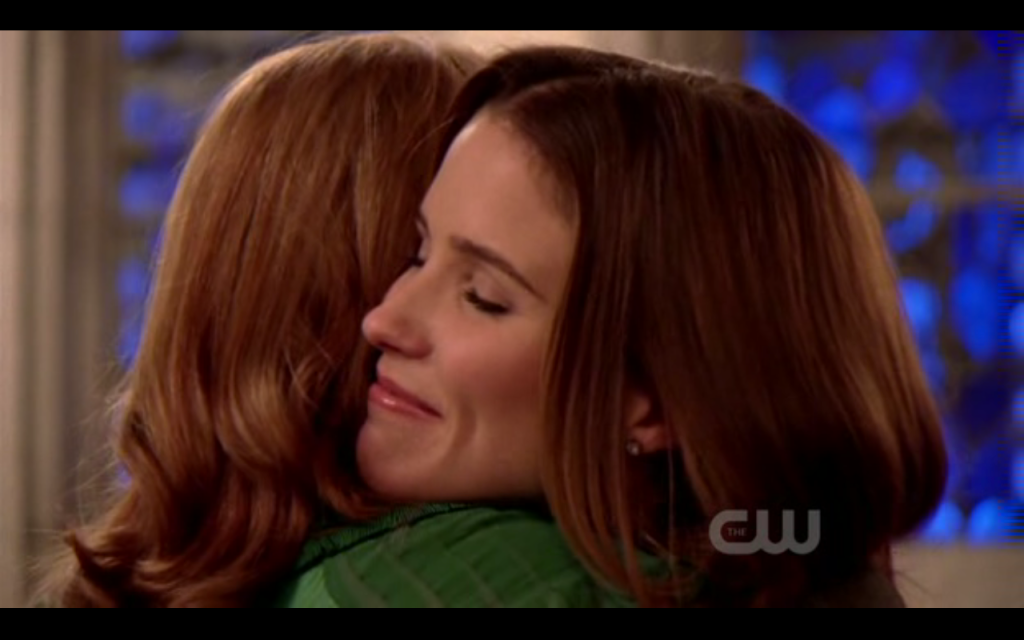 What you did in here.. it's amazing Haley. No one has ever done something like this for me before. It's funny Peyton always used to say that people always leave.. but when they did, I was always the one who was here for her. This year has been the hardest of my life and you know who was always here for me? No matter what? My maid of honour. You.
I cried at this scene. Just because it hurts. How could Brooke say that about Peyton?! But most importantly, why are they trying to kill the amazing Brooke/Peyton friendship? Their friendship was by far one of the strongest in the entire One Tree Hill series. They went through so much together. It was comparable to that scene in season 4 when Brooke made fun of Peyton's mom and Peyton said something like,
"This year was one of the hardest of my life and I needed my bestfriend here for me."
Peyton, you suck. I can't believe One Tree Hill is going to end just like that without a proper reunion with Chad Michael Murray and Hilarie Burton. Next week's episode better be good though. :(
Labels: Food For Thought
Pure Perfection.
Sophie-Ellis Bextor - Not Giving Up On Love
I know your feeling restless
Like life's not on your side
It's weighing heavy on your mind

But when we stand united
Our hearts they beat in time
And I know we'll make it all alright

Let's bring it back to you and me
There's no one else around
Now don't get lost in gravity

'Cause I want you to hold me now
Nothing else matters
It's just the two of us
And if it all falls down
Nothing else matters
I know we're strong enough

I'm not giving up
I'm not giving up on us
I said I'm not giving up
I'm not giving up on love

We're of the same existence
No lock without a key
We can't deny it's meant to be

Cause I feel it inside
Taking over tonight
I'll be there when the storm is breaking

In this moment I'm yours
You can always be sure
That together we're gonna make it
Labels: Song Of The Moment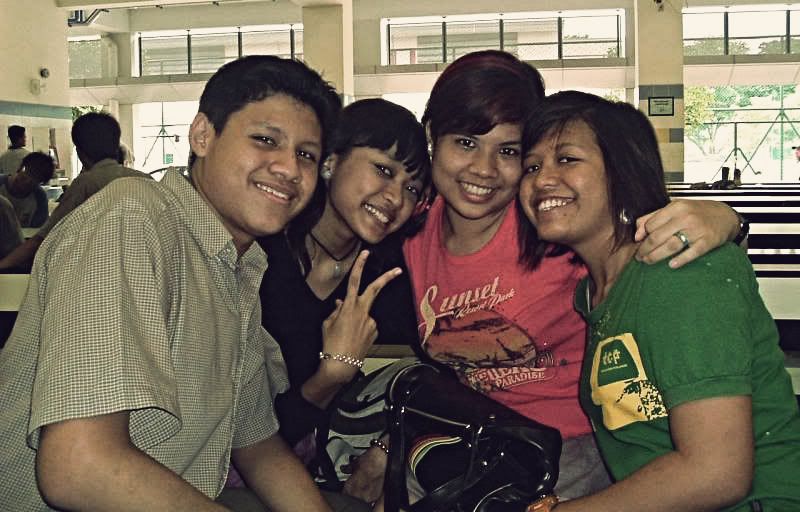 Circa 2006. 5 years ago.
The best thing about photos is that it never changes, even if the people inside it do.


- Andy Warhol
I stumbled upon the above mentioned quote while I was surfing the web earlier on. The quote pretty much sums up what I've been feeling over the past few years or so.
People always change. If it ever was a crime, won't we all be in jail right now? All of us are guilty of changing into someone different from who we were in the past. For some, it could be a positive change.. whereas for others, negative.
I've always mentioned, 'Happiness is giving up'. How true is that?! We forsake our own happiness by letting go of the person we love in order for them to be happy. The price we have to pay for happiness.
After all, the ones that really matters the most to you will always, ALWAYS stick with you no matter what. They may get lost along the way but they'll eventually find their way back to you. Just give them time.
But then, aren't friends about accepting each other's flaws? And if you can't accept someone else's flaws, that makes you a bad person? To a certain extent, yes that is true. But sometimes people change into a totally different person.. that you hardly recognize no more and there you are taking in his/her flaws one by one until one day, you just can't deal with it no more. And everything just ends with a full stop right there.
Labels: Daily Musings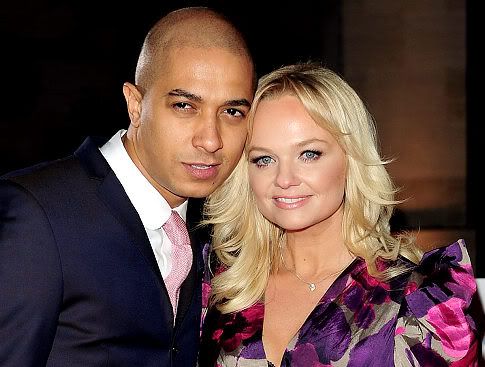 Mr and Mrs. Jones
Just call her Mrs. Jones from now on.
You probably know her by her nickname, Baby Spice but Emma Bunton will now be more than just that! She's Officially a proud Spice Mama (She has one son named Beau) and..
She's just recently gotten engaged to her longtime boyfriend of 10 years, Jade Jones. Oh and just
check out her engagement ring
that she's not afraid to show off to the whole world..
BEAUTIFUL.
I'm excited for her and all but I mean seriously,
What took you so long (pun intended) to get
Labels: On The Internet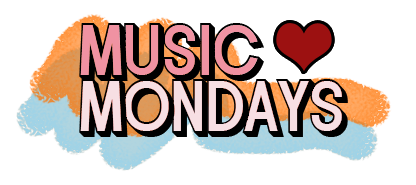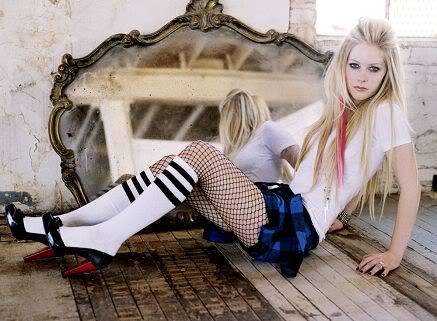 I've always though she looked a lot like Sarah Michelle Gellar from Buffy.
Avril Lavigne has come a long way since her debut with her first solo album, 'Let Go' in 2002, which spawned hits such as Complicated, Losing Grip, I'm With You and not forgetting, Sk8er Boy - The song that made me fall crazily in love with her at that point of time.
Then she released her sophomore album, "Under My Skin'. She had the whole dark-emo thingy going on.. which sorta did work out for her. And it was my favourite album from hers to date.. probably because it involved a lot of teen angst.
In 2007, she proved to all of us that she was 'The Best Damn Thing' with her crazy infectious yet tongue-in-cheek Number 1 hit single, 'Girlfriend'. Hey Hey You You I Could Be Your Girlfriend! Okay we sorta get it. You're great. And you want to name your album as such. But honestly, it was not 'The Best Damn Thing' for me though.
Now.. she's back! Fresher.. fiercer and even playful. Her first single 'What The Hell' taken from her upcoming album, Goodbye Lullaby, is playing all over radios. And though it lacks the 'oomph' that is present in 'Girlfriend', it still is not bad though. In fact, it's so good. I'm like what the hell?
You're on your knees
Begging please
Stay with me
But honestly
I just need to be a little crazy
I love the song. Now I want the album!
Labels: Music Monday
Eat liver and onions?
Gross. But I'll close my eyes, pinch my nose and swallow it anyway.
Let someone punch you in the face?
Yes. As long as he's not Clark Kent.
Have your life end 6 months before it's really supposed to?
I think this is worth more than a million dollars. So nope. Not worth it.
Give up music for the rest of your life?
Hell No. I'll never do that.
Date someone the same sex as you?
It's just a date, right? Nothing more. So yes.
Eat snake for dinner?
I'm starting to get grossed out. But yes, I'll do it.
Not shower for a year?
Omg. Can you just imagine the stench? I don't think I can do this though.
Never eat your favorite food again?
I probably won't.
Give up the internet for 10 years?
No! Internet is my oxygen. I need it to survive!
Kill a cow and eat it for dinner?
I doubt I 'd have the balls to do this even. And I love cows. No.
Punch your grandma in the face?
Haha. With the family background that I come from, they'd probably hate me if I did this. But I'll make a deal with her and split the million into 50-50 with her, if she'd let me.
Dance naked in front of your family?
Awkward. But I will. Haha!
Never read a book again?
Definitely.
Never eat meat again?
It's worth a try, yes?
Give your pets away?
No!
Give up television for the rest of your life?
I will die! I need the television!
Shave your head?
Why not?
Live the rest of your life weighing 250lbs (about 100kg)?
No. I do not ever.. ever want to weigh that much ever.
Play one round of russian roulette?
Lol. I'm scared. And I'm too much of a coward to do this. So nope.
Go on a bread and water diet for two years?
Maybe one year? But for two years, nope.
Never get married?
Maybe. I might.
Give up your driving privileges?
I don't even have a driving license to begin with. So I'll get people to drive me around, cos I'm the boss.
Leave Singapore forever?
Of course! This country is too expensive.. far too expensive.
Not brush your teeth for a week?
Disgusting. But I would. And not talk to anyone for that whole week.
Kill an innocent person?
No. I won't be able to live with the guilty conscience that comes along with it.
Kill a murderer?
I'm not capable of this though.
Never own a pet the rest of your life?
Yes. I'm sorry little kitties.
Give up facebook forever?
Why not? My whole life doesn't revolve around it. But if it's Twitter.. then we have a problem.
Never travel anywhere?
Nope. Not for a million. Not for any value. Never.
Never watch your favorite TV show again?
Unfortunately, yes I would.
Dig up a grave
? I'm curious to see what's underneath. But I'm too much of a scaredy-cat to do it.
Never swim again?
Yes. Easy as a b c.
Live somewhere it's cold all the time?
Yes. It'd be perfect.
Live somewhere it's warm all the time?
Well, I survived living in hot and humid Singapore for 20 years now. So yes.
Give up your sense of smell?
What nonsense. Never.
Give up your sense of taste?
I said no.
Cut off one of your body parts?
I think every part of my body is worth more than a million each. So no.
Take a bite of someones poop?
What's with all these questions?! But out of curiosity, I might.
Donate half of the million to a charity of your choice?
Most definitely yes!
Donate all of the million to a charity of your choice?
Most definitely yes!
(Source)
Labels: Random
"Wow. It's Friday already!"
"What?! We've been here for FIVE days now?"
"Man, that was fast."
Yes, It's officially my fifth day and I'm still adjusting to the lifestyle here. I can't believe it's already five days. I could still remember the day I left Singapore to come here like it was yesterday.
0200.
Walking in and out of my own room, I was getting super paranoid about everything. First of all, I can not get myself to sleep. Next, I was unsure if I had remembered to bring all the items I had needed for the next 12 months. But facing the reality of all, I was actually anxious about the next day. I was not ready to leave at all.
"Why didn't they give us another week to prepare for this?"
, I thought.
0300.
I knew I was way past my bedtime and I had only 2 and a half hours left to sleep before I leave for the airport. Fine, I'll just stop getting panicky about everything and just sleep for once. Closed my eyes.
0530.
My mom woke me up. It's time. I woke up feeling like I only slept for a minute or two. Insane. I took a shower for the last time in my house and got myself ready.. for d-day.
0630.
Time flies super fast in the morning, doesn't it? Before I left the house, I snapped a few photos of my room.. just so that I could remember how it was.. the way it was.. before I left. Finally, I loaded all of my heavy bags inside the car, wondering how the hell I was gonna carry all of those bags all my myself. But that was the least of my concern.. at that moment. I was figuring out how to say goodbye to them.. my family. Then, to my surprise, Mena and Hannie arrived at my house! They were without any makeup on and I was so glad that they were following us to the airport.. just to send me off.
0700.
We reached the airport. I saw a few of my fellow friends whom shared the same fate as I did. I checked in my bags first. 29.5kg. I got the shock of my life. That was my heaviest luggage to date! And well, I didn't have to pay the extra charges, which was a good thing actually. Just imagine all the money I'd have to end up paying! Oh god.
At the airport. After check in!
After checking in the bags, I had my final breakfast with my family (Mena and Hannie included, cos they ARE family.) We had 'roti prata'. And honestly, that was by far the best 'roti prata' I've ever had in my entire 20 years of life. The feeling of contentment, love and satisfaction that came along with it was just.. priceless. I'm glad I got to eat it with the rest of my family seated with me. A great feeling, it was.
I sat down with them for a long time, almost forgetting that I am leaving them for a whole year to go to Brunei. We talked about a lot of things. But I remained quiet most of the time just because I just wanted to remember that moment - That moment when nothing else matters except for your family.
0830.
This is really happening, isn't it? - I questioned myself. We slowly walked to the departure gate and there I was holding back my tears as much as I could
(like a true man, I kid)
. Whether I was ready or not, I had to go eventually. I gave each and every one of them a hug before saying my final goodbyes. It was hard, but I did it. As I started disappearing from their sight, I gave them a flying kiss then I walked as fast as I could. Yeah, then the tears started flowing like a tap water that could not be stopped.
That was by far the hardest thing I ever did. It was not walking 24km with a huge load on my bag nor was it a never ending 8km run.
It was just a simple goodbye.
The ones I love.
My family.
And now, I'm here. After a 2 hour flight journey and many bus rides that came along with it.. followed by another 45 minutes ferry ride. I'm happy I managed to still contact my mom and video call both her and my sister. Never has a single day passed while I'm here have I not thought much about them. I think about them all the time - How they're doing.. What they're doing. I miss them a lot. And I'd do anything just to see them again.
Mom and sister. Love them a lot.
I've yet to unpack all my items due to some problems but everything is all good. There's internet here and with internet, I will survive. And I'll definitely survive the next 12 months. I know I will.
P.s I might be going to Sydney, Australia again in May instead of flying back to Singapore? So for the rest of you.. I'll only be back in November? I think.
Labels: Brunei, Daily Musings
With the family.
With the girls.
Hello Brunei.
Labels: Daily Musings
Because I might not be able to complete my Music Monday blog post (due to some reasons)....
J.LO IS BACK!!!
And she's got that good hit.
Hot video! Wow! I'm super excited for her latest album now! Keep bringing us the good hits J.LO!
Labels: Song Of The Moment
One week was the time given to me to do lots of stuff. Pack my bags. Meet up with friends for the last time before I fly off. Spend time with family. Do the things I liked doing before I get away from Singapore.
WHERE GOT ENOUGH TIME?
Packing my bags was one hell of a chore. Being given a small duffel bag to stuff most of my army items in seemed pretty much of an impossible task. I started packing on Monday (being the 'kiasu' self that I am) and never in my life have I perspired so much just by packing. Actually stuffing everything in the duffel bag was not the problem.. the real challenge is to actually zip it up! But I did it... after 3 days of trial and error worthy of a jigsaw puzzle challenge.
So here's my one week... all in a nutshell. Trust me when I say I had not enough sleep 'cos there were days when I just felt like fainting due to the headaches.
Met up with the Mass Comm gang (Jarrel, Anand, Xin Mun, Chee, Ching, Shermaine, Noh) for a 'round of Sushi buffet. I'm quite sick of Sushi actually, after having it every week consecutively. Oh and congrats to you bangz (Anand) for your POP and getting into OCS!
Xin Mun, Anand and Jarrel. Reminiscing about how Xin Mun fell off the chair in the school loft.
Chingzy and Shermaine! The two ex-urbanwire girls.
I actually love my Mass Comm Friends. Haha!
Love and Other Drugs
(Jake Gyllenhall and Anne Hathaway!)
, Shopped around Ion and Had dinner at umm Burger Kingz!
Oh how I miss those days when we'd just camwhore non-stop with our macbooks!
Of course with my crazy girls. Belting out malay tunes.. screeching and dancing!
We did another crazy video..and I'm still in the midst of adjusting the audio and whatever nonsense. Will upload it soon! I'll miss them. We have been friends for almost a decade now. We're more than friends.. we're family. Love them.
Kak Nadiah treated me to dinner at Fish & Co. Delicious!
Nadee couldn't join the rest of us on Tuesday.. so she met me on a separate occasion. And she treated me to dinner! So sweet of her!
Met up with the rest of my Mass Comm mates.. the malay ones this time 'round. But before that I threaded my brows for the first time! Just to give it an edge and more definition. Haha! I love my new brows!
And then met the rest of these guys at Tong seng.. just because I felt like eating there after not having eaten there for a long long time. After that.. we went to have a round of sheesha at Arab Street and played monopoly deal! It was Irma's and Noh's first time at sheesha-ing!
So many polaroids! But I love 'em all!
I feel extremely fat beside him. Lain kali bawak kereta beb! (Next time bring car!)
The two minahreps. They reminded me that I used to tell them about every single detail of my life. So grateful for them la.
Mom brought me out for lunch at Breeks! And then I got my new shoes from Pedro! I love my new shoes! I'm bringing it to Brunei!
Spent the whole day at home.. in my room. I'll miss my room when I'm gone. Now I'm just counting down to my morning flight tomorrow. Auf Wiedersehn people! I may be away from Singapore.. but I'll still be here in the online world! So stay tuned to this blog.. for updates while I'm in Brunei!
How I wish this week was longer.
Labels: Daily Musings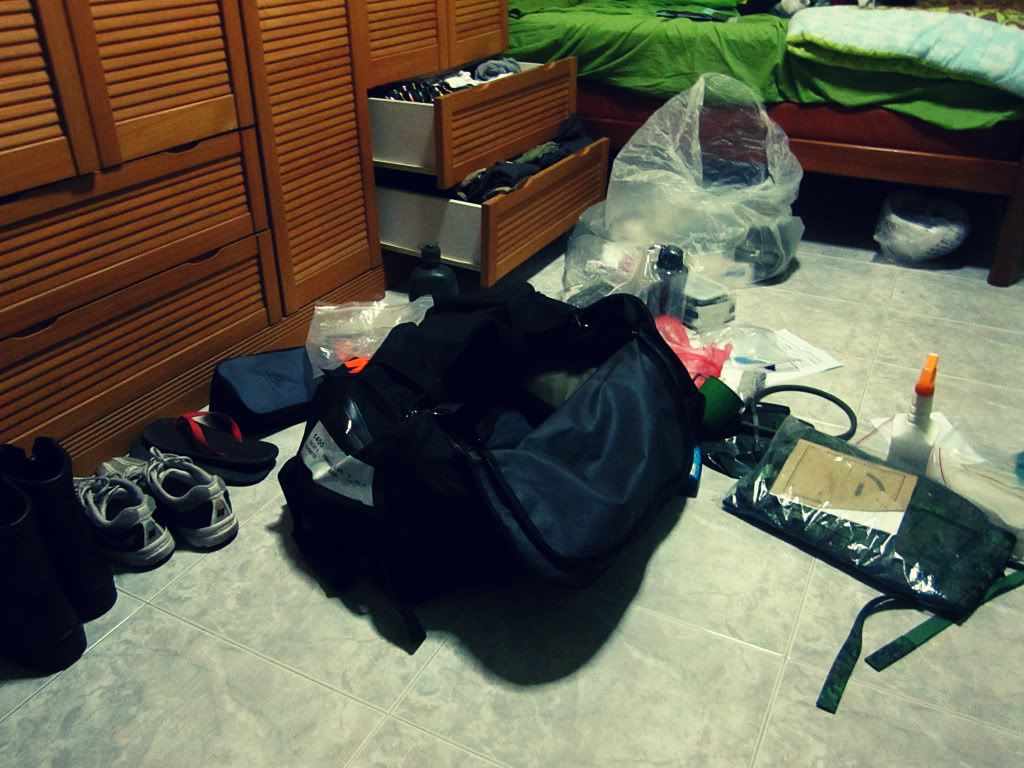 Busy. Busy. Busy. Meeting friends. Packing my bag. Man I wish this week was longer.
Labels: Random
Because good music deserves its very own fair share of exposure,
(as compared to those trashy mainstream stuff that has infested our radio nowadays)
here's an awesome indie band that you've probably never heard of...
Athlete
are an Ivor Novello Award winning English indie rock band formed in Deptford, London comprising of Joel Pott (lead vocals and guitar), Carey Willetts (bass and backing vocals), Stephen Roberts (drums and backing vocals) and Tim Wanstall (keyboards and backing vocals). Friends since the age of fourteen, Athlete first started out heavily influenced from bands such as Grandaddy and The Flaming Lips and they have since released four studio albums namely
Vehicles and Animals, Tourist, Beyond The Neighbourhood
and most recently,
Black Swan
.
I first got to know them through
RadioBlogClub.com
a few years back and I'm glad I got to discover them during their rising popularity back in 2005. They are often being compared to other successful indie bands such as
Coldplay
or
Keane
but it's not fair to them. Athlete needs to get the recognition that they deserve from the public. Their songs often got featured on popular TV shows such as One Tree Hill (ahh my favourite!) etc.
They definitely deserve total respect for the music that they have created and the lyrics that they have written. It's brilliant.. and the rawness sounding of their music makes them immaculate. If you ever get a chance to see them performing live, you'd suddenly realise the immense talent that they possess. Despite their incredible talent, they are still considered quite underground, as not many people have heard of them. They remind me of an undiscovered Coldplay that are simply better musicians and writers and their music deserves to be heard... out there.
Their latest album,
Black Swan
, has been on major repeat mode for the past few months. Out of all the tracks in the album, I exceptionally enjoyed "Black Swan Song" the most. My fellow brothers whom are currently serving the army (or were formerly serving the army) would definitely appreciate this song. I had tears in my eyes till the very end of the video. Shan't spoil anything but if you love Coldplay, you'll love this. Watch it.. till the very end then read the story behind the video below.
Black Swan Song. Beautiful.. beautiful song.
Black Swan Song' is a powerful and moving song about the death of Joel's grandfather. Joel picks up the story here, "September 1944 in the woods near Arnhem, Holland, my grandfather lay alone and badly wounded struggling to write a farewell letter to his new wife.

My grandfather Major John Pott died in 2005 at the age of eighty four in Lewisham Hospital London (the same hospital my daughter was born in, an experience that inspired the song 'Wires'). After suffering a heart attack he had felt it time to leave his home in Speyside, Scotland and go on farewell jaunt around the UK. He was very weak, but insisted upon travelling alone.

After a day sightseeing in London with my father, he collapsed and was taken to the hospital where I was able to see him and say goodbye. He held my hand and said "goodbye old chap!" and "bless you". He died later that night with my father by his side. My dad said it was like watching a soldier fight his last battle - there was some struggle but it was a triumphant end.

His death had such a big impact on us as a family and even though we were sad to say goodbye we all felt inspired by his amazing life and death.

The funeral was a very moving celebration of an incredible man. Swallows flew overhead as bagpipes played and comrades in uniform took it in turn to stand at the foot of his grave and salute him.

After his death I knew I wanted to pay tribute to him in some way but nothing came to me for three years. I was at our barn in Wales sitting outside looking over the hills playing the guitar. I started singing the lines "all my friends and family carried me, they carried me home, carried me home" and I instantly knew where the song was coming from. I wrote from my grandpa's perspective. I wrote about his early battles, but mainly about his last one and his longing to go to be with his wife (Anna Pott, who died a few years previously) in heaven. It was my grandpa's symphony, Black Swan Song.

Joel and his father David recently paid an emotionally-charged visit to Arnhem to mark the anniversary of the battle there in which Joel's grandfather – a paratrooper - was severely injured. After lying in the woods for nearly twenty hours he was taken to a German military hospital and after a heroic, but thwarted attempt to escape on crutches, he remained in a POW camp until released by the Americans in April 1945.
I love music videos like this. It gives me goosebumps and chills. It's just so good. I wanna discover more bands like Athlete. I love them and yes, bands like Athlete are the ones that need all of your support just so that they can get a gig going and come here to Singapore!
Other songs that I'd recommend listening from them would be
Chances
and
Wires
. Till the next music monday post!
Labels: Music Monday
David and Victoria Beckham are expecting their fourth child together!

The 35-year-old soccer star confirmed the happy news earlier today on his official Facebook page.

"I've got some great news to tell you all," David wrote. "Victoria and I are expecting our fourth child this summer. The boys are very excited about the arrival of a new brother or sister."

The newborn will join big brothers Brooklyn, 11, Romeo, 8, and Cruz, 5.
Congratulations to both David and Victoria!! I know of how much Victoria have been wanting to have a girl for so long! So I'm hoping and praying for them to get a girl this time 'round 'cos it would definitely be interesting to see how she spoils and dresses her little daughter in expensive dresses. She might even probably start a baby clothing line!
I'm going crazy myself here. Thinking of baby names for Victoria.
(Lily? Madeleine? Ceil?)
All I know is that girl is gonna have an exquisite name! The boys at
Denden forums
are also going crazy from all this excitement.. thinking of baby names as well. All this excitement.. if she gets a boy again, then well.. I'm still happy for her nevertheless!
She could still possibly get a twin! (Boy and girl) Or even better! Triplets! And all 3 of them are girls! How adorable would that be? I mean, seriously?!
And then she needs to do another
Spice Girls Reunion
so that she can show her newborn that
mummy was a popstar.
Heehee! Hoping and praying that another
Spice Girls reunion
WILL happen. And I WILL be there. I'll make sure of that!
P.s Actually Emma Bunton (Former Spice Girls) is also preggers. But she's not getting that much hype as compared to Victoria. Heehee. Well, yeah obviously. Victoria is an A-List after all. La la la.
Labels: Victoria Beckham
Hit the play button and read the post below.
The Awkward Goodbye - Athlete
In our lives, we probably have three places that we call home. For some, four or more if they are in luck. Of course, the first of the three places would be our actual home, which comes with its very own living room, the kitchen and a personal room filled with our things - Clothes, Records, Computer etc. Our second home would probably be the office (or school, for some) that we go to every single weekday without fail. It may be your most stressful home in your entire life but that is the place that you make a lot of money to bring home to your family.
At many points of our lives, we switch between our first and second home to and fro. That's when you wonder, so what's our third home? Well, we never know when at which point of our lives we'll be given our third home - Our grave. As morbid as that may sound, that's where all of us will be sent to when we have run out of credits to play the Game of Life. It's not exactly the same as as opposed to when you are in the arcade because you can still buy credits to continue the game that you are playing. It's different. When life reads 'Game Over', there's no second chance for you and all that you can do is to accept it and move on.
Today, I visited my grandmother's grave along with my parents. As much as I still regret not saying a lot of things to her before she departed from this world on the 4th February 2010, I had but no choice but to accept the fact that she's gone and left an empty hole in many of our hearts, especially the ones that loved her dearly.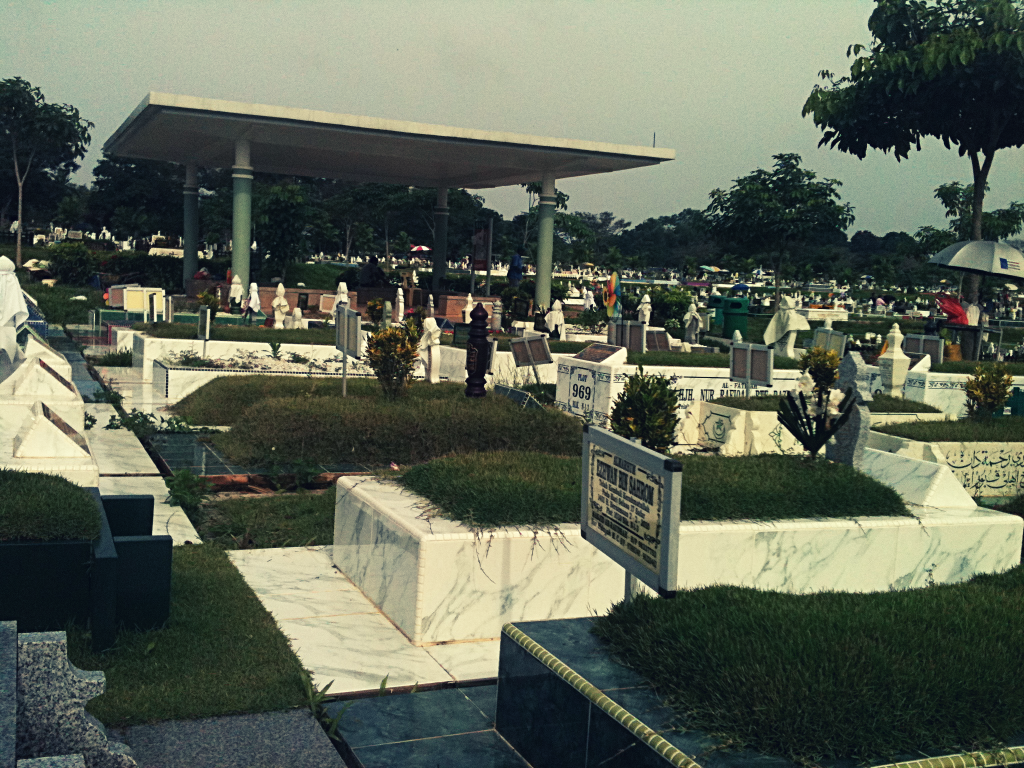 I can still remember vividly on the 4th February last year, I received the worst phone call ever from my mother in the early morning at 8am. "Amirul, datang kat rumah nenek sekarang. Nenek dah meninggal." (Amirul, come to your grandmother's house now. She has just passed away), my mom told me as she was weeping away on the other line. I was in disbelief. I couldn't accept the fact that she was just gone just like that. I mean, I didn't even get to say goodbye to her! I rushed to the toilet.. showered.. got myself dressed and ran all the way towards my grandmother's house. (Not exaggerating, her house was just a stone throw away from my place.)
That's when I saw my grandmother. Paleness covered her whole face. But there she was, without a look of regret, my grandmother was smiling on her death bed, as though she had a great run in the Game of Life. I bent down and touched her hand. It was as cold as an ice cube. Then, almost instantly, tears started rolling down my eyes and there I was sobbing away, as much as I tried to hold back my tears, I just can't. My grandmother was gone and there was nothing that I could do 'cept to cry.
"She really loved you Amirul. She always asked about you all the time. She loved you a lot.", my mom repeated that quite a lot of times with tears in her eyes. She added, "If you really want to help her, go and read some prayers for your grandmother." And off I did.
As I was reading my prayers for my grandmother, memories from the past started rushing to my mind, not like that'd help to soothe my crying and weeping. It just made it worse. Memories from when I was young and she would pick me up from my old house to bring me out to play at the playground, to buy ice cream for me, to the times when I would constantly have sleepovers at her place during the weekend, where we would bake pastries together while listening and singing to the songs playing on the radio to the time when she was finally silenced by a stroke and try as I might, I didn't know how to communicate with her. I loved my grandmother a lot. And I still do. Many times I tell myself, if only she was still alive, I'd do a lot of things for her but then again, it's life and you only have one shot at it.
My grandmother was always helping other people whenever they needed help. But the ironic thing is that she was unable to help herself in the times that she needed and even in that situation, she still helped others. My grandmother was a strong woman, a great cook and a loving mother. But to me, she was the bestest grandmother that I could never have ever asked for - A Super-grandmother! Haha.
My mom told me to say goodbye to her at my grandmother's grave. Well, why say goodbye when I will definitely be there again once I'm back from Brunei? One year is a short time for me to say goodbye to her.
I'm annoyed that I would not be there on her 1st death anniversary this year, as I will be in Brunei but always know that my heart (no matter how deep a hole she has created after having left this world) will always have a place for her.
And deep down, my grandmother will always always be alive no matter what because these memories shared by my grandmother and myself will always always be remembered no matter what and will be passed down in future generations and decades to come. So no matter the distance, my grandmother will always be close to my heart. I love you grandmother. And thank you for always looking out for me, especially in times when I needed someone.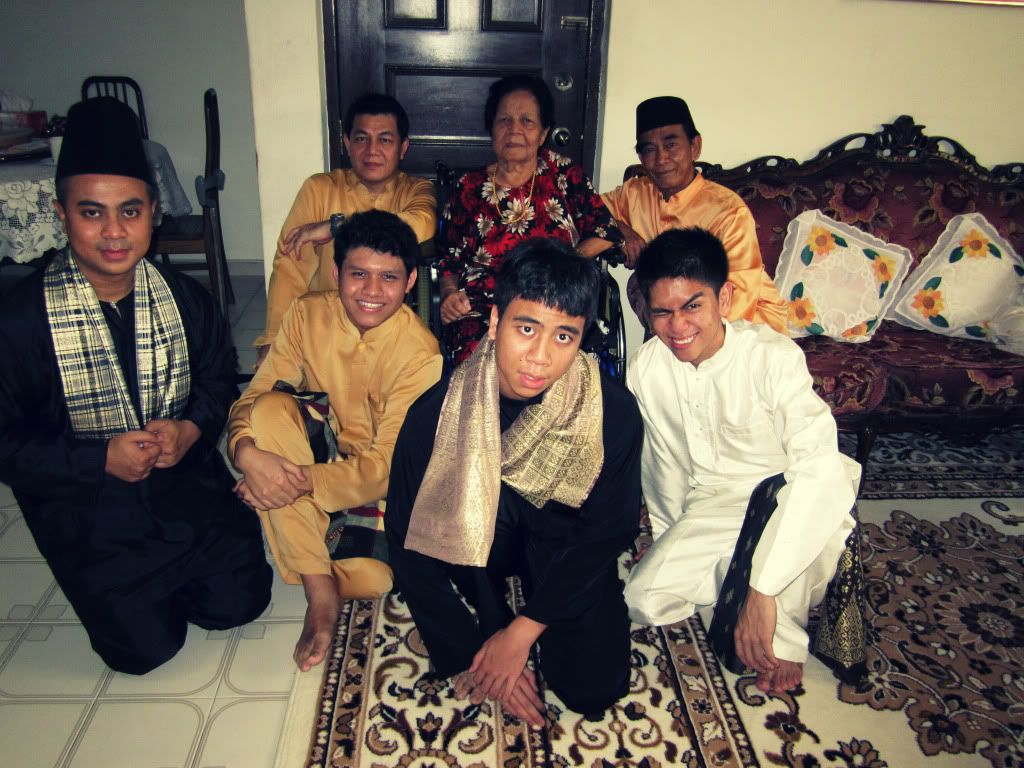 P.s For those of you who still have a grandmother in your life, please know that you are considered a very lucky person. So cherish her, appreciate her and love her until the day you are finally unable to do so anymore. And for those who do not have a grandmother anymore.. treat your parents, especially your mother, the way you wished you would have treated your grandmother had she still been alive and never make the same mistake again.
Labels: Daily Musings
It's always times like these when I think of you
And I wonder if you ever think of me...

'Cause everything's so wrong
And I don't belong living in your precious memories...

'Cause I need you
And I miss you
And now I wonder....

If I could fall into the sky
Do you think time would pass me by
'Cause you know I'd walk a thousand miles
If I could just see you tonight
Weekends are here.. again! Go on and have a blast!
(Or shop.. till you drop dead bankrupt.)
Labels: Song Of The Moment

Friend: Amirul, do you have a girlfriend?
Me: No. Not at the moment. Why do you say so?
Friend: Because you look like the type of guy who would have plenty of girlfriends.
Me: Man, yeah I wish you were right about that.
Friend: You look at my face and you guess whether I have a girlfriend. Just guess.
(Trying hard not to be mean.. so I gave him a politically correct answer)
Me: Well, I don't think you have a girlfriend. But I'm pretty sure there's someone in your life that you're interested in... Am I right to say that?
Friend: Wah! How'd you guess? Yes, there's someone that I like. But I'm not sure if she feels the same way towards me.
Me: Does she know that you like her? Has she showed any signs that she might like you?
Friend: No, she doesn't know that I like her. She probably thinks of me as a brother towards her. But then again, whenever we take photos with each other, she'd come so close towards me and hug me.
Me: Like how close... close?
Friend: Really really close to me. But it's normal, right?
Me: You could say that. But if you really like her and if you feel that you are ready to take your relationship to the next level.. then you should tell her.
I'm not a love doctor or what. But when a friend seeks advice from me, I give. I don't have that many experiences to share with them to begin with but I try. Don't you guys wish that girls would just make the first move and make everything so much easier for you? In fact, most guys I know don't feel that way. They usually hesitate, just because they're afraid to take that risk. You know, like what would happen to their friendship if their so-called relationship doesn't work out at the end of day. Awkward moments. Why would you want to disrupt a perfectly fine (could be better) friendship, right?
Life's a gamble.
Getting back to the point. One can only wonder what goes on in the girls' head.. their mindset.. their train of thoughts. I know some signs that are drop-dead obvious.
Guys are stupid, I agree.
But you can't really fault them for that. When they're with the person that they have a crush on, they tend to lose their brains and end up saying stupid things. Here are some drop-dead obvious signs to know if a girl likes you:
1. When they get a little touchy-touchy with you.
Sometimes, girls
(yes i am making a sweeping statement here)
try to take advantage by getting all touchy with you.. She'll probably give you a light tap on the shoulder when you're having a conversation with each other or somewhere else.
However take note that not all hugs from girls are signs. For all you know, it could just be a friendly hug. So yeah, hugs are not an accurate indicator of her feelings towards you.
2. When she laughs at every single thing you say. Even when it's not a joke!
Seriously. Girls like guys who can easily amuse them. Sure they like good-looking guys but looks don't last forever, do they? But Humour does. If you got it, it will always be there even when you're old, wrinkly and ugly. And trust me on this, girls love guys with a good sense of humour.
3. When she keeps asking you, "Why don't you have a girlfriend.. even till now?"/ "What type of girls do you like?"
When girls keep asking you those silly questions, they just wanna see if they fit into your criteria and that's when you'll start noticing small changes in them. Apart from that, they're just being a busybody and poking their nose in matters that doesn't even concern them at all. This is actually a good thing, because it shows that they have interest in your love life.
And that, my friend, is how you know if a girl is into you. The next move you make.. is entirely up to you. Good luck on that.
P.s And girls, just because a guy asks you out to somewhere, does not automatically make it a date. This.. should probably be in another post eh? Haha.
Labels: Food For Thought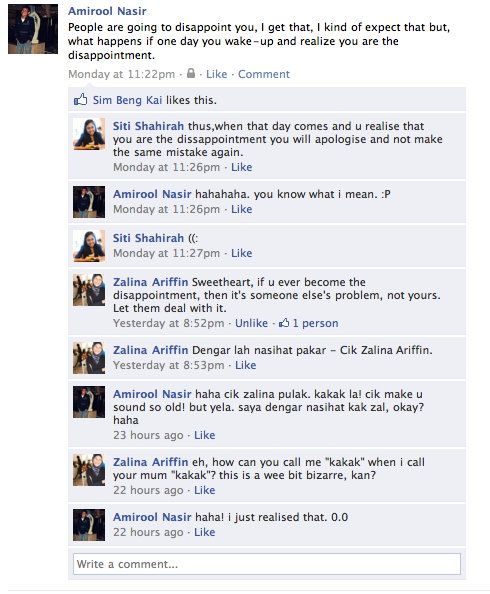 Labels: Random