Selamat Hari Raya
by ~
Nuppy
on
deviant
ART
Selamat Hari Raya to all my Muslim friends!

I would like to take advantage of this opportunity to apologise to those whose feelings I may have hurt through my words or actions as we're all nothing but human. To err is human. Heh! (Well if you were hurt by my sarcastic remarks, you deserved it anyway. :P)

Minta Maaf Zahir dan Batin. Hope yall enjoy this holiday! I know I sure will (I hope).


P.s Sorry I'm not any good with these kind of messages. Haha! But it came straight from the heart!

P.s Now can I get my green packet please? -pouts-

Labels: Daily Musings
The Fasting Month is

FINALLY OVER!

30 days of fasting is no easy feat. It takes a whole lot of determination, motivation and endurance - the qualities that I'm lacking. HEH. (But at least I fast-ed more than last year! Will aim for the big 30 next year!) But it seems that the 30 days whizzed past us this year. Its so fast!
I'd be lying if I say that I am very excited about Hari Raya tomorrow because seriously, I am not looking forward to it. I'm only looking forward to the moolahs that I'll be receiving from my friends (*coughes those who are working *coughes) and my relatives so that I can save money! (And a little bit of shopping lah. Heh!)
Oh and yes I received my exam results yesterday. Pretty nerve-wrecking I must say to be woken up by a stupid sms from my school. I'm feeling contented and satisfied with my results. I just wished I could convert all of my B+ to an A. And my GPA would be so much better eh?
Anyway, during the fasting month, I had dinner with a bunch of my awesome group of friends! I was at Fish and Co with Jarrel, Leeling and Ray. Then I also had dinner at Breeks with the gang - Nazri, Amira, Nadee, Zul, Farhan. And last but not least my Mass Comm classmates - Noh, Irma and Feeqah. They're all amazing people and
click read more if you wanna see photos and if you want to know the verdict of the tagboard.
1) Dinner at Breeks!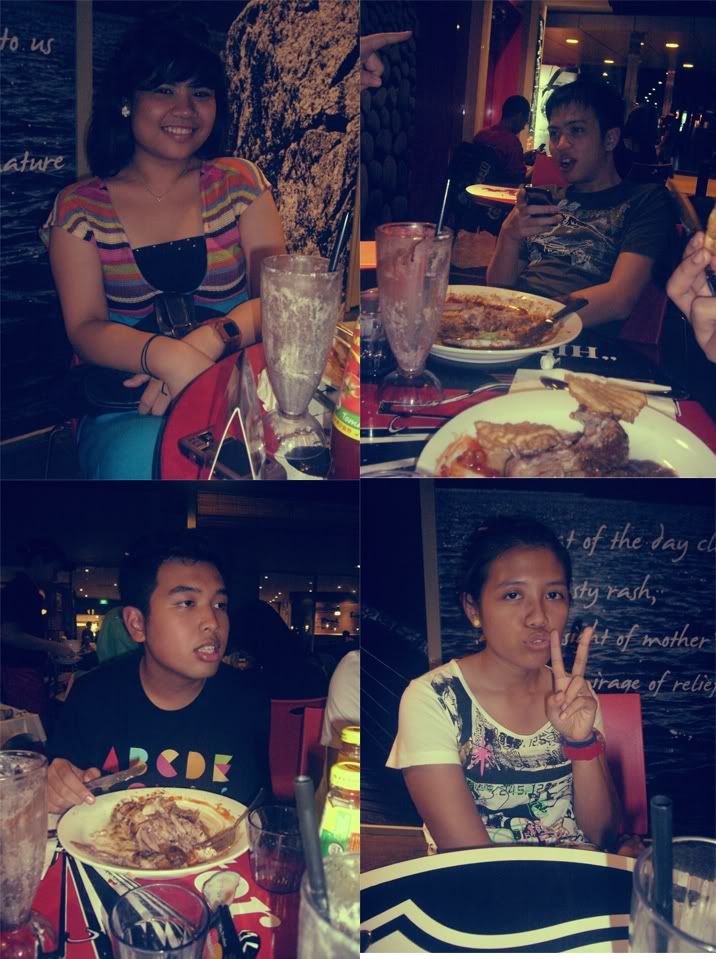 The four that came. (Amira, Nazri, Zul and Nadee)
I'm not gonna begin with the disgustingly bad service that we had at Breeks Marina Square. It totally ruined our dinner. No amount of ice cream or brownies can make me feel better. My food was served so late, even the soup! But we still enjoyed ourselves at the end of the day.

After dinner, we headed to the Comex IT fair at Suntec City! I bought quite a few stuff such as the mobile phone charger and also a Wacom Drawing Tablet, on another occassion. Nadee bought her wireless router. And there was also the usual teasing of Nadee and her imaginary boyfriend with the fantasies. Haha!

Can't wait to hang out with them again!

2) MadJacks with Mass Comm mates!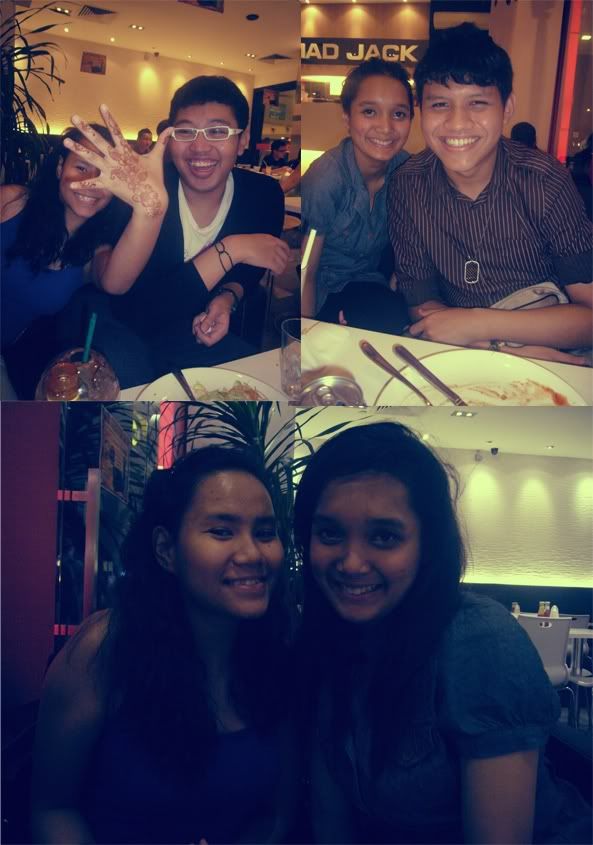 Irma, Noh and Feeqah. :D
Actually this was planned by Noh. Haha! During the hectic school schedule, he randomly asked me to ask the rest to have dinner and break our fast together. Kiki and Aini were invited too. Aini couldn't come as she was in Vietnam (I want presents, okay!) and Kiki was grounded by her mommy. Haha!

Being the fickle-minded person that I am, I could not decide on what to order. Settled for the chicken chop at the end of the day, which was quite yummy! Irma treated me to a Starbucks drink and my drink at MadJacks! So nice of her!

And I'm happy that Feeqah was there. Omg! I miss her la! The last time that I met her was really two years ago! Then she had a boyfriend and decided to lose all forms of contact with me. Annoying right, this kind of people?

Noh came late but it doesn't matter. Haha! He's the one with the car! And after dinner he drove all of us to Geylang to window shop and Irma bought her clutch handbag. Oh and he sent me home too! Thanks Noh! So nice of you!

P.s Don't start talking about my hair. Seriously.

3) Fish & Co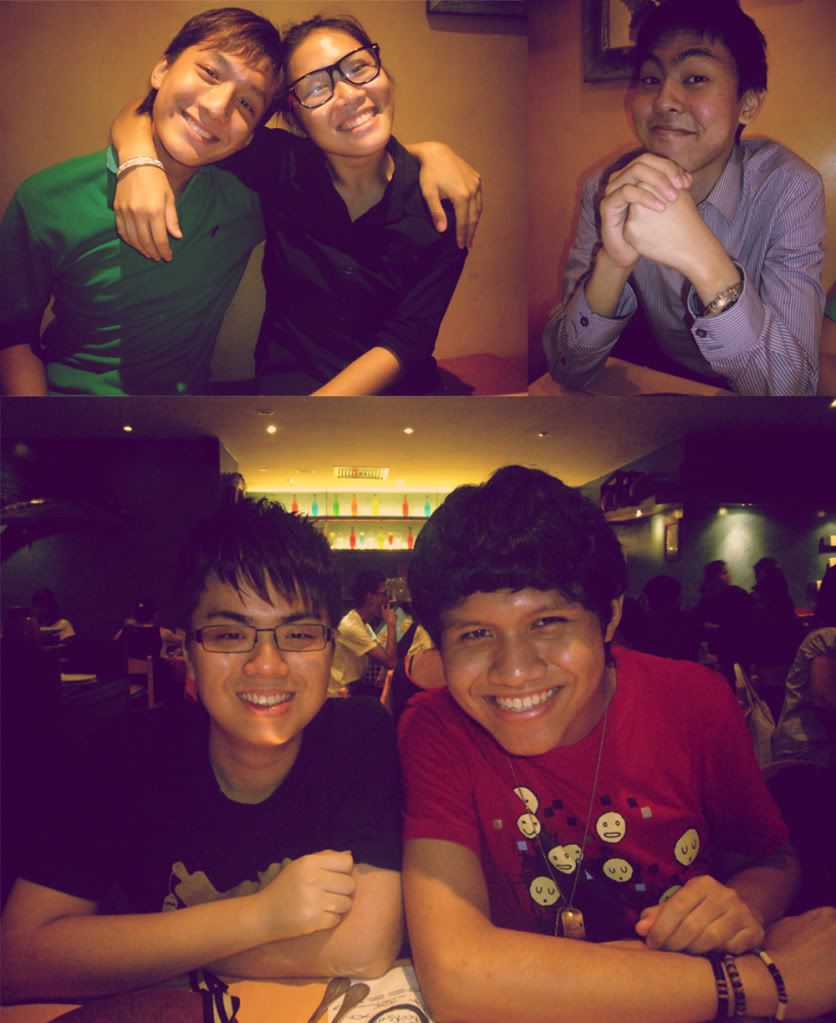 While waiting for our food. Nat, Leeling, Jarrel, Ray and yours truly.
This was probably my last dinner with Mr Jarrel Tan before he flew away to Hong Kong (I want presents!) He kept on repeating the fact that I'm fasting and EVERYONE had to wait for me. Annoying.

Before this, we were at Haji Lane browsing through clothes and bags. I wish I can go for a Halloween party this year! Oh and Leeling just told me that her mom thought that she and Nat were an item. Haha! She's so funny la!

After dinner.. we were at Starbucks!



I brought my poker cards and we had so much fun playing Bluff! and Heart Attack! Heart Attack really gives you a heart attack! Haha! We made so much noise while playing this game. hahahaha! Can we play this again? And we kept on playing the game although it was time to go! Haha!

Oh and Jarrel could do the cadbury eyebrow dance! Omg!

P.s I'm already missing Jarrel and Ray and Leeling! Aaah! Haha! If you're reading this, we need to go clubbing together one day okay! Before we get thrown into the hell hole they call National Service!

P.s I have decided that I will include a small tagboard in my next blog layout. The new blogger layout sucks ass, so I am reverting to my old layout style. Look out for that!
Labels: Daily Musings
I know that I am extremely late with this blog post but better late than never right?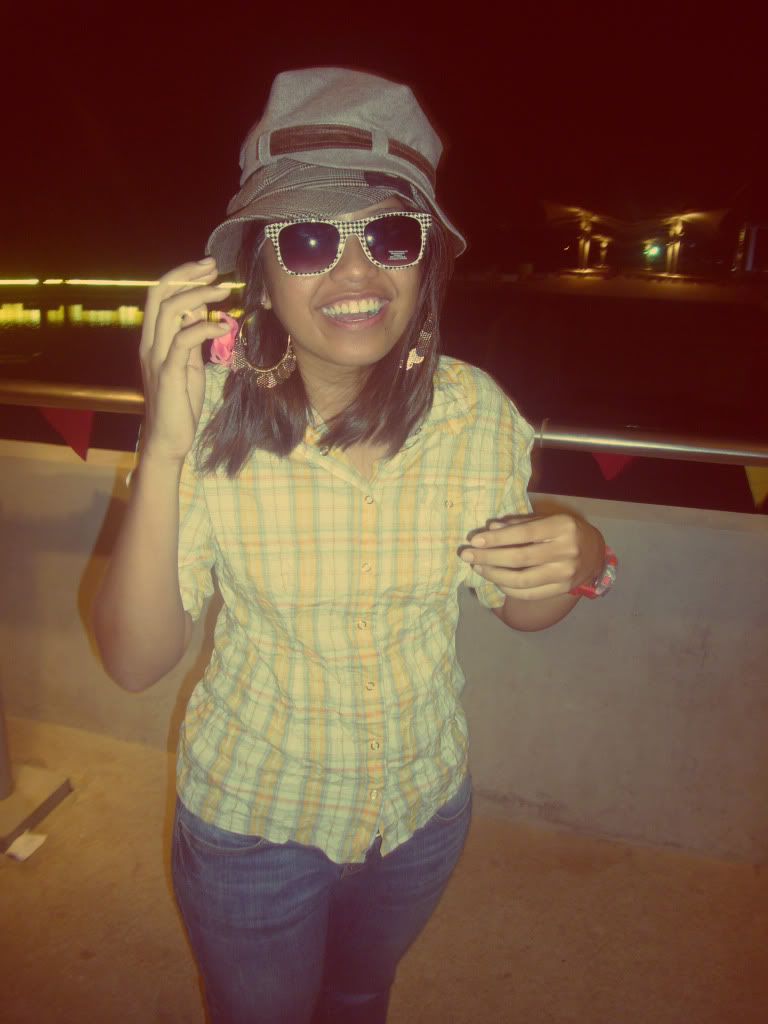 HAPPY 20TH NADEE!

At the stroke of midnight!


Nadee's birthday at Manhattan Fish Market and then Marina Barrage was so enjoyable! I love birthdays. A few months back, this girl was telling us that she wanted to celebrate her birthday over at McDonalds because she thought it was cute. It would have happened. I'm sure it would have been so much fun right?!

Dinner at Manhattan was great. Very very filling for the tummy thats for sure! We received a 25$ voucher for our next visit! Can we go there again please?

And it was my first time at Marina Barrage! The place looks so deserted, like a construction site. Tell me why do mats and minahs like to go there? Its so inaccessible and there's practically nothing there yet. Oh well. I still want to go there though. (Now don't call me a mat!)

Oh and I absolutely love the card I gave to her. It's so hilarious! Click here to view it.


Can't wait to hang out with them again!

P.s I'm really really looking forward to my birthday this year. I have no idea why. Excited!
Labels: Birthdays, Daily Musings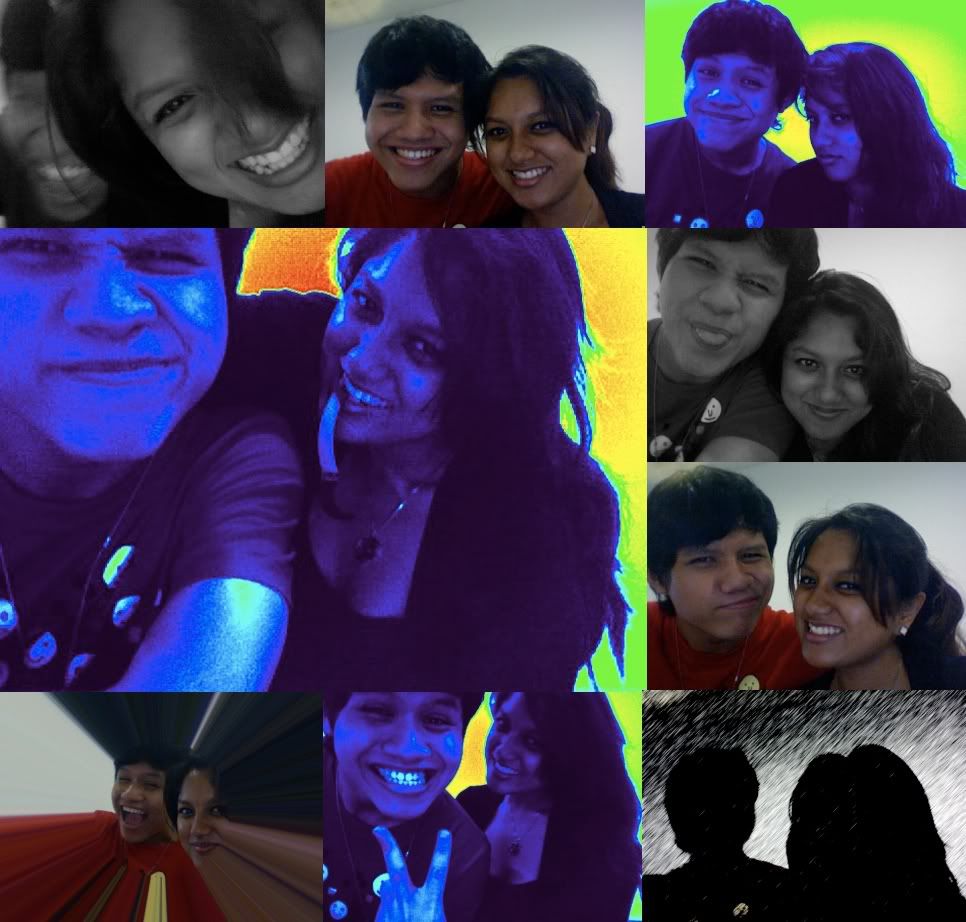 Meet Kristel, My Plus One a.k.a My Bitching Partner.

Now that she's schooling in SIM (which is just beside my current school), I get to meet her almost everyday! We can even go to school together! How exciting!
But I think she's transforming into a nerd. She's taking school so seriously! The moment I met her, she said,
"GOOD YOU HAVE YOUR LAPTOP! Let me do my English homework!".
No sarcasms. I replied,
"Goodness Gracious. What has this school turned you into?"
Believe me when I say that I am very very concerned. Nevertheless, she's still my bitchass friend.
P.s You guys should know that I deleted these photos by accident and I was in a huge frenzy trying to figure out ways to recover the photos from my hard drive. Lesson Learnt: NEVER delete any files without triple-checking.
Labels: Daily Musings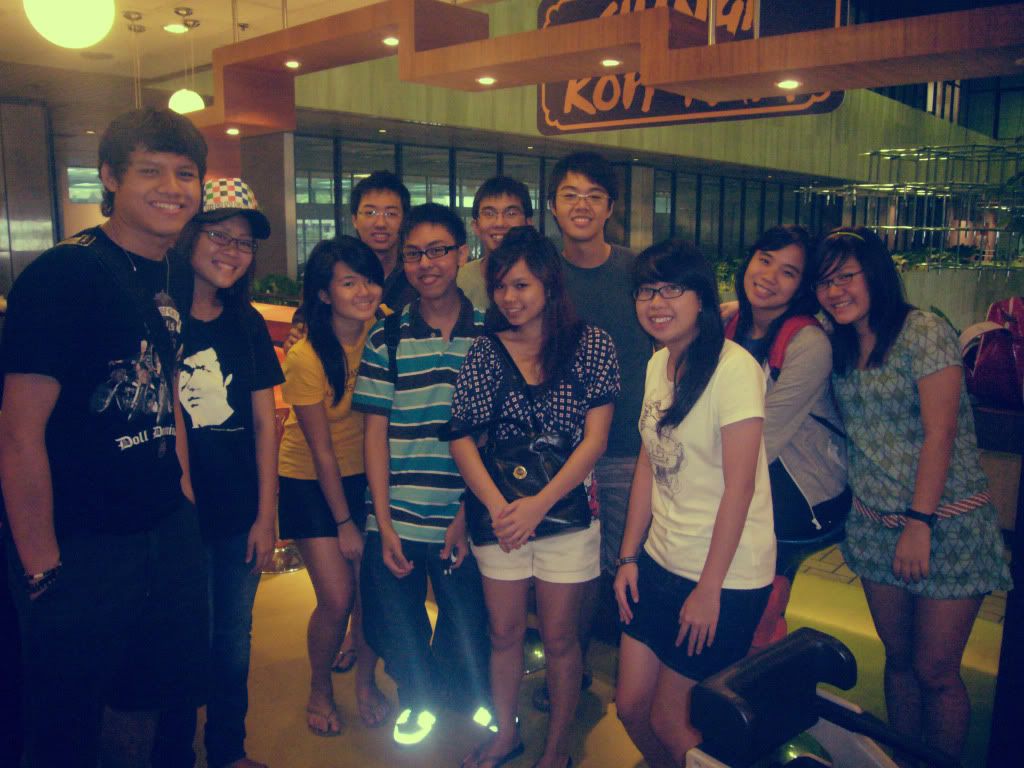 And off Jarrel goes to Hong Kong for 5 months!
Gonna miss that bugger seriously.
Now there's one lesser bitching partner in school. Sigh.
Whatever.
I'm still sending you my shopping list!
Labels: Daily Musings
I was at the Comex IT fair today, yesterday and the day before. Why am I doing this to myself? The crowd is so CRAZY! I bought quite a number of stuff. Heh!
After that, my family headed to Geylang to buy my 'baju kurung'. Again, the crowd is annoying and there's just too much people!
More on this tomorrow. I'm tired.
Labels: Daily Musings
As seen on:
The UrbanWire
The Saturdays Shake Things Up!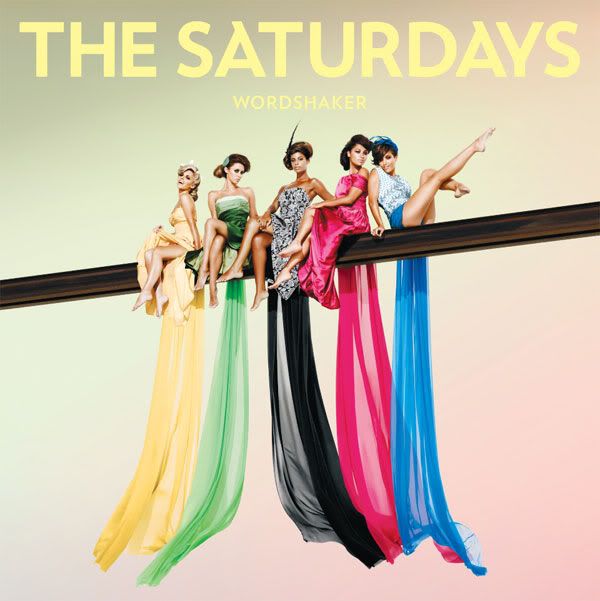 Naming themselves after a day of the week, platinum-selling 5-member
The Saturdays
is finally back with their second album,
Wordshaker
, and they're on a mission to establish themselves as one of Britain's biggest girl group in the decade.
It seems that Lady Luck is on their side this time round, as their competitor
Sugababes
is imploding due to their recent change in lineup while
Girls Aloud
, on the other hand, is on a short hiatus. Keeping our fingers crossed, we hope that The Saturdays will make the best out of this situation to finally score their first number 1 hit and possibly a number 1 album.
The Saturdays are famous for their catchy dance-pop tunes such as
"Up"
and
"If This Is Love"
and it's very surprising to find out that the girls take on a bolder and brasher offering on their sophomore effort, sounding more confident and edgier.
Take
"Forever is Over"
, the brilliantly-produced first single of the album, which was originally intended for
Kelly Clarkson
. It left many fans worried and questioning the new direction that these girls are taking – pop rock and brimming with attitude. However, fans would be relieved to hear that The Saturdays are standing by their original dance-pop genre for the rest of the songs. Nevertheless,
"Forever is Over"
was successful on the UK charts as it debuted at number 2, making it their sixth top 10 hit.
The girls also proved that they aren't afraid to spice things up by showing off their fierce and sassy attitude, especially on notable tracks such as
"Ego"
, "One Shot" as well as UrbanWire's favourite, "Wordshaker". The title track sees the group experimenting with different sounds and it's one screaming to be a hit. In the song, the girls describe a fickle-minded guy as a
"Wordshaker"
, someone who twists the truth by saying one thing and doing another. The track is highly infectious with its addictive hook,
"You such a wordshaker/ Talk and you take it back/ Twisting turning
".
The Saturdays also bring a refreshing side, especially on noteworthy ballads such as
"Here Standing"
and
"Deeper"
for which they were given writing credits. Both numbers sound sincere and heart-felt, exuding a fresh experience for your listening senses. In the song
"Deeper"
, the girls talk about going
"deeper and deeper, head over heels"
about a certain guy "hoping its for real this time" round.
Although the girls need some work on their ballads, the album makes an enjoyable listen from start to finish, with the perfect blend of various up-tempo and mid-tempo jams, which makes it more impressive than their debut album. Don't belittle The Saturdays, they may still be a new girl group but they've constantly proved that they're in a league of their own with a distinct and individual sound, setting them apart from others like Girls Aloud. This album didn't disappoint and it definitely sounds as good as it looks.
Get ready to shake up the entire room with Wordshaker.
Standout Tracks: "Wordshaker," "Here Standing", "Deeper", "Ego", "Forever is Over"
Labels: Music Review, The Saturdays
Met up with my two girls, Kristel and Aqilah last Friday to have dinner together at
ZamZam
. But we all know the main purpose was to bitch and gossip about certain people! Haha!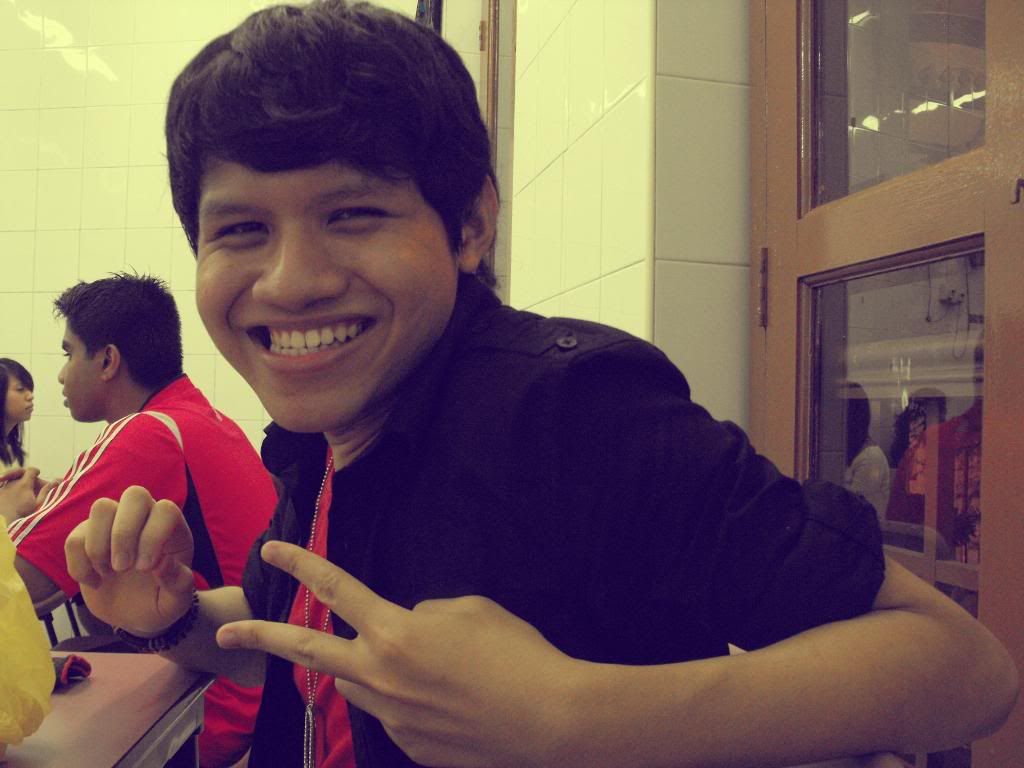 Mr. Diva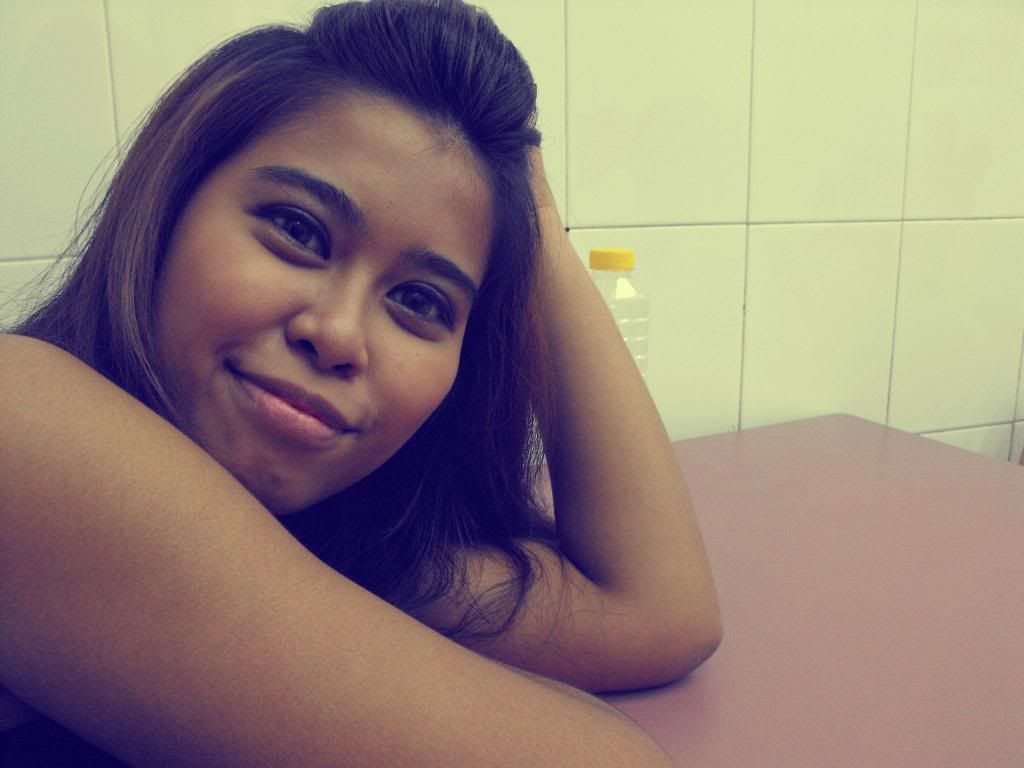 Little Miss Boobies

Little Miss Zexy!
"I remember all of us giving each other nicknames. Aqilah was Little Miss Boobies. I was Mr. Diva and Kristel was Little Miss Diva? or something even funnier!
"
Combine the three of us together and we are definitely a force not to be reckoned with! Quoting from Aqilah's blog,
"You wouldn't want to be enemies with either one of us."
Sorry. I found that exceptionally hilarious!
Upon reaching ZamZam, there was no seats available for the three of us. Blame it on the both of them for being so LATE. Ended up walking along the streets of Sultan Mosque and buying drinks. I found out what 'Air Kathirah' was. I apologise if I'm too dumb for not knowing what drink that was but its delicious! And to be honest, I actually thought 'Air Kathirah' was some kind of a holy water. Seriously. But no, its milk with seeds and .... more milk.

Initially, I thought it was a disgusting drink so i bought my blueberry drink, opened it and drank without realising that it was not exactly time yet to break my fast. I seriously didn't know until Aqilah told me and I was like, 'Shit!'.

We eventually had our dinner at ZamZam. And the food was not really that great, to be honest. I prefer Victory's murtabak. Its way bigger and more filling. That will definitely be my last time going to ZamZam.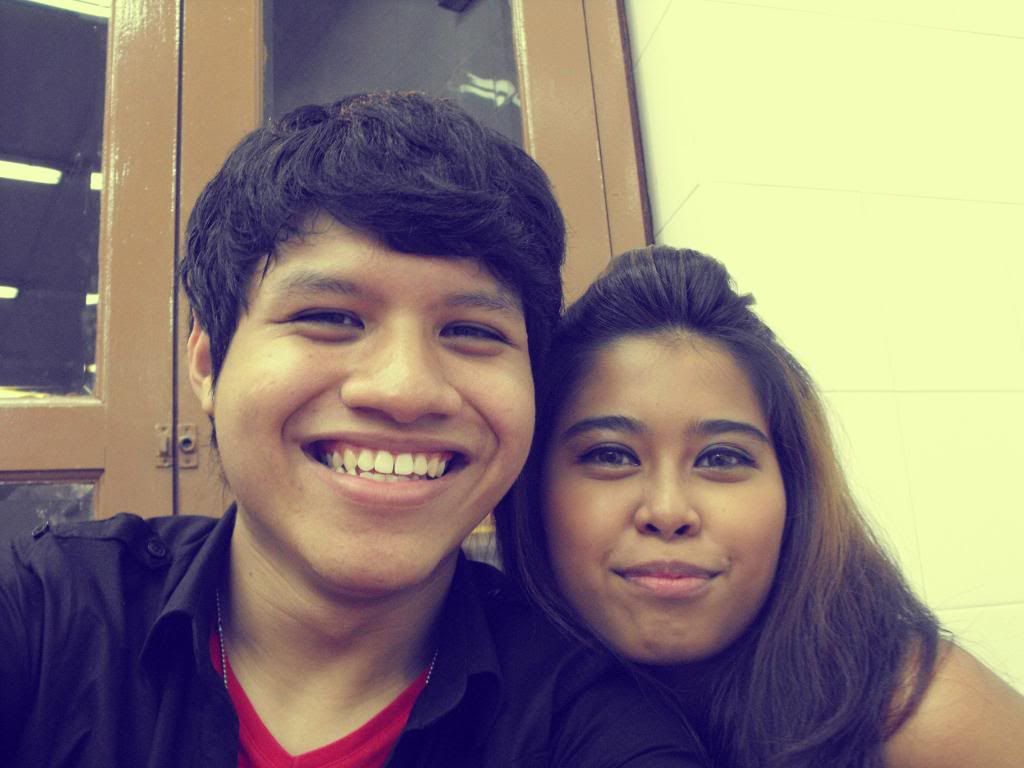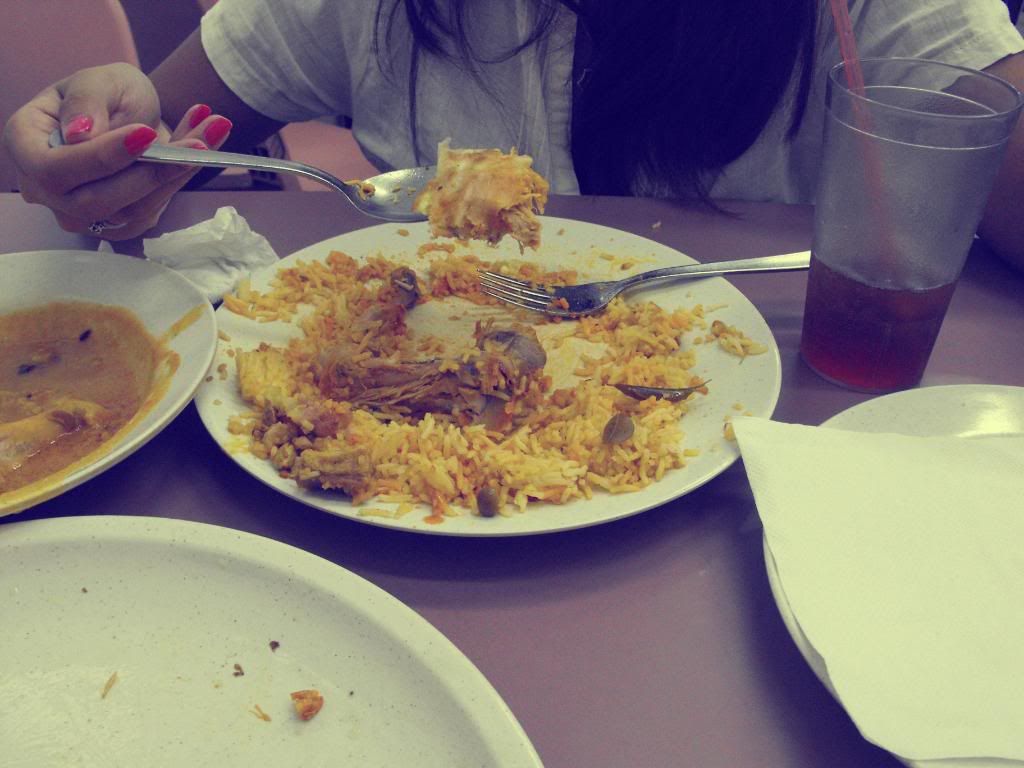 That's Kristel's food. She had like one 'Nasi Briyani'. Omg so much rice!

Oh and we headed to Haji Lane after dinner to have a short game of cards. Fun! And I was introduced to both Kristel's and Aqilah's boyfriend. Both of them were so fierce! I was intimidated for a while, especially towards Kristel's boyfriend. Haha! Oh well, I absolutely can't wait to see the both of them again! And laugh at Aqilah's bimboticness, tease Kristel about her daily nonsense and well the both of them poking fun at me non-stop.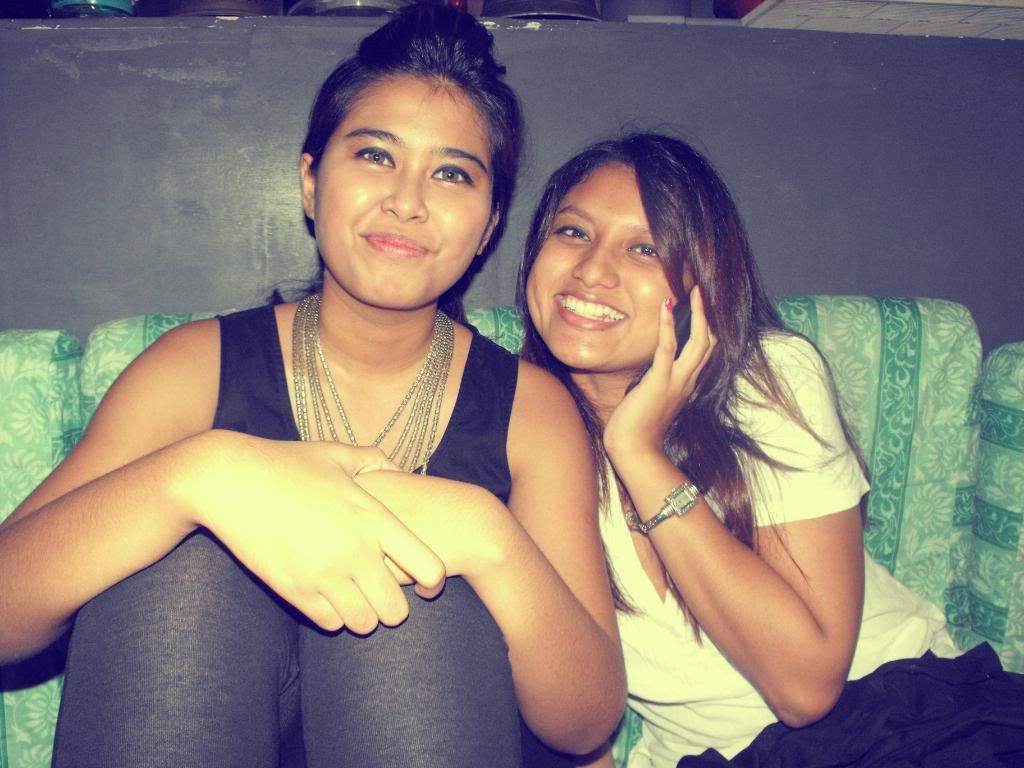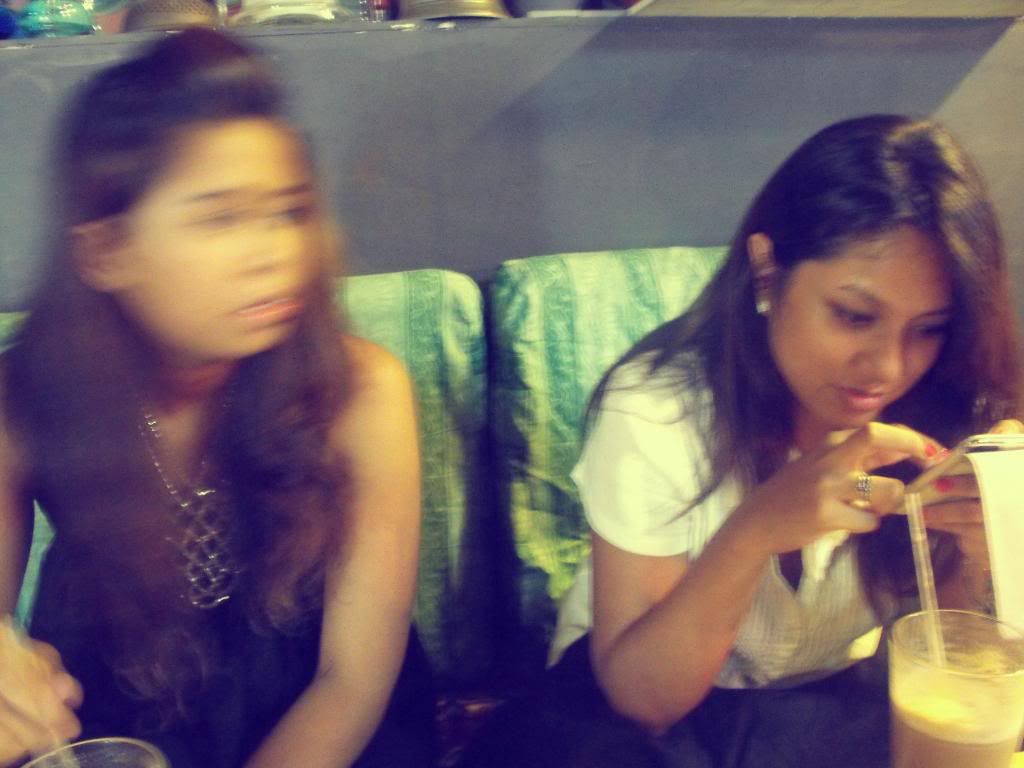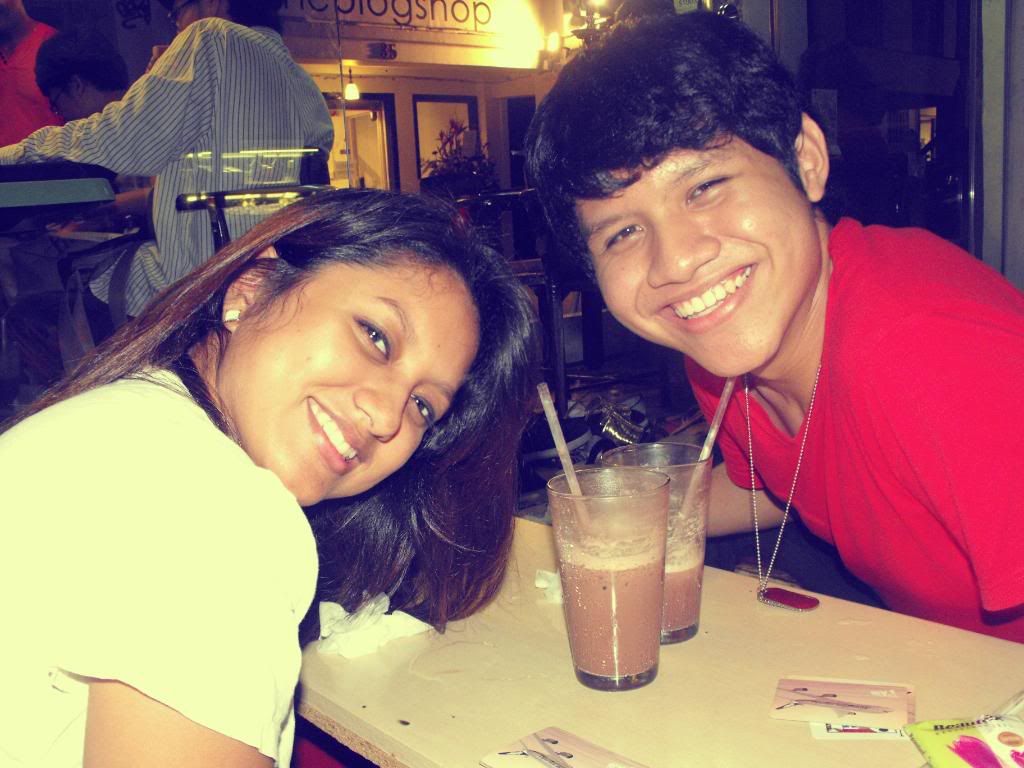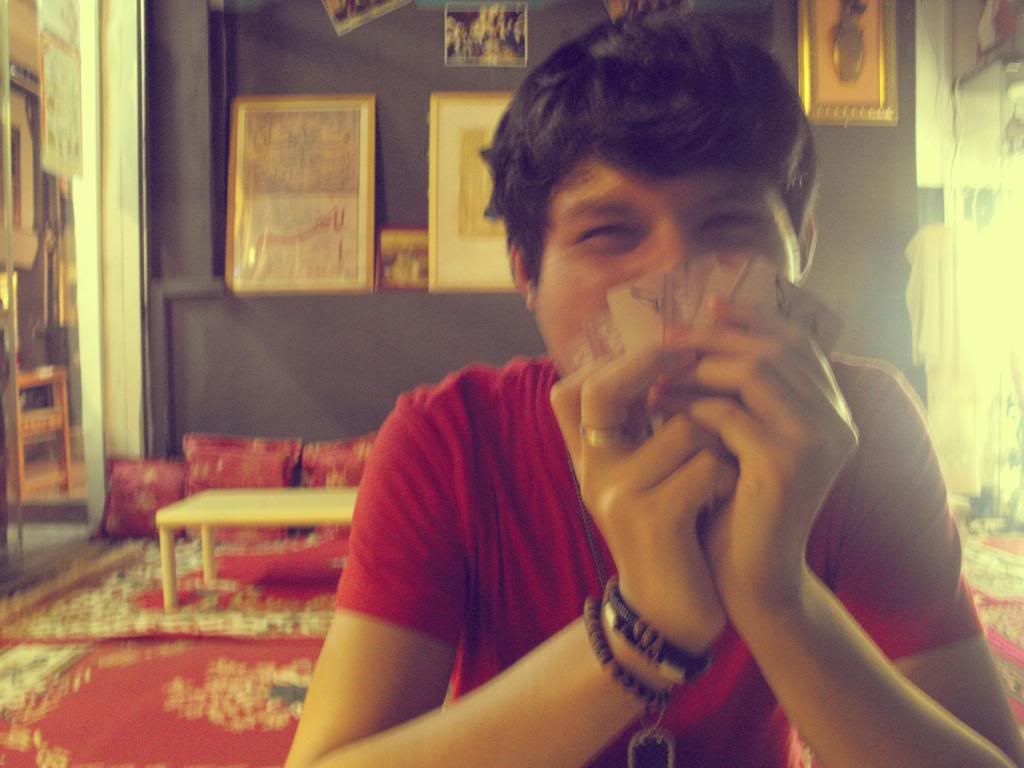 I've decided that I hate going to Haji Lane, especially at night due to its overcrowding of mats, minahs, ah bengs and ah lians sitting by the longkang. Eew disgusting. I mean, what happened to the Haji Lane that was so posh and exquisite in the past? But I think I'll still be going there for my normal shopping when I eventually have the money.


(and don't forget to click the advertisements!)
P.s I wish money can drop from the sky... right now.
Labels: Daily Musings
Guess who's getting Bobo* back today?
*Bobo is my macbook. Yes I named my macbook cos I'm weird like that.
P.s Yes. I can't wait to hug and kiss and do all the stupid things to him again.
Labels: Random
Somebody Else - LeToya Featuring Avant
(Sorry for the awful quality. I don't want you to be downloading this illegally. :p)
I'm in love with her. I'm in love with her songs. And this is my favourite song from her at the moment. Wow! The lyrics are so powerful! Talk about empowering women! Comparing to the other tracks from her latest album,
'Lady Love'
, this track presents a different side of her that we rarely see.
She had enough of all the man bashing in her record. One seems to wonder whether she has completely lost all faith in guys. It's disgusting to think that Slim Thug was her ex-boyfriend and she was so devoted to him
(for three years!)
until he cheated on her. Boy, if i ever had a chick like her, I'd cherish her till the very end.
LeToya, Lady Love definitely shows that she has a lot of love for her man. It starts off with LeToya saying,
"You make this a lil hard for me."
Then instead of arguing with her man, she's tired of all of it. LeToya shows that she needs her man in 'Somebody Else';
"I'd rather stay than to see you baby, Kissing and hugging somebody else."
Of course she'd be jealous if she sees her man with somebody else. I know I would. I know you would.
And the track features Avant, his sleek vocals almost makes any women just wants to forgive him for all his wrongdoing.
& The best part of this track is definitely LeToya's vocals.
Wow. Amazing.
Having this track on repeat every hour, maybe it is true that
what you don't know won't hurt you.
. cos
Ignorance is bliss.
P.s Yes, Full review of her album coming soon!
Labels: LeToya, Music Review
Dinner yesterday with Eric, Nazurah, Roslinah and Farhanah
(Naz's Sister)
was just splendid! I totally enjoyed myself! Food was good! I love love the Shepherd's Pie that Nazurah and her sister made. Psst! Can share recipe?
(Haha! I'm acting like a makcik now!)
We also had an extra company to join us for dinner. And may I introduce you to Zara, the adorable and frowning baby.
Click the link below to read more about this post!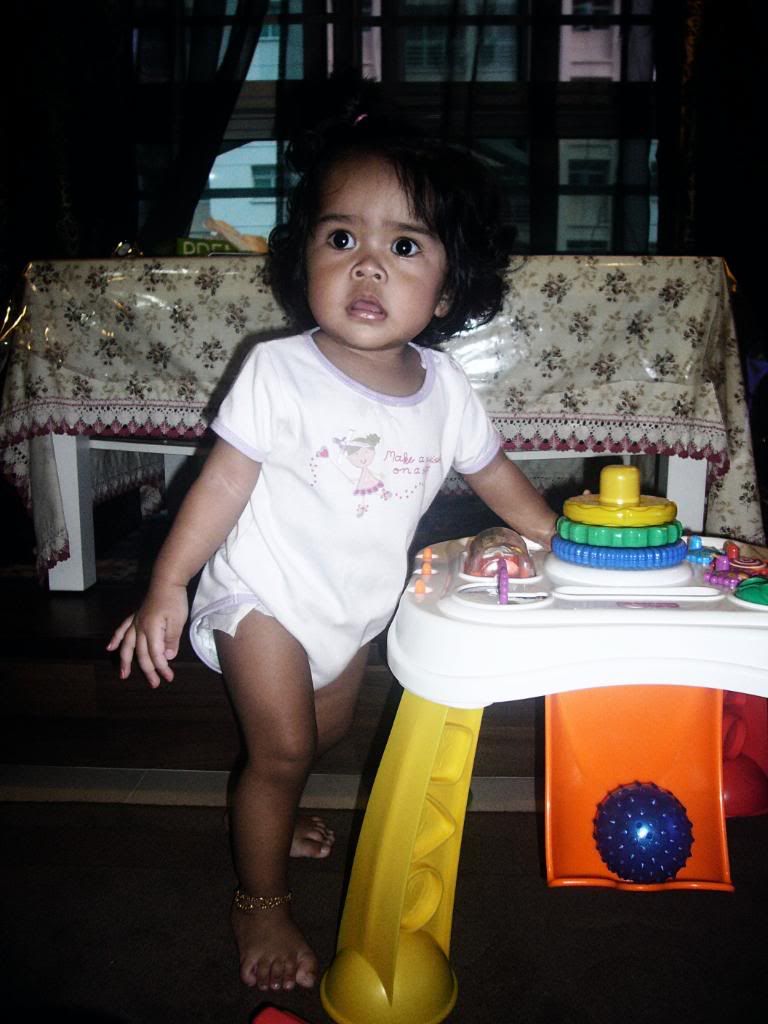 "Hello! My name is Zara! Can I be friends with you?"

The moment Eric and I arrived, this little baby greeted us with open arms. And the baby was immediately thrown at me. It was my first time carrying a baby! I was telling them, "No! I don't know how to carry a baby! No don't pu

-Baby is in my hand-

".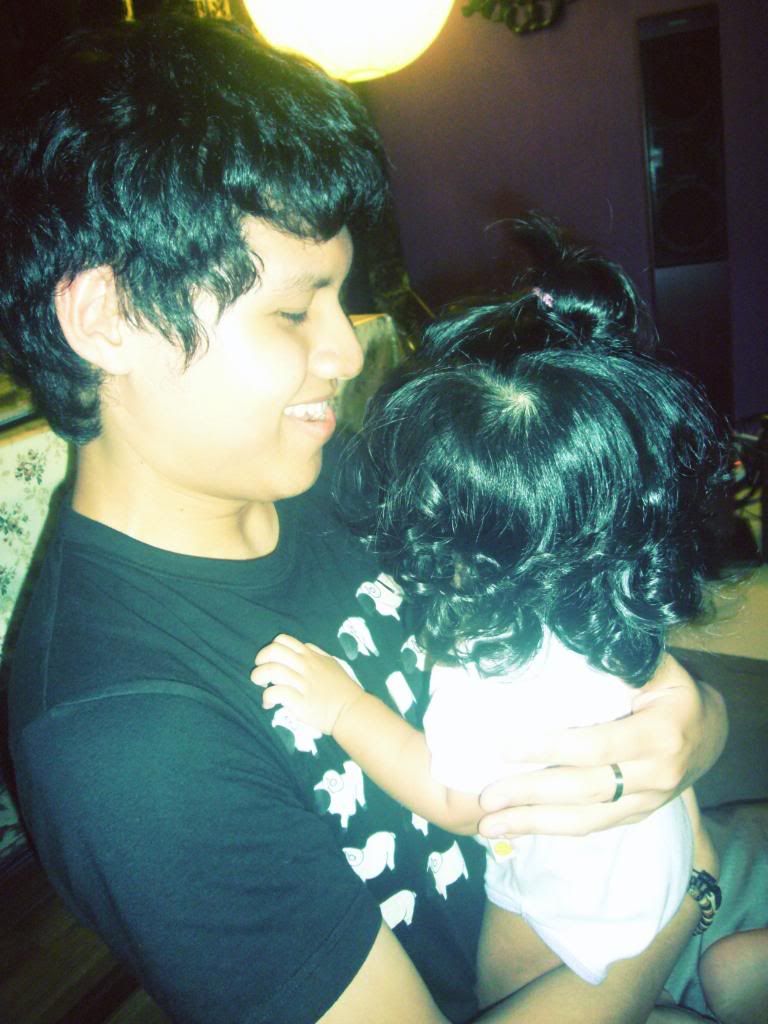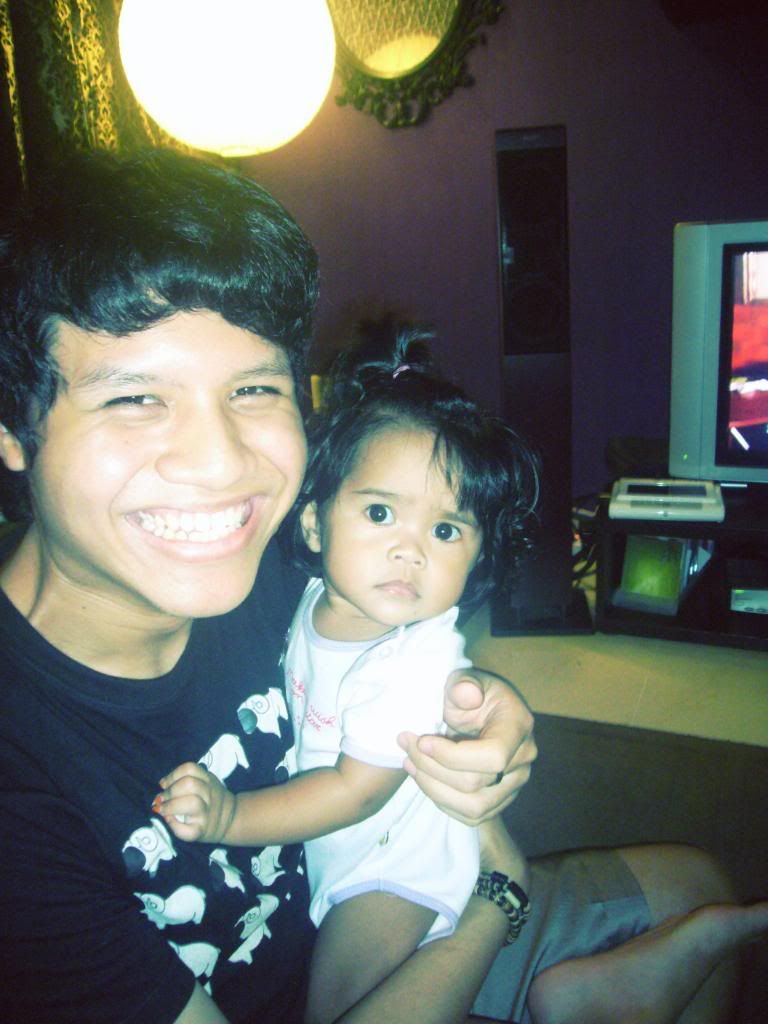 "Hello Baby! Don't be shy with the camera!"


Then its tiny little hands started tugging my shirt, asking me to play with her. I was drowning in the cuteness in the form of a baby, Zara. Sure for a baby, she has a quite exquisite and expensive name. Plus, she has expensive tastes for a baby. Haha!

She loves touching Eric's Gucci bag that was enough to worry him. Haha! Also, it seems that the baby is sooo mentel towards guys. (*very warm towards guys) I think she'll grow up to be a Daddy's girl. In the arms of her mom or the other girls, she kept on frowning but once either Eric or myself plays and carries her around, she would instantly turn her frown into a wide grin and a cheeky smile. I think she loves both Eric and I. Haha!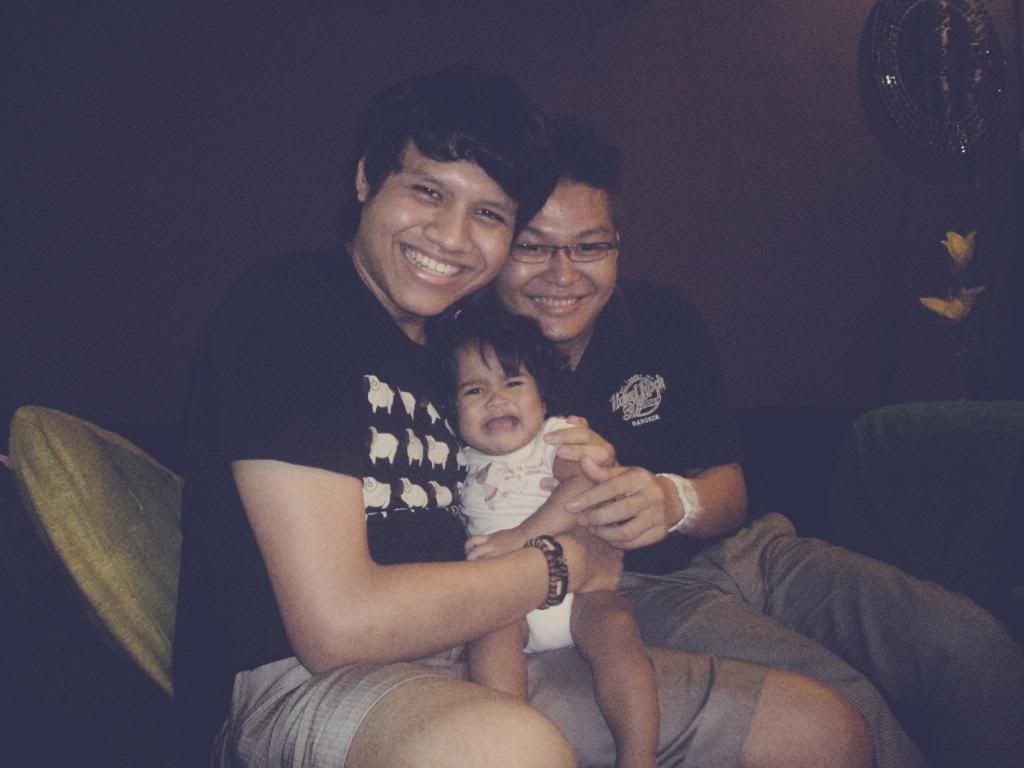 "The baby hates eric! Lol! Poor baby!"


Oh and both of us bought for her baby food. I don't know how it tastes like but according to Eric (since he tried it before), it is very yummy. True enough, Zara loved the baby food and finished the entire container. Haha! And funny thing was that she was wailing and crying in her seat during dinner because no one was giving her any attention at all. What an attention seeking baby! haha!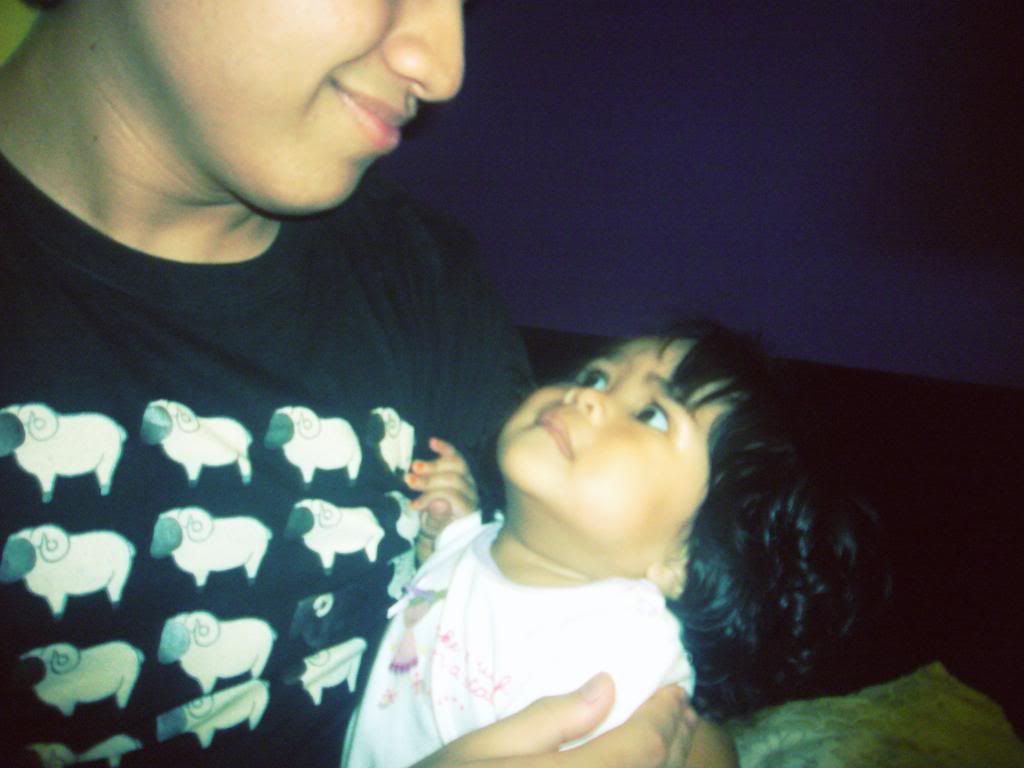 Playing peek-a-boo with her!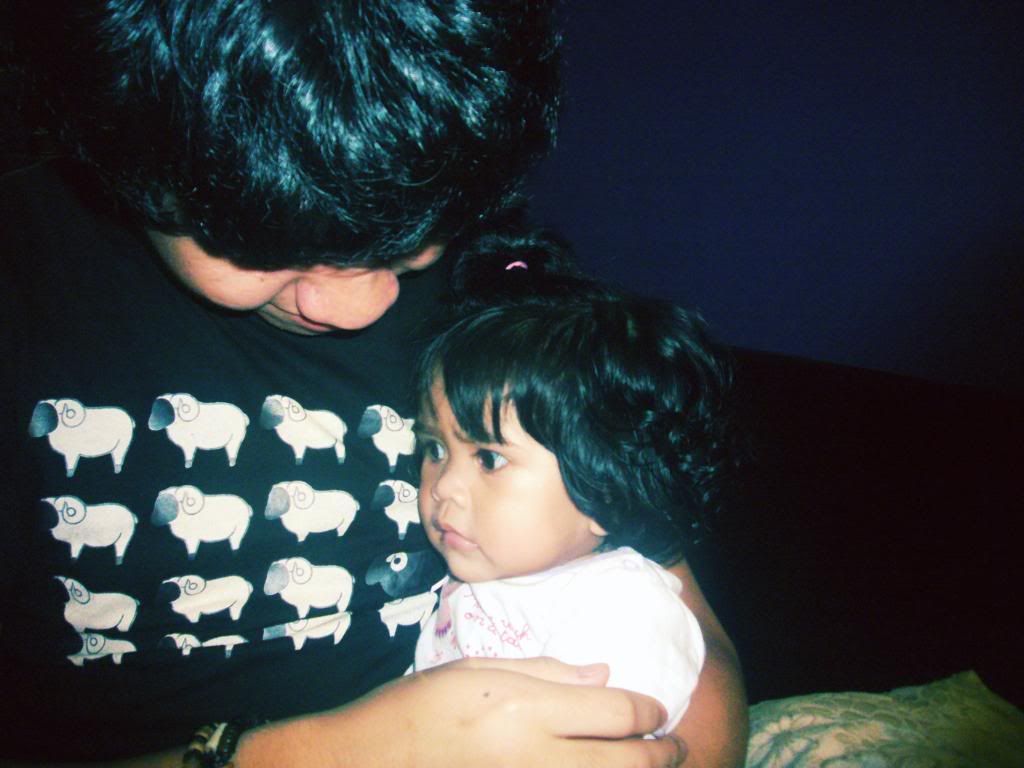 She's more engrossed with the sheep! *faints*


I want to have my own baby sooner or later! Question is, who do I have it with? Haha!

Then it was time for the baby's bedtime. Zara looked so drowsy so the mom had to put her back into her cot and off to dreamland she goes!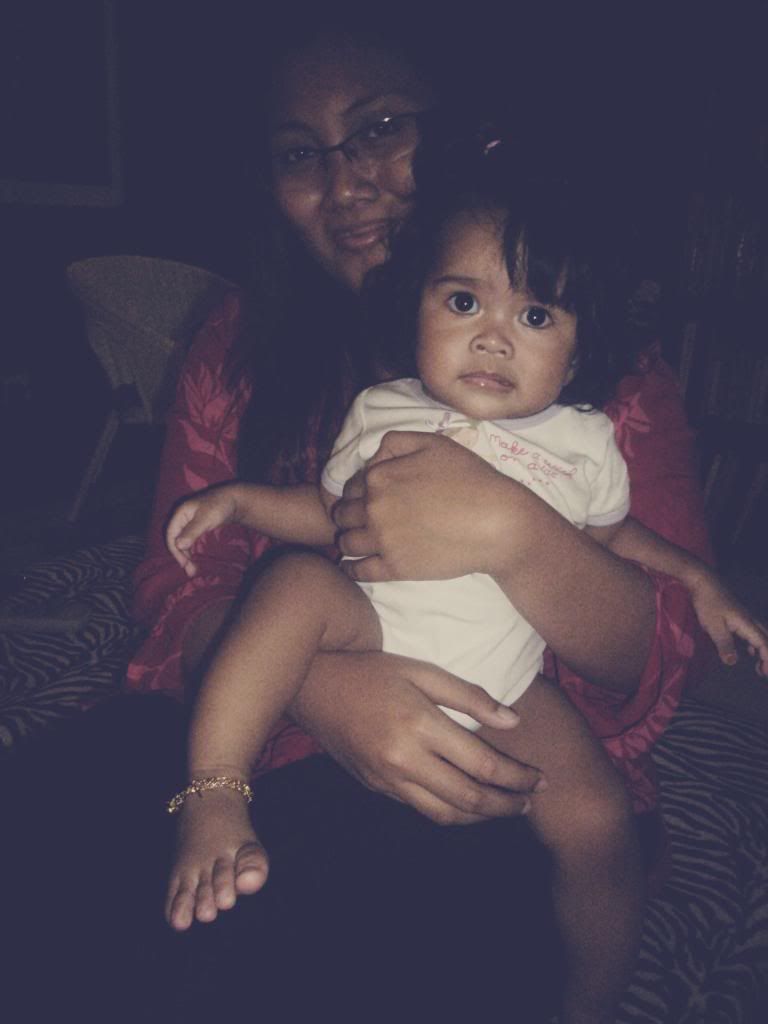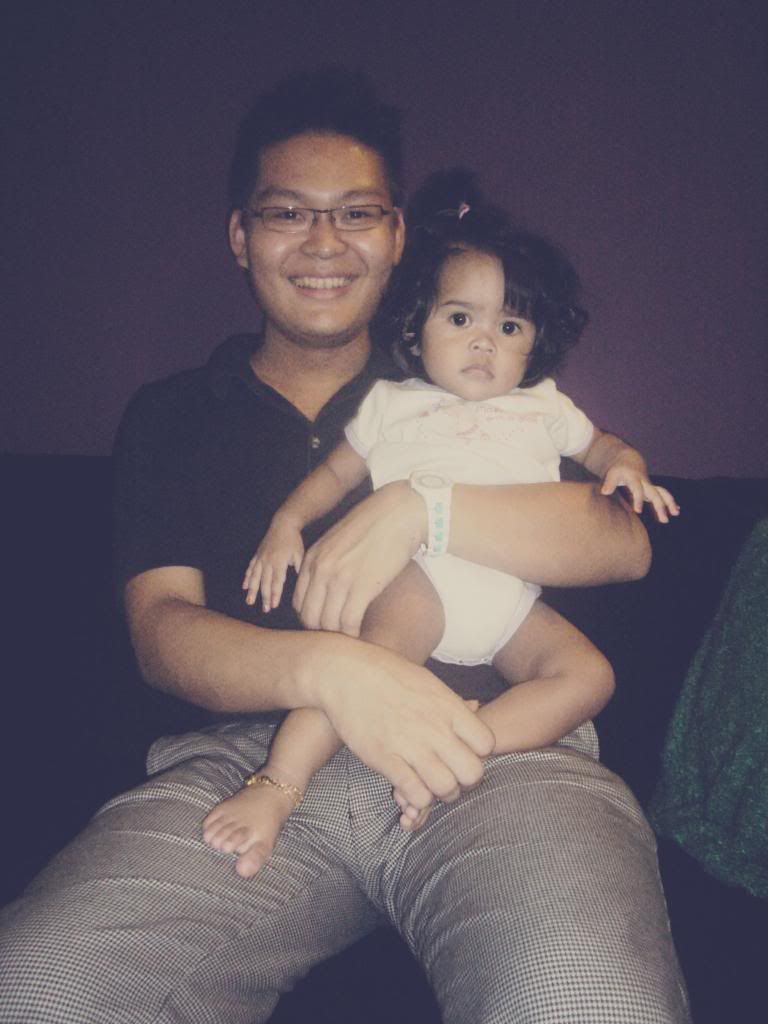 Left: Roslinah and Zara Right: Eric and Zara.


As for the rest of us? Of course we went back home! Gosh, having a baby is so exhausting, really! The moment I came back home last night, I couldn't wait to get to bed, seriously. Who would have thought that adorable cute little thing would drain every little bit of energy within you? Haha! Makes me wonder how my mom was able to put up with my nonsense while I was a baby 18 years ago.



Believe me when I say it's tiring to be a mum!


Anyway, her birthday is a few days close to my birthday! Don't know if I'm able to go for her birthday party! But I'm sure to be looking forward to this little girl's birthday party!

For more photos of this adorable baby, Click Here



Don't forget to click the advertisements by the side!

(Thank you!)




P.s Do you want to make a baby with me? ROTFL.
Labels: Daily Musings
Ever since I removed the tagboard from my blog, I've been getting responses from people like ..
How come I cannot see your tagboard?
Why did you remove your tagboard?
Commenting is so troublesome! Tagging is faster!
So I admit, I love reading comments. First of all, I removed the tagboard so that you guys will comment! And comments stay in the blog for like..
forever!
As for tags, they don't stay there forever and it gets deleted eventually. *snorts
You know what? Whatever. Do the poll on the sidebar. If there are more
YES
answers, I'll add the tagboard. Everyone remains happy.
While you're at it, click the advertisement for me please!
P.s I promise once i earn a lot from the advertisements, I will treat you. LOL.
Labels: Irrelevant
Anyone remember this drama series ...
FULL HOUSE!

Omg. How can anyone ever forget this drama series? I know I didn't! It's been like what? 5 years? I remember following this drama series so faithfully and religiously every single week on Channel U with my mom.
Then my sister joined in the korean hype and we bought the dvd for the entire season eventually. The show was so bittersweet that I fell in love with it instantly.
I got so excited when I found out that a season 2 for Full House will be out pretty soon!

To add on to the randomness of this post, here's one of my favourite scene from the movie. This was when they were doing the 3 bears dance.
(If you watched it before, you know what I mean. haha!)
Both of them are so cute la!
Omg I laughed so hard I think I almost fell off my chair! HAHA! I can even sing it by heart! Haha! And doing the 3 bears dance with my classmates! So hilarious! I swear it was the 'in' thing back then!
Anyway, I think the Korean hype is getting to me again. I found all of my Se7en mp3s and albums from his first to his fourth! And I have been listening to them throughout the entire afternoon. His songs are just so good!
I don't know what happened but I just stopped watching Korean movies altogether since last year. Sick of it? I don't really know. But I think I'm getting into it again pretty soon. muahaha! Okay I shall stop blabbering about both Se7en and Full House anymore. I will try .. to move on.
P.s I was contemplating on whether to buy Wonder Girls Ep album. 6 tracks for $28. Omg so expensive! Not worth it!
Labels: Full House, Se7en, Video
I sent my poor Bobo, my precious macbook for repair and servicing today. It all started last night when my macbook just shut down randomly on its own!
I seriously thought it got possessed or something. But thank god, i managed to backup all my files and folders into Lulu, my 1TB hard drive, after many many random shutdowns. You don't know how frustrated I felt when it just shut down and switch on by itself.
I
T IS SO ANNOYING!

So I called Apple the first thing in the morning after I woke up today. After going through many random and countless troubleshooting steps, they finally told me to go to a service centre to send my mac for servicing.


I went to the outlet at Funan. The staffs there were like robots! I didn't like the person who was serving me. She was so monotonous and I just rolled my eyes at every sentence she said. She inspected my mac and I spotted some chocolate stains from last night. (Okay, I did not realise! But at least its not something disgusting!) Then she pointed out the many cracks found in/around my macbook that are so visible. So I don't take good care of my stuff. Annoying. I promise I will take good care of Bobo once he is well again.
I requested for a loan unit as well. And they provided me with a ....
Omg! I was so happy! I named her Coco, just because I was listening to Colbie Caillat earlier today. She's so pretty! Go google a Macbook Pro if you don't know how it looks like. And I need to really take care of this macbook because if there are any damages, I'm responsible for it. It sucks but hey, I don't have to spend my next 1 week idling around!
Anyway, time to watch Singapore Idol 2! Blog again soon!
P.s My macbook pro is so pretty! Ahhhh! But no, i still prefer my Bobo. Can't wait till I get it back!
Labels: Daily Musings
Yesterday was quite fun hanging out with my old schoolmates from BGSS.
Honestly, I did not even want to go back to my secondary school but after much persuasion from Qiu Ling, you know I had to go. There's nothing new about the school, just that it has gotten even more boring as the years go by. This probably explains the reason why I was late in meeting Qiuling and Ah Bong. Muahaha!
The performances were quite cute though! A group of boys performed 'Nobody' by Wonder Girls. Cute! And we met up with a few teachers, cracked a joke or two but the teacher that was most excited to see us was none other than ....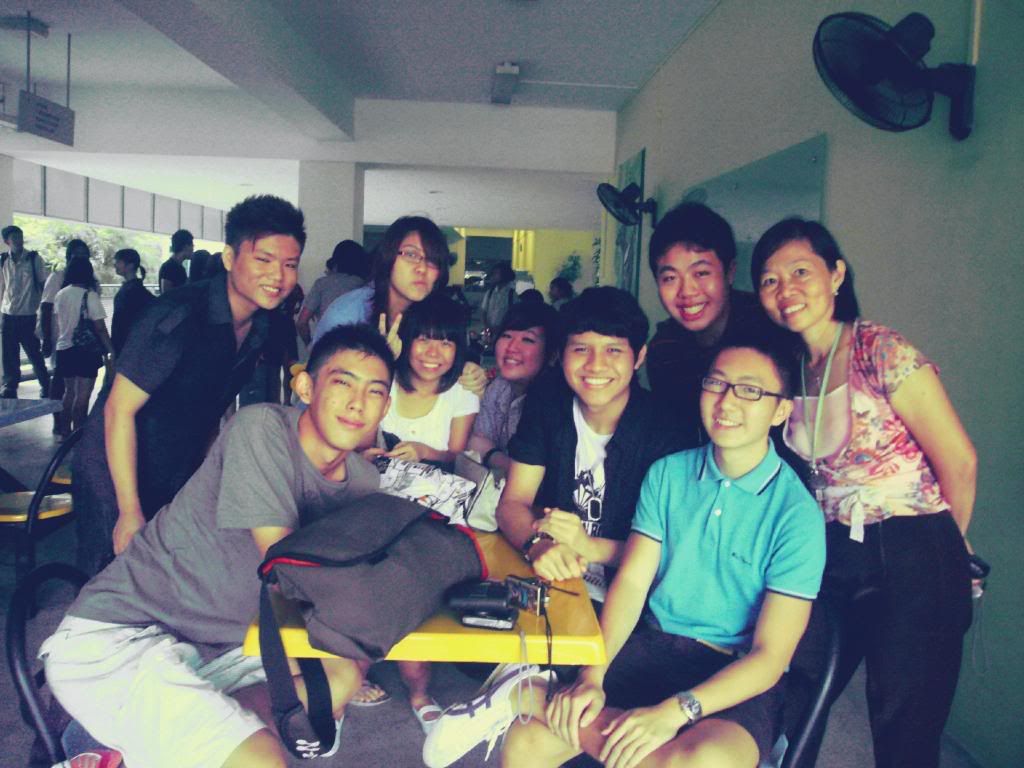 MRS. TANG!

(along with a few other people whom I do not even remember. Okay I lied. Just one)
The moment she saw us, she was like,
"Can i have a photo with you guys please?"
I replied back to her,
"Okay get in line. We're busy celebrities."
Don't think she heard though. I'm still sorry for scoring a C6 on the shitty Biology paper that I took. But hey, I passed!
Afterwhich, we headed to the school's canteen for the rest to have their lunch. To be honest, the food still looks disgusting! And the smell,
HORRENDOUS!
Gross. I'm having shivers just thinking about it. Haha!
LEFT: Qiuling. Siao Zhar Bo. RIGHT: You-know-who.

We had a short session of card playing with Bluff. I swear that is like my latest card game ever la! Afterwhich, we left the school to catch Final Destination 4 at The Grand Cathay! Omg exciting! And I watched all of the series since the first, so I definitely had high expectations for this one.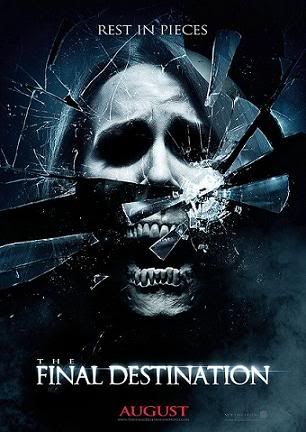 So we bought the later tickets since Guan Peng was joining us sooner or later. While we rot and wait, we camwhored and Ah Bong and Kwek Kwek bought their lunch. (Pretty sure Ah Bong didn't buy her lunch at school cos its disgusting)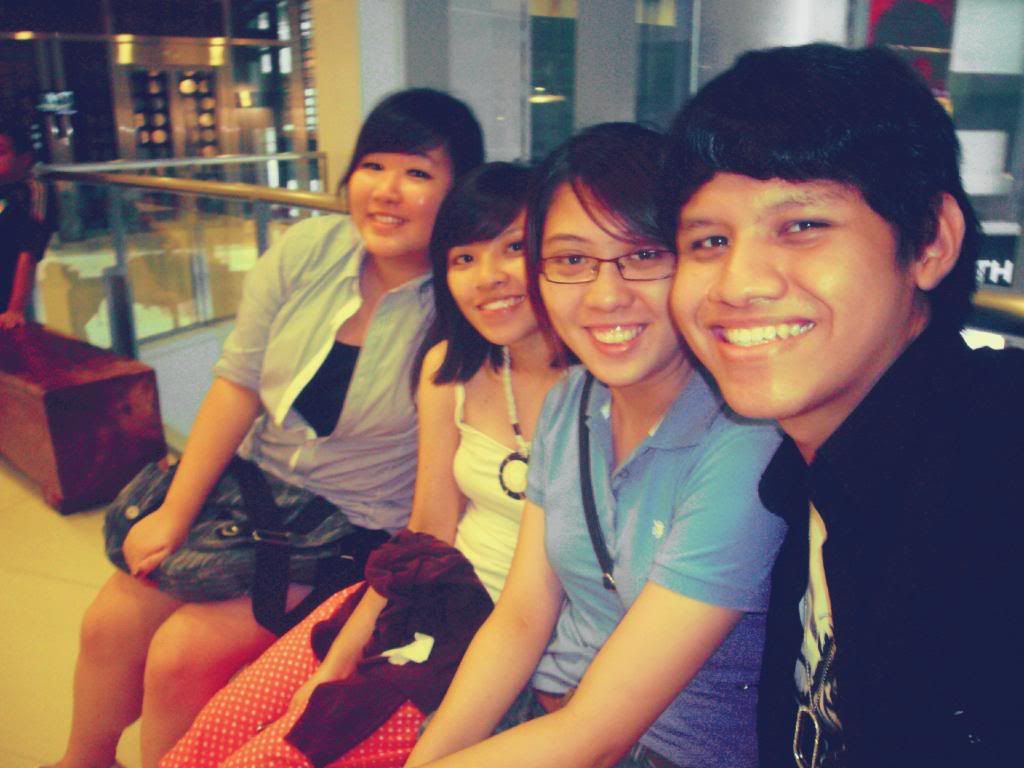 The movie was pretty awesome! Believe me when I say that I am still shaken by the movie. It
'brought a new meaning to life'
for me. HEH. And I can't believe I was the only one freaking out during the Cinema scene!
Me: Eh you do realise we are in a cinema right?
Qiu Ling: Yeah. So?
Me: Yes, isn't the current scene about them dying in the middle of a cinema? And there's an explosion?
Qiu Ling: Oh Fuck.
I swear the moment the movie started, Qiu Ling was bursting with laughter at all of the gory and disgusting scenes. She must either be insane or insanely insane! I was eew-ing throughout with all my loud gasps.
IT WAS SO DISGUSTING OMG
. And the movie makes me not want to go for the Formula One race in Singapore. SO SCARY!
(Note: If you are planning to go for the F1 race in Singapore, don't watch this movie. Don't say I didn't warn you!)
And the movie characters kept on cheating death from time to time. I got so fed up with the suspense and I shouted,
"OMG ALL 3 OF THEM SHOULD JUST DIE ALREADY LA!"
True enough, they got hit by a lorry after that.
But all in all, it makes me want to appreciate life more. ANYTHING can happen to us at ANYTIME and ANY MINUTE. I wouldn't mind watching it again, seriously.
After that I left to meet Eric and Desree for dinner. And I bumped into this ...
OMG SCARY RIGHT! If you have already watched Final Destination 4, you'll know what this sign means. It freaked me out even more and I got so paranoid! I was panicking and so frightened okay!
I seriously thought that I was next.

(But we never know eh? Could be you.)
For more photos, click
here!
I had so much fun! Thanks for the lovely movie session guys! Looking forward to meeting you peeps again! Sorry couldn't join you guys for dinner! Next time!
P.s So I need to stop spending so much. I'm so scared that I will not have enough money! Treat me?
Labels: Daily Musings
Sorry for the lack of updates recently. Met up with my old secondary schoolmates today to go back to our secondary school and afterwhich, to catch Final Destination 4 at Cathay!
I'll be blogging about it tomorrow! (with pictures!)
Also, to all the shitty teachers out there, hope you had a fun teachers' day celebration! After having experience managing an event with a stupid teacher, I have realised that although they tell us to work hard in whatever we do, they
LOVE
to take the easy way out.
So because of that, I've lost all respect for teachers out there.
(If only they had an evaluation for teachers back then, I'd give all of them a FAIL. Srsly.)
Enough bitching. Sleeping time!
P.s Had fun with you guys leh today! (Shoutout to Qiu Ling, Kwek Kwek and Ah Bong!)
Labels: Irrelevant