3 years ago you told me, "I envy you.. a lot. You get to make new friends in poly. What if you ditch me aside one day just because you found better friends than me?"
3 years later, I got ditched aside. Funny how things turned out. You made new friends in poly. All of a sudden, I became unimportant to you. I got ignored. From calling me every single day to talk about nonsense to none at all.
3 years ago, we used to find time to meet each other no matter how busy we both were. Even if that meant rushing to go for an event after school or just for dinner. We did it.
3 years later, we don't even talk. We meet only once a year at most. From being an active buddy convo on MSN to just a regular person in my list. We're like strangers with a past.
But I'm glad I have these photos reminding of what we used to be. Our friendship. They still make me smile and looking at these photos, it's like having the entire scene being replayed over and over again in my mind.
It's true. Photographs do speak a thousand words. And they don't even have to say anything to stir up such emotions from you.
3 years from now, I know where my life is headed. I hope you know where yours is too because I don't recognise you anymore.
Labels: Daily Musings
Fun, Fresh, Fierce.
The perfect three words to describe my Uncle who was here in Singapore for a holiday! He calls everyone (including my dad)
"NYAH!"
It always gets me laughing every single time he says it, especially when he brings such a nasal tone to it.
Despite the fact that he was here for only 10 days, I only managed to meet him about 5 out of those 10 days because of you-know-what. It was the first time he came and celebrated Hari Raya Festival with the rest of my family and being the fun person that he is, he always brings fun and laughter everywhere he goes, making everything we do an exciting and memorable one!
I still can never forget our movie experience at Bugis. We watched Haunted Changi, a local production, and he kept making stupid ghostly sounds just to scare me but I knew he was quite terrified also. Haha!
He's like Santa Claus, always bringing us gifts and spoiling all of us. He bought a million of presents for all of us. But little did he know that having his presence here in Singapore was enough. Now that he's back in Aussie, I'm already missing him a lot I can't wait for the next time he'll be back here!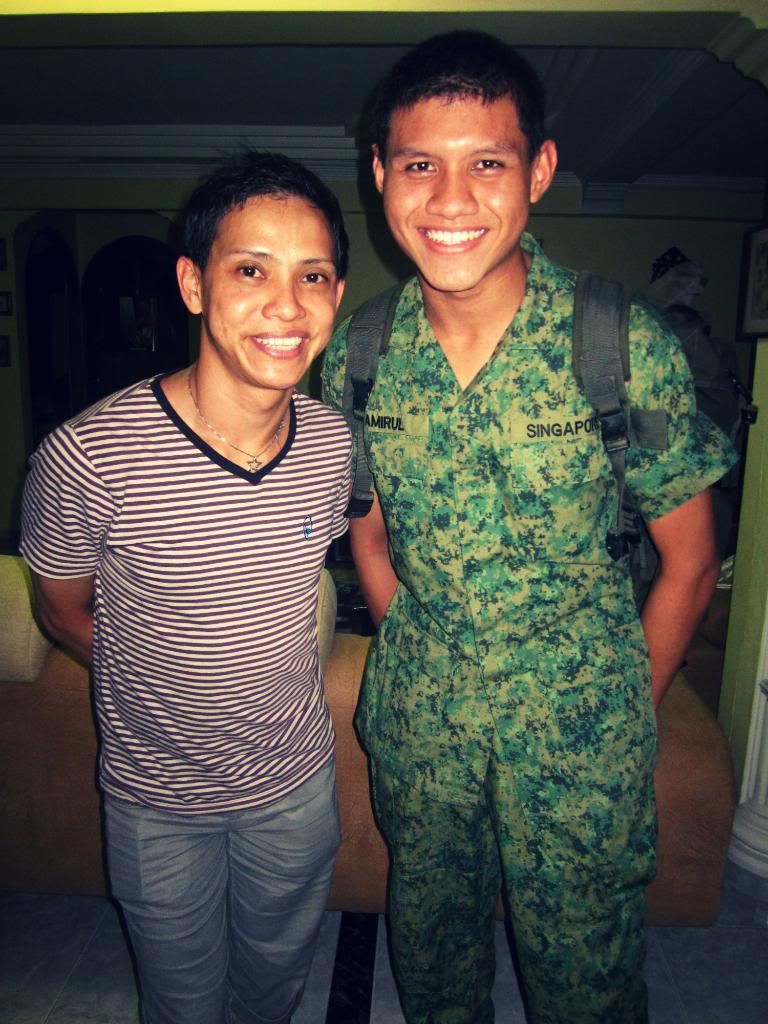 Before sending me off to camp. I was never this happy every previous Sunday.
My uncle was such an inspiration to me. My dad never gave me any encouragement or motivation or what to expect when I enter the army but my uncle did. He called me all the way from Aussie, telling me not to worry and if a "nyah" like him can survive through National Service, I can too. He'd share his experiences with me and we'd laugh over it together. I'm glad I had him before I went for National Service, otherwise I'd just die from depression.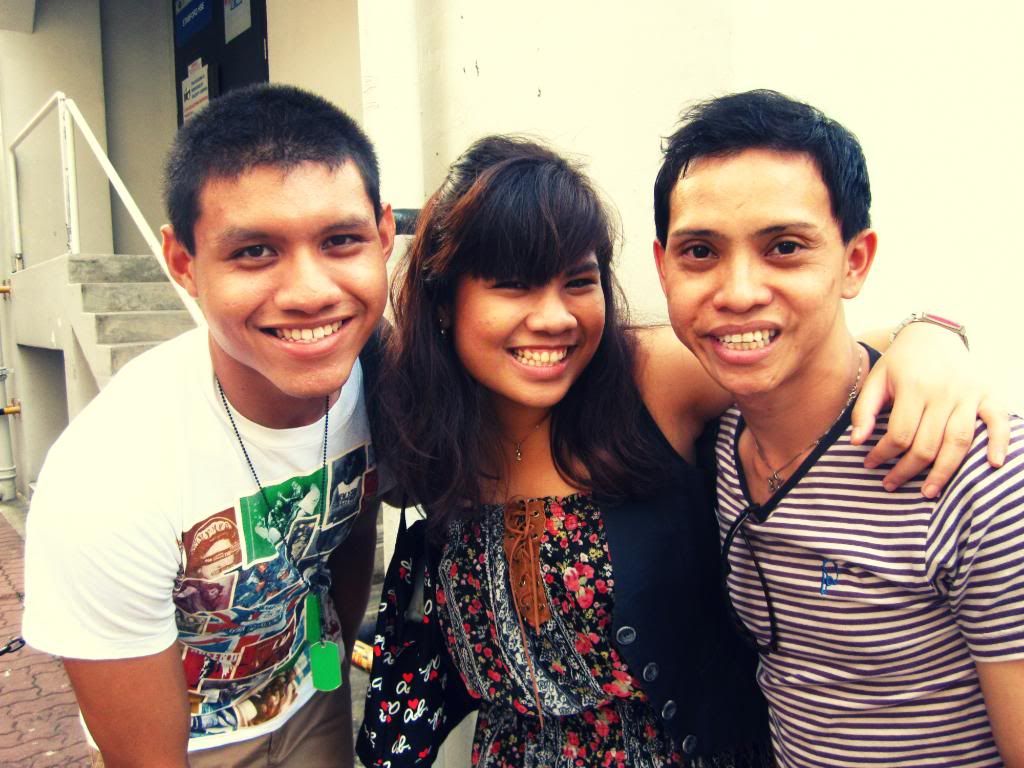 Together with my sister.
As much as the both of them keep telling people that they can not get along together, as they'll end up fighting and calling each other bitch, I actually think both of them actually hit it off quite well! They can fight and fight but I know they love each other's company. Like how the Malay's have this saying, "Gurau-gurau sayang!".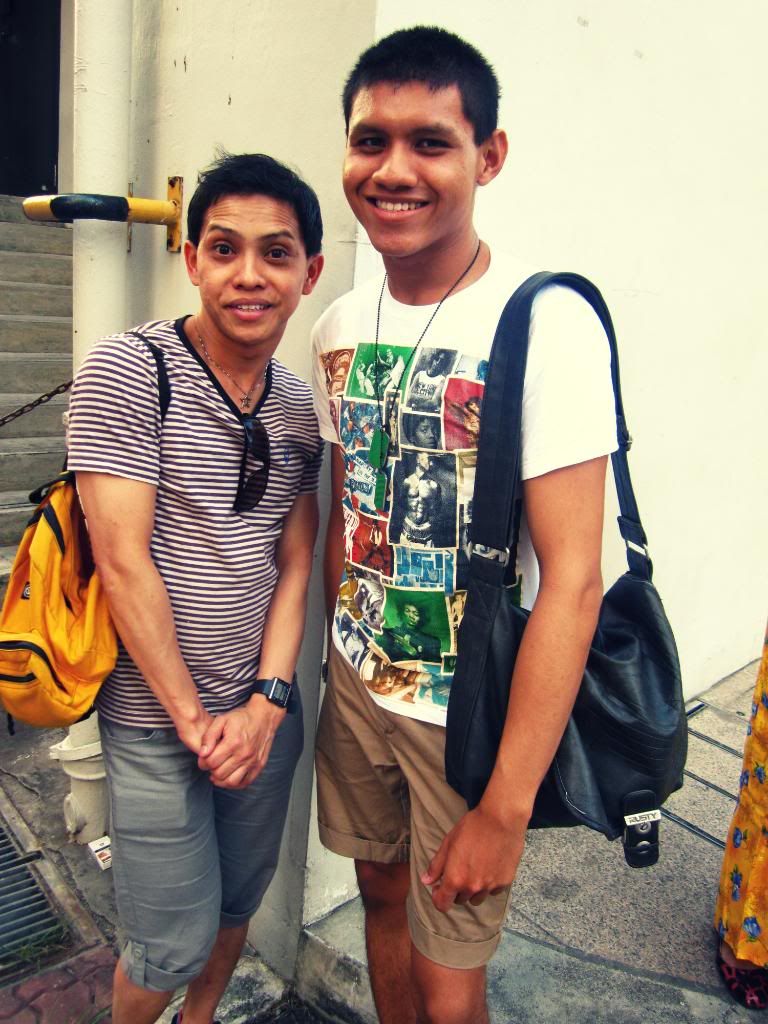 I can lose all the fats from my body but I will still feel extremely huge when I'm with him. He's so small! Me and him.. we both share quite a lot of similarities. He's into music as much as I am and I could spend all day just talking to him about music and gossip(ing) about celebrities.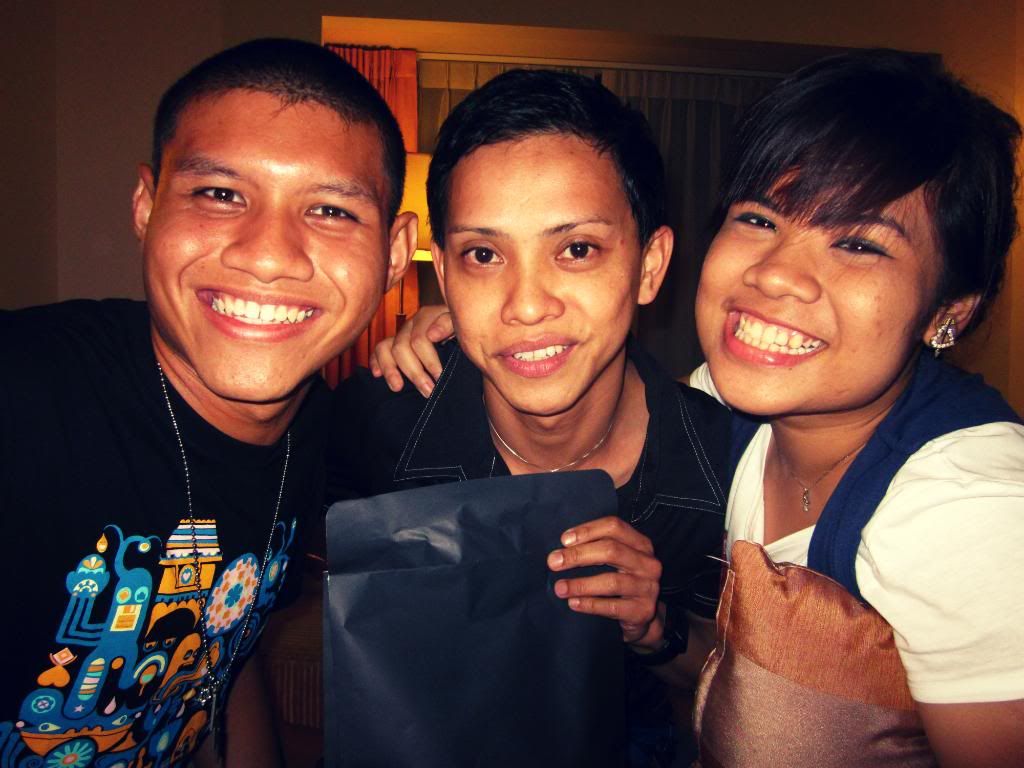 Our uncle holding the present my sister and i got for him.
Just because he was such a darl towards all of us, we bought him something that he'd really love. It's about time we bought him something. He bought too many stuff for us already!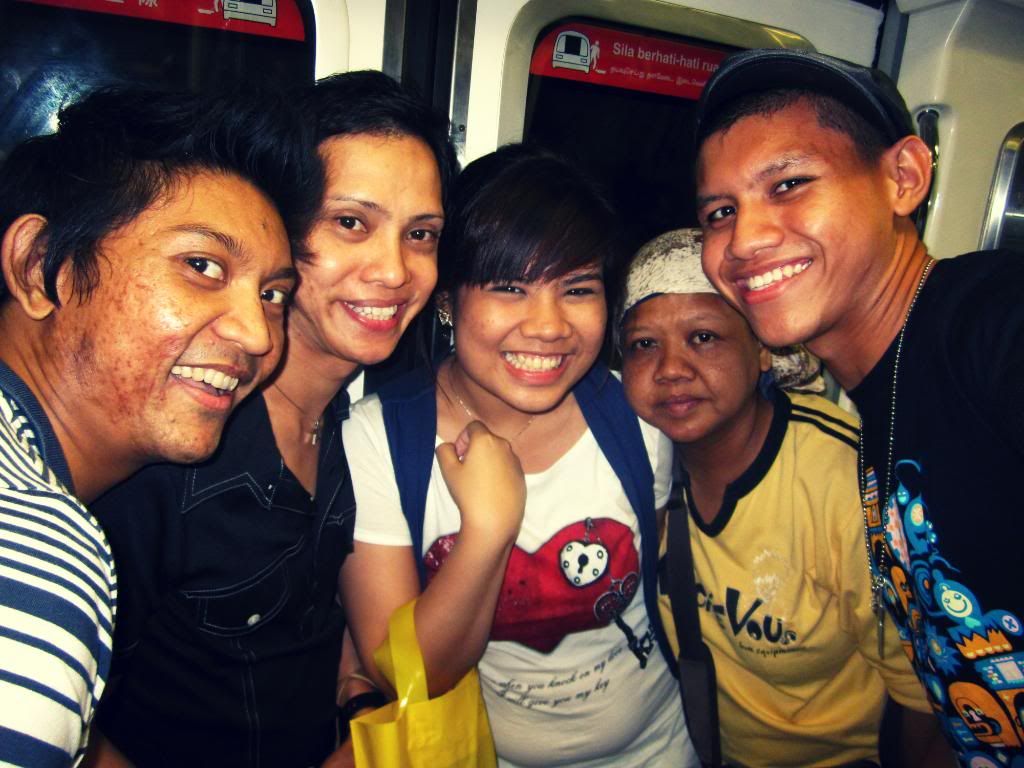 I hate the fats around my neck. This was after we had dinner in Vivo. He met up with all his other nyahs and the convos are just crazy. Haha! I could see my sister feeling awkward at times during their convo. Hilarious.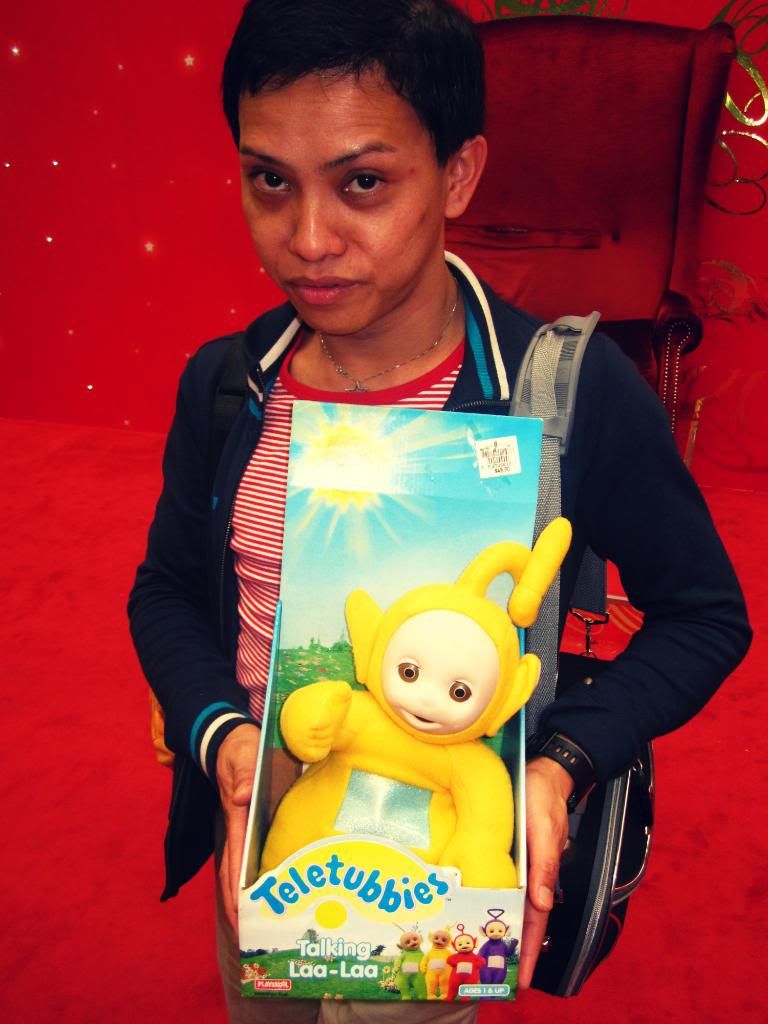 His beloved tellytubby.
I can't believe he used to like tellytubbies last time! His sister found it in his old house and passed it to him. "WTF" was my first reaction. Then all of us kept scaring him and saying that it will walk in the middle of the night and make weird noises because it's satanic. He didn't buy any of our bullshit of course. haha!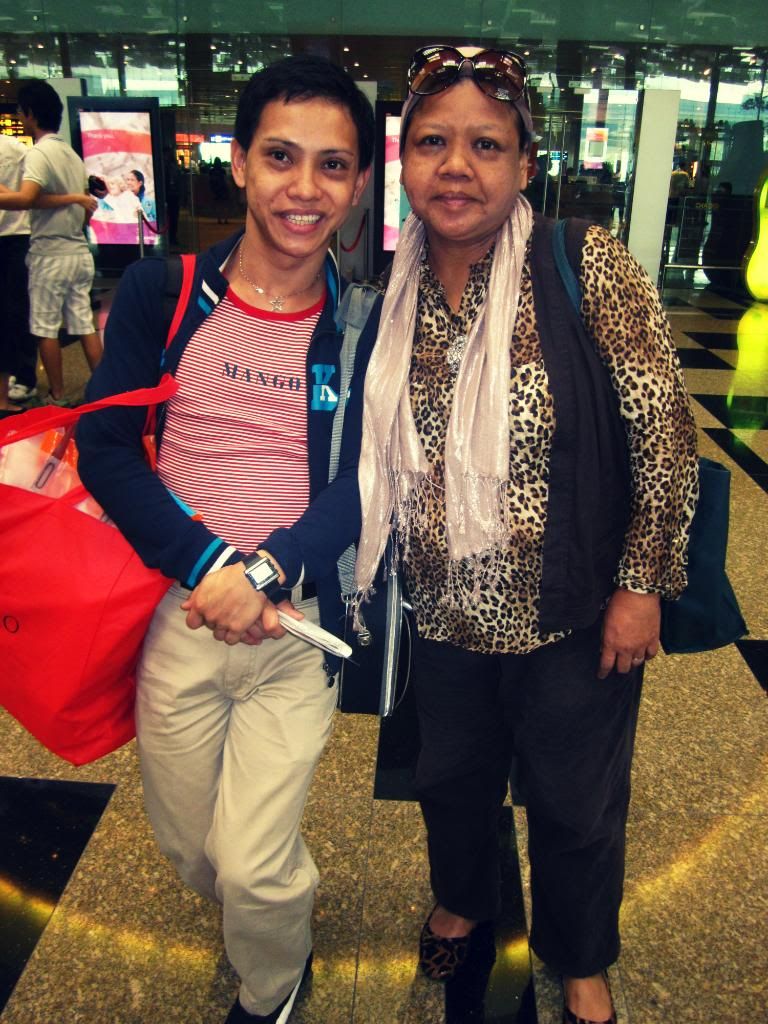 With my mom.
I envy the sibling relationship that the both of them share. At times, I'd wonder to myself and think, "Am i looking into the future of what will happen to both my sister and I?" Honestly, if you bother to notice their personalities and characteristics, you'll be surprised to realise how similar the relationship that I share with my sister is compared to my uncle and my mom.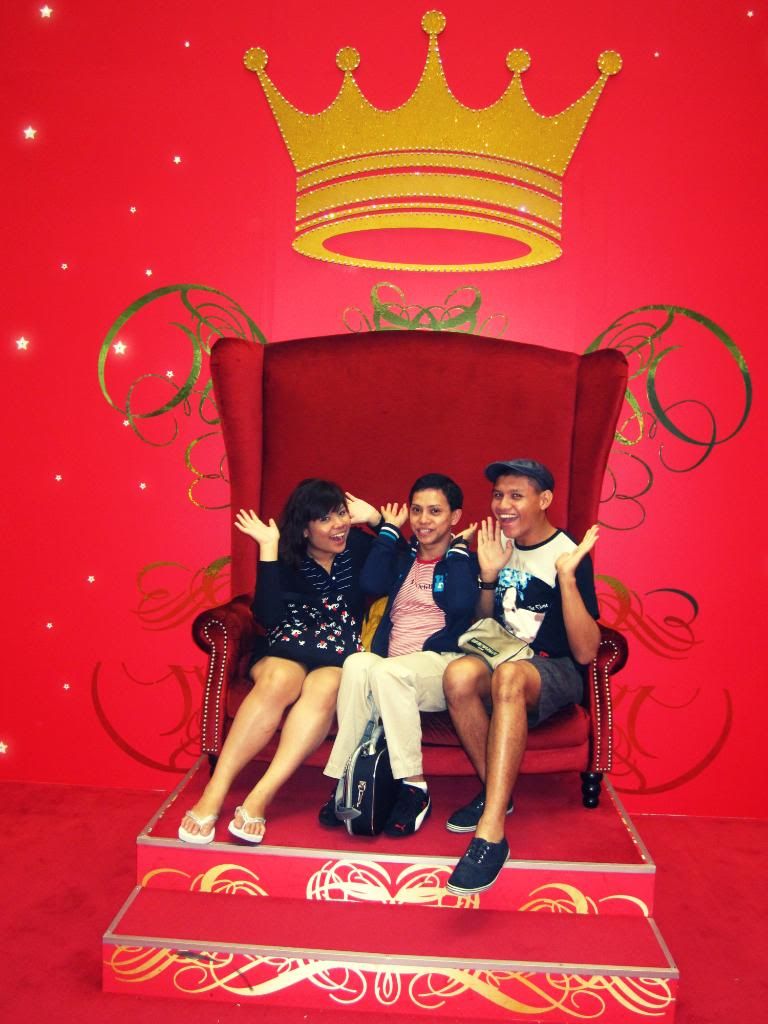 Our last picture together before he had to leave for his flight.

10 days went by so fast... just like that. And it was finally time to send him off, sadly. My mom got all emotional.. as for me, I did get emotional also la a few hours later. And it was on a Sunday. If only he left a day after I go back to camp or something, at least I won't feel this emotional. I miss him already la! Come back soon la Azzy!
Labels: Daily Musings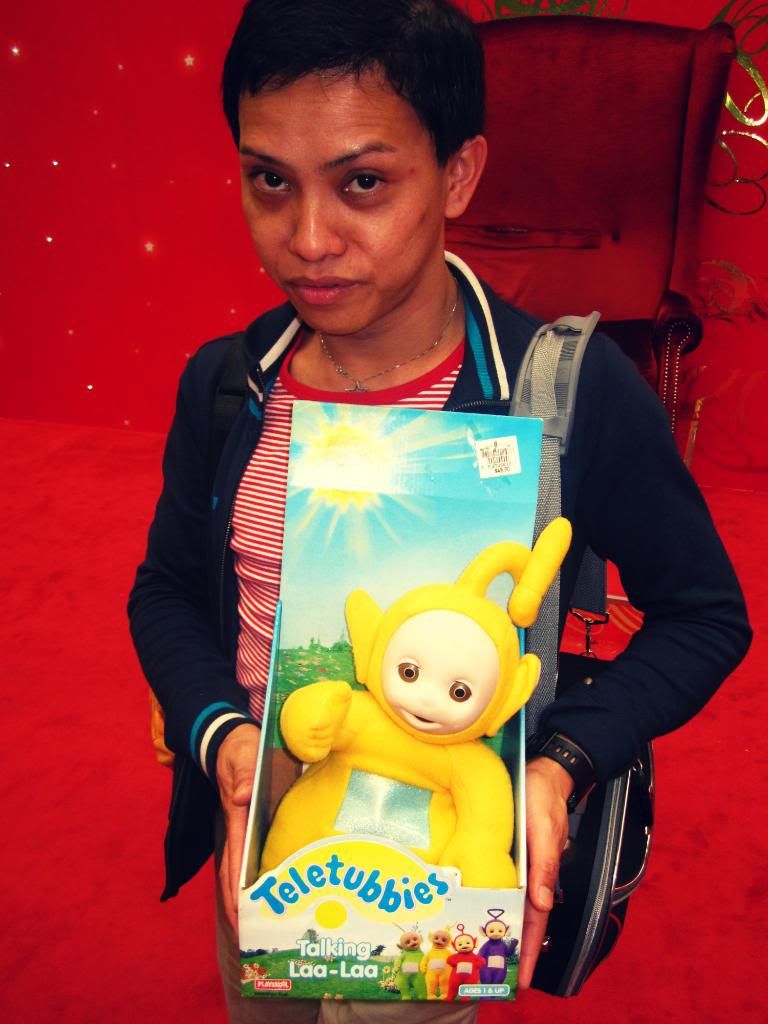 My Uncle and his beloved TellyTubby. (lol!)
10 Days with him around is definitely not enough.
Labels: Daily Musings
My first mistake was loving you

My worst mistake was giving you a second chance

Cause you tore me up, and you called it love

You made a fool out of me

My last mistake thinking I wont make the same mistake again
Labels: Song Of The Moment
Hello Sunday. You're finally here once again. I just thought that you should know that I hate you so fucking much. You fill me up with sadness and sometimes even send me to depression. Sometimes, I really think that without you, the week will be so much better. At least my life right now would be so much better.
Every single Sunday that I wake up to, I look at the clock immediately and start counting down the number of hours I have remaining. I hate that feeling, so paranoid. It kills me and I keep looking at my watch and time seems to pass by super fast. If I ever suffer from a heart attack in the near future, it's all because of you Sunday.
I had enough typing this bullshit. Time to get ready and to meet my other family in Tekong. HURRHRURR.
Labels: Rant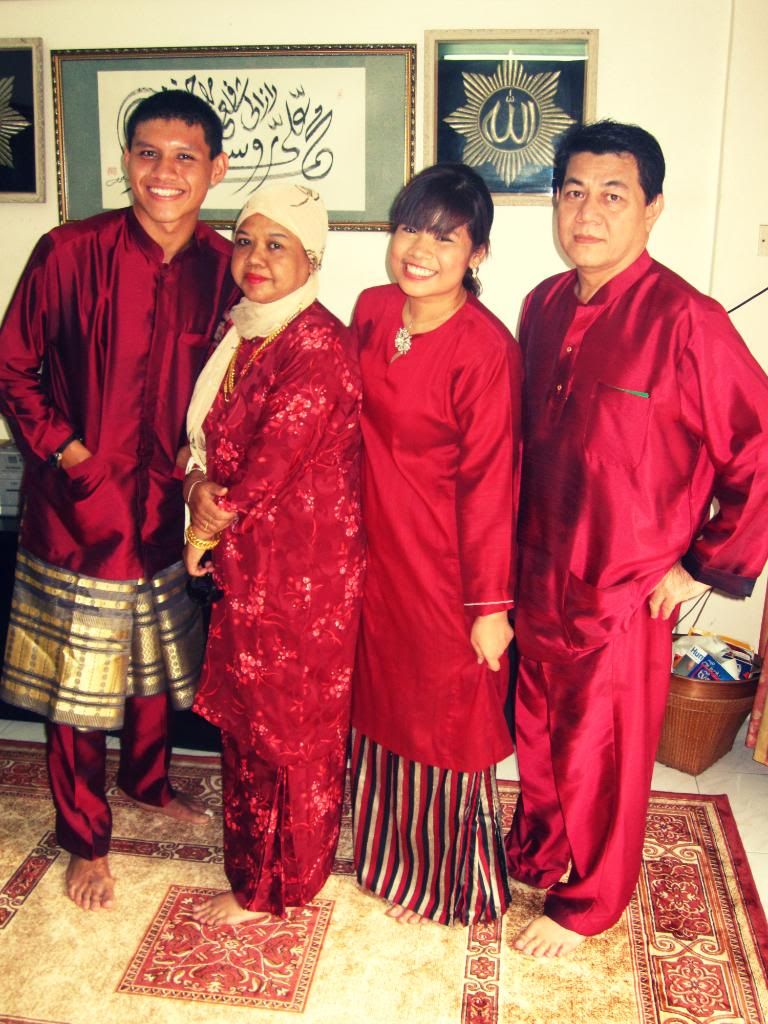 Red is the new Black.
(My ATM Machines. Always working 24/7)
Hari Raya may be a joyous occasion for most of my Malay friends but it's just a normal day for me. This year, however, my bitch of an uncle specially came down from Sydney just to visit all of us down here in Singapore. Well you can say he brought life to the occasion most definitely.
We didn't visit much houses this year. It seems that as you grow older, the number of relatives that you have starts to shrink. It's not that fun as it used to be anymore. Number of green packets also start to lessen. Well, yes I still do get green packets. I deserve it. HA.
The day before Hari Raya, my family went to Geylang for some last minute shopping. I was craving for Ramly Burger (and still am as I am typing this) and Air Katirah. I hate going to Geylang la. It is always so crowded. That was my first and my last trip to Geylang during the Ramadan Month.
Talking about fasting. I think I owe a total of like 2 week's worth of fasting. I'm having a huge headache on how to repay everything back because I am so lazy to even do anything about it. So much for wanting to get a full 30 this year. Haha! Impossible!
Okay pic spam starts from here onwards. Believe me when I say I only had like an hour of rest before Hari Raya as I was busy churning out a proper essay for NS. Ns also got assignments but I had fun typing out the essay. Now I just wish I had balls to actually post it up but nah.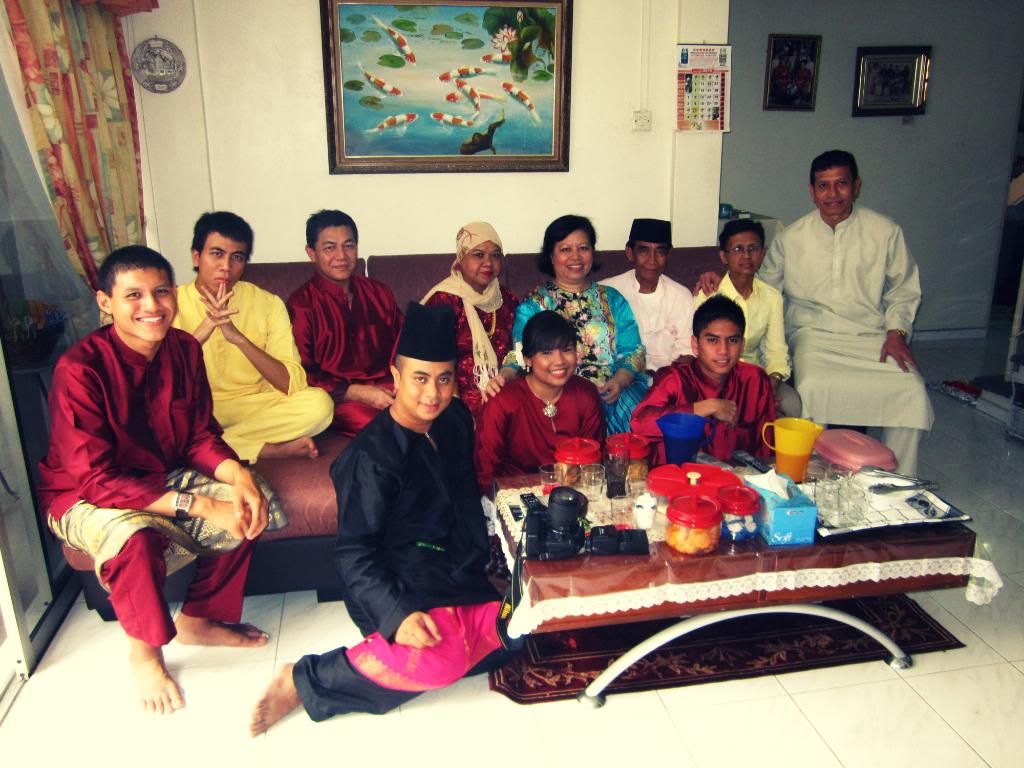 My Father's side of the family.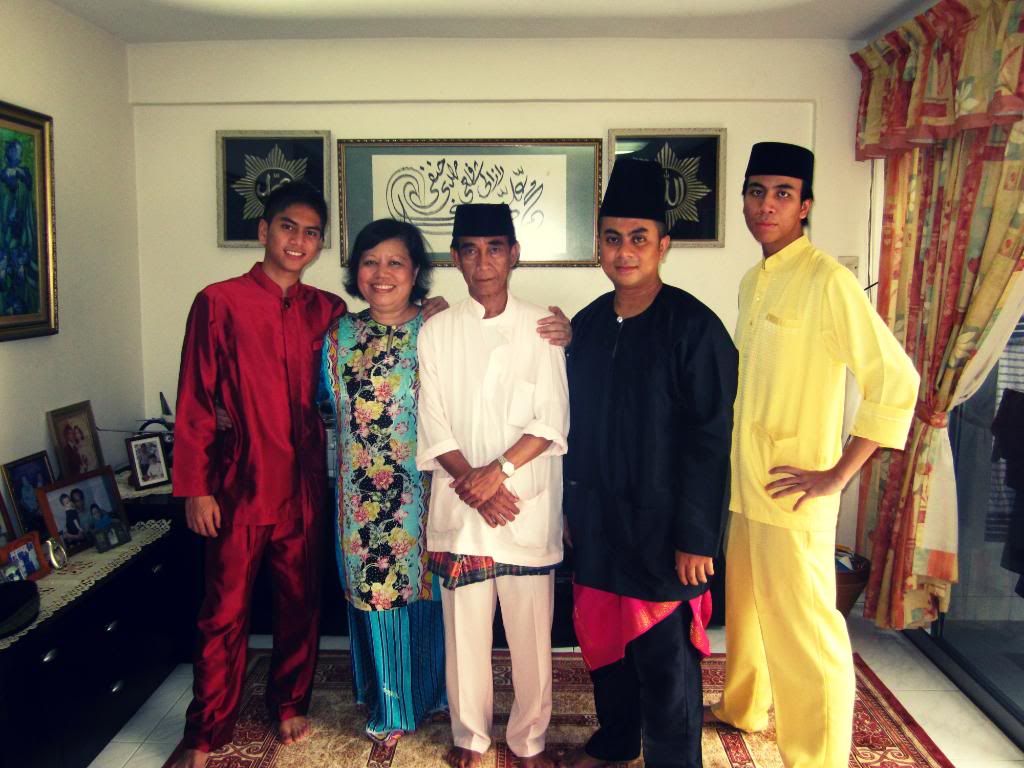 My aunt, uncle and cousins.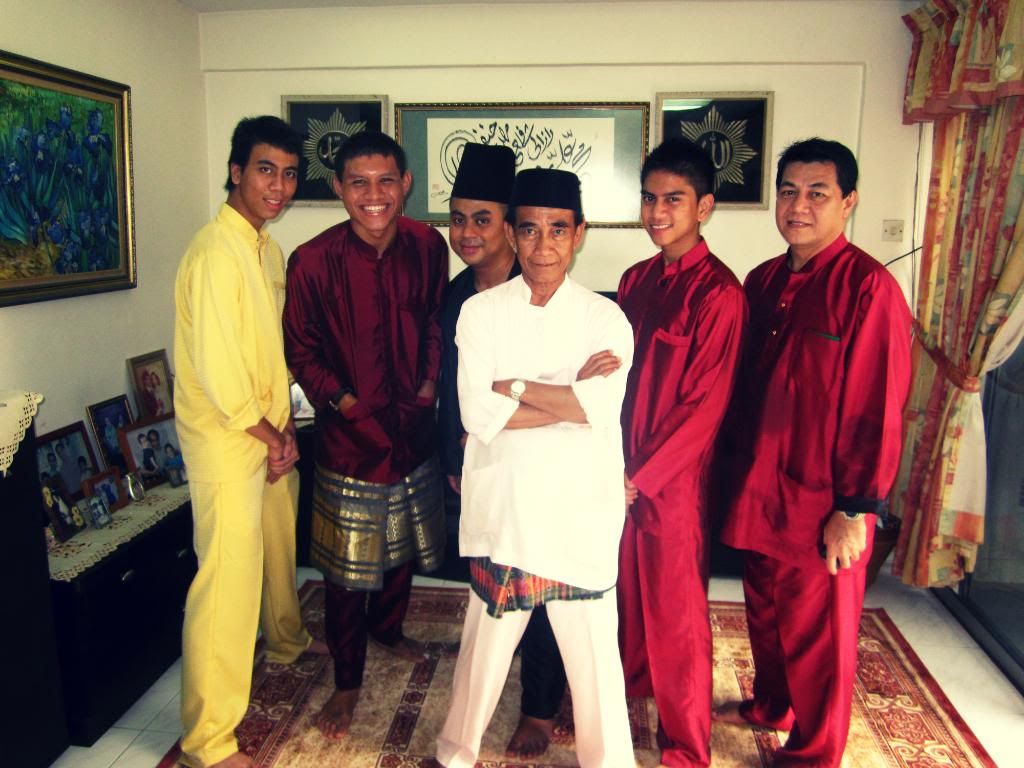 The thorns in the family. Ignore my wide grin. I look cranky.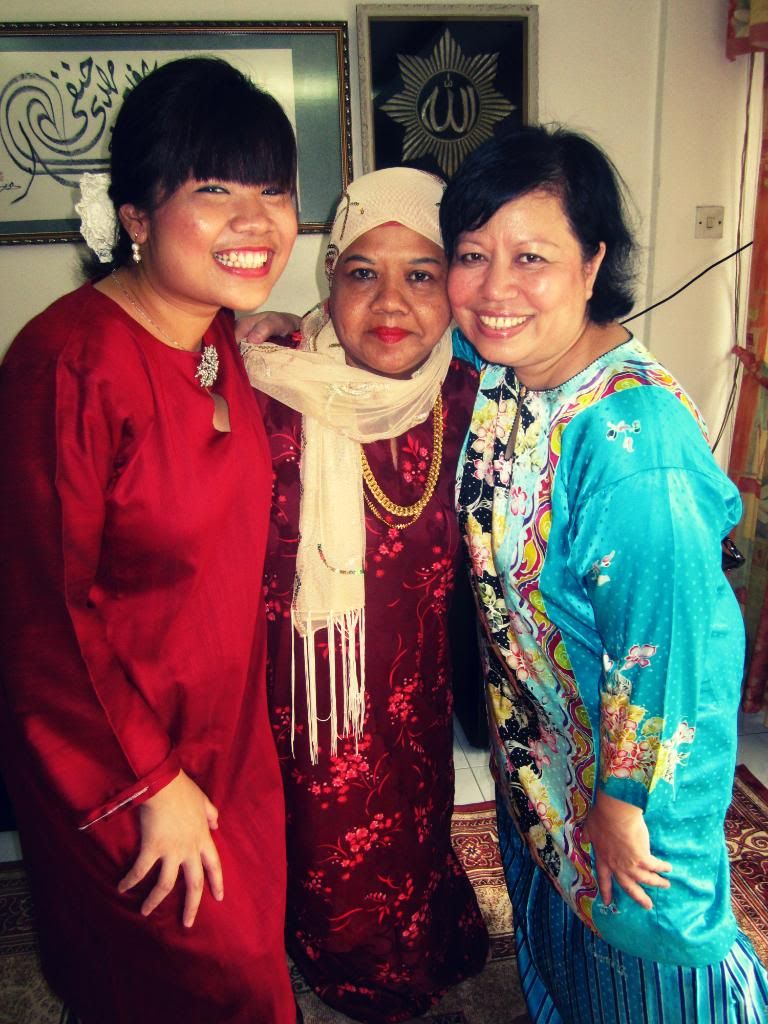 The roses in the family.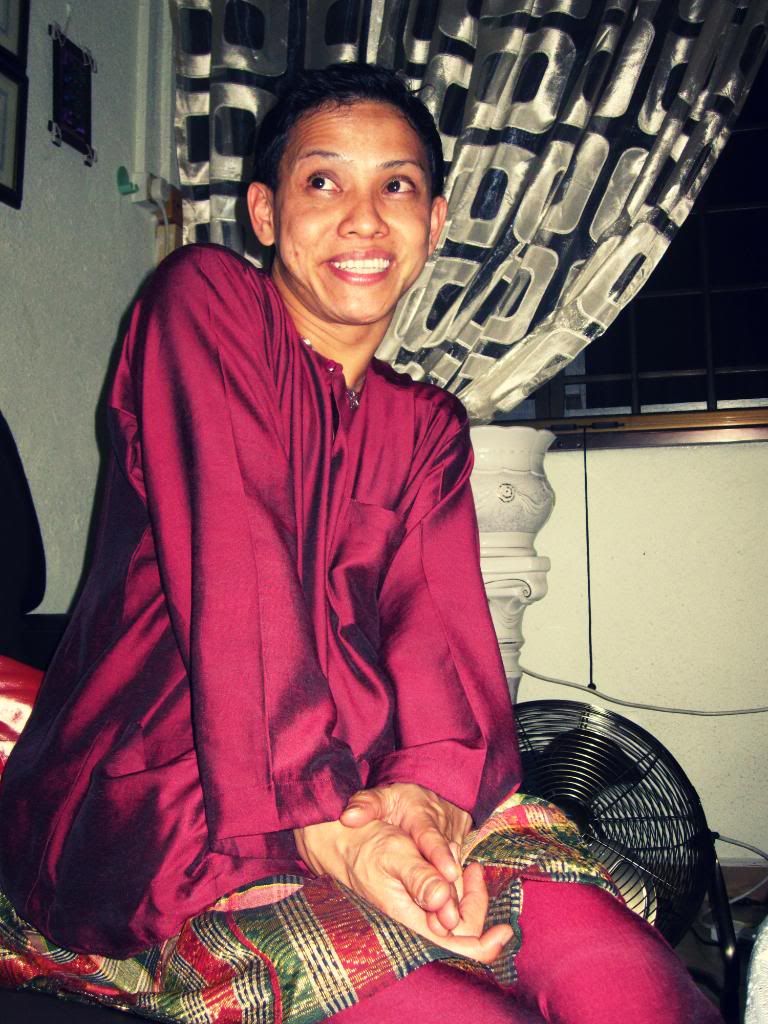 After the first house, we went straight to the Airport to pick up the VIP (Very irritation person), my uncle Azzy la.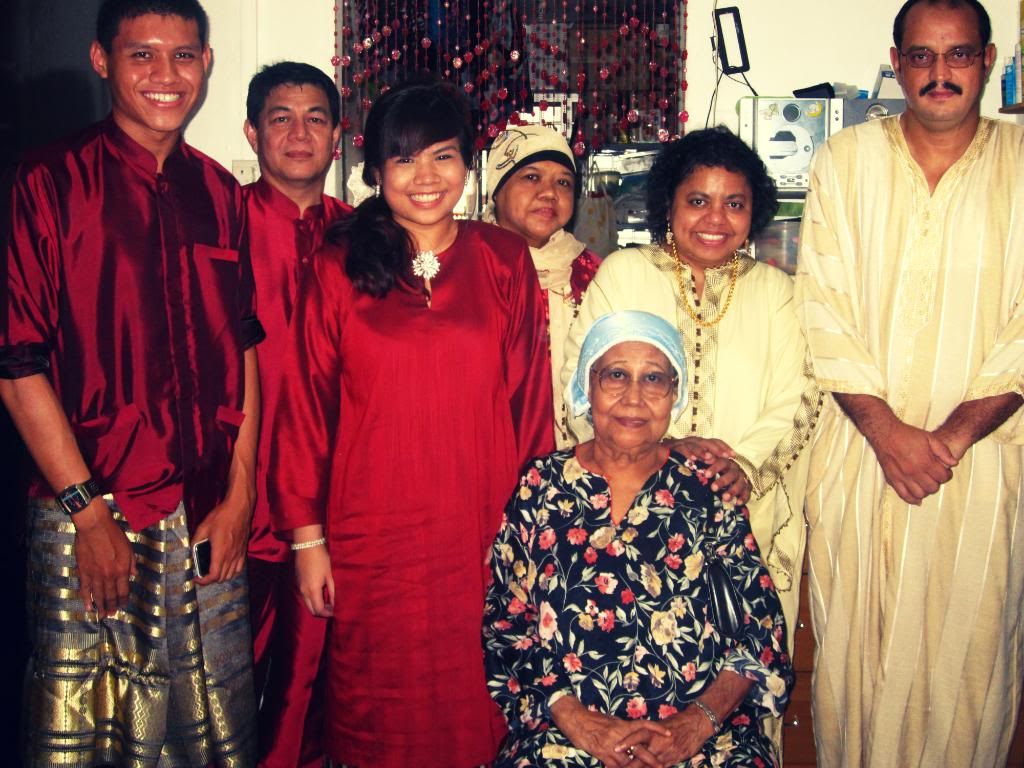 At Cik Pon's house. In this photo, my samping was dropping off and I was trying my best to hold it in place. Talk about wardrobe malfunction, seriously.
Azzy: So where are we going now?
Me: Going to Cik Pon's house.
Azzy: -looking at me in disbelief-
Me: My father's auntie la! What were you thinking?!?!


(Cik Pon is a term used to describe the Pontianaks. So hence, the reaction)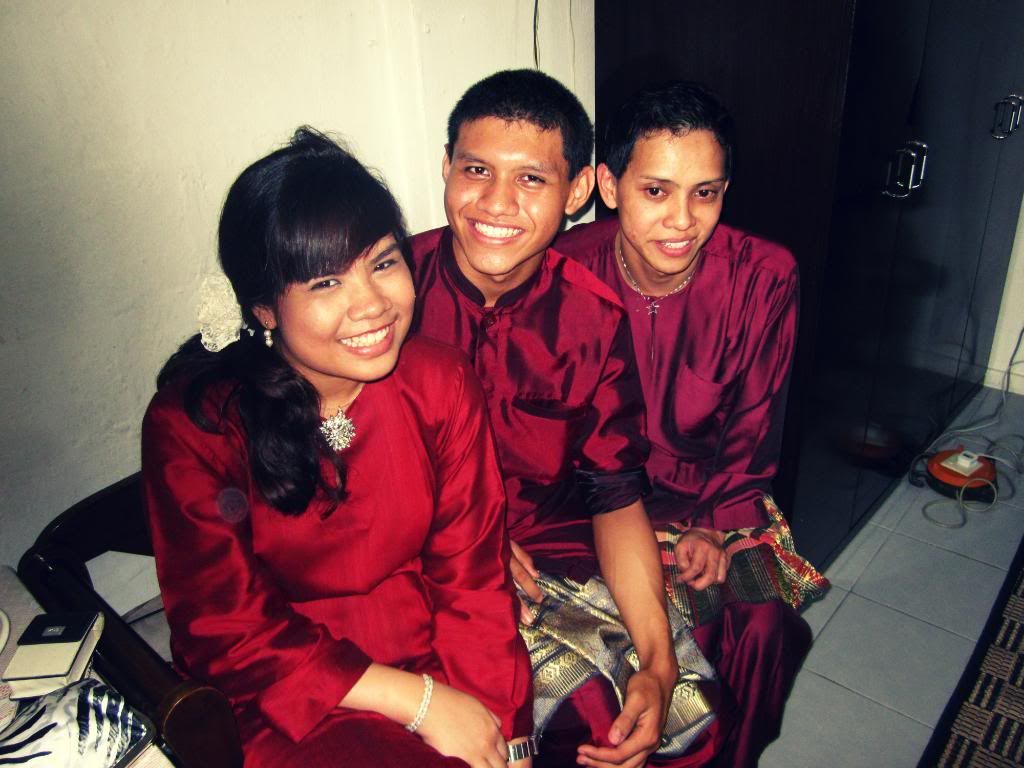 Time to Camwhore!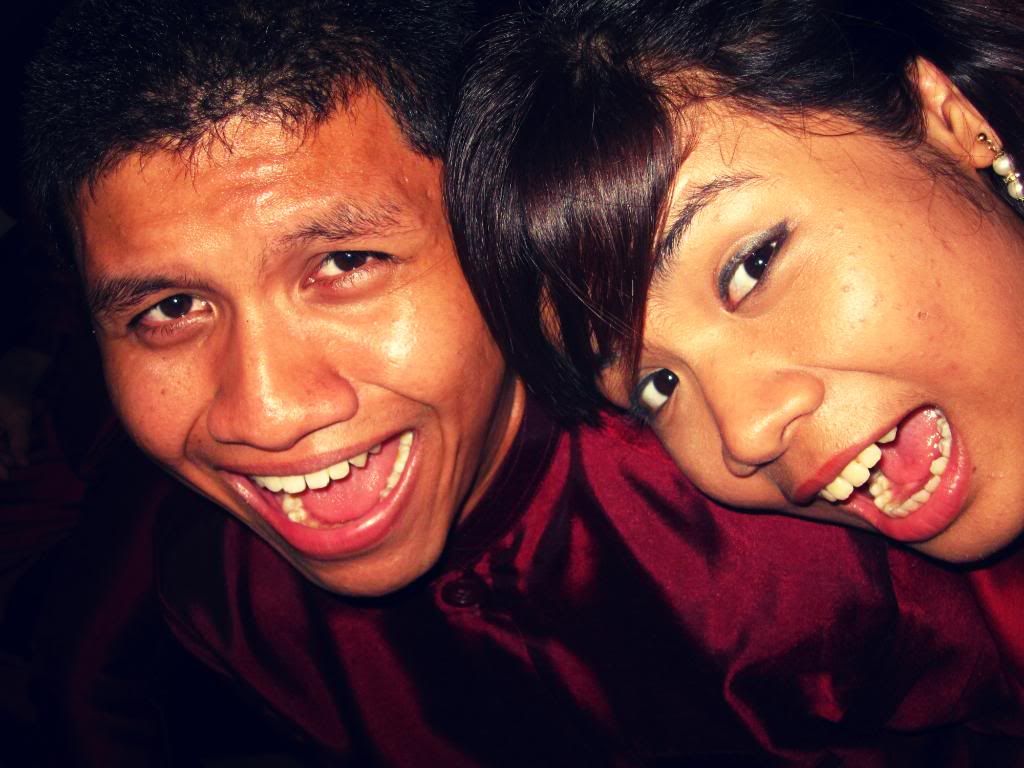 Fail camwhores.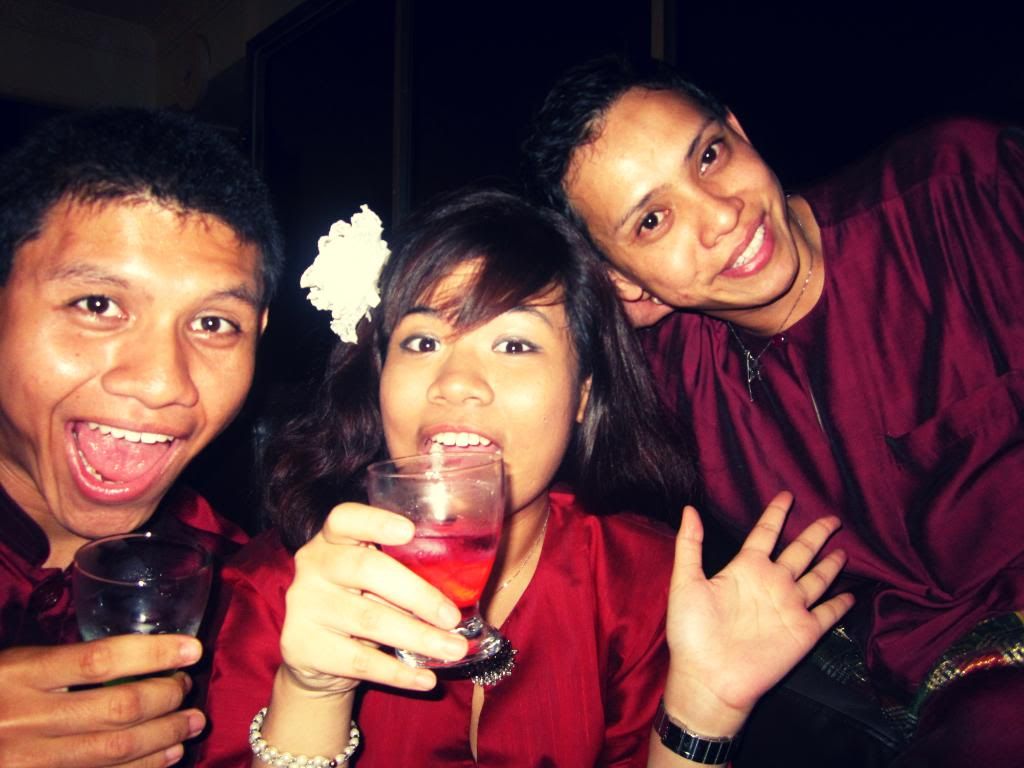 Candid la!
Yeap. This was definitely a candid shot.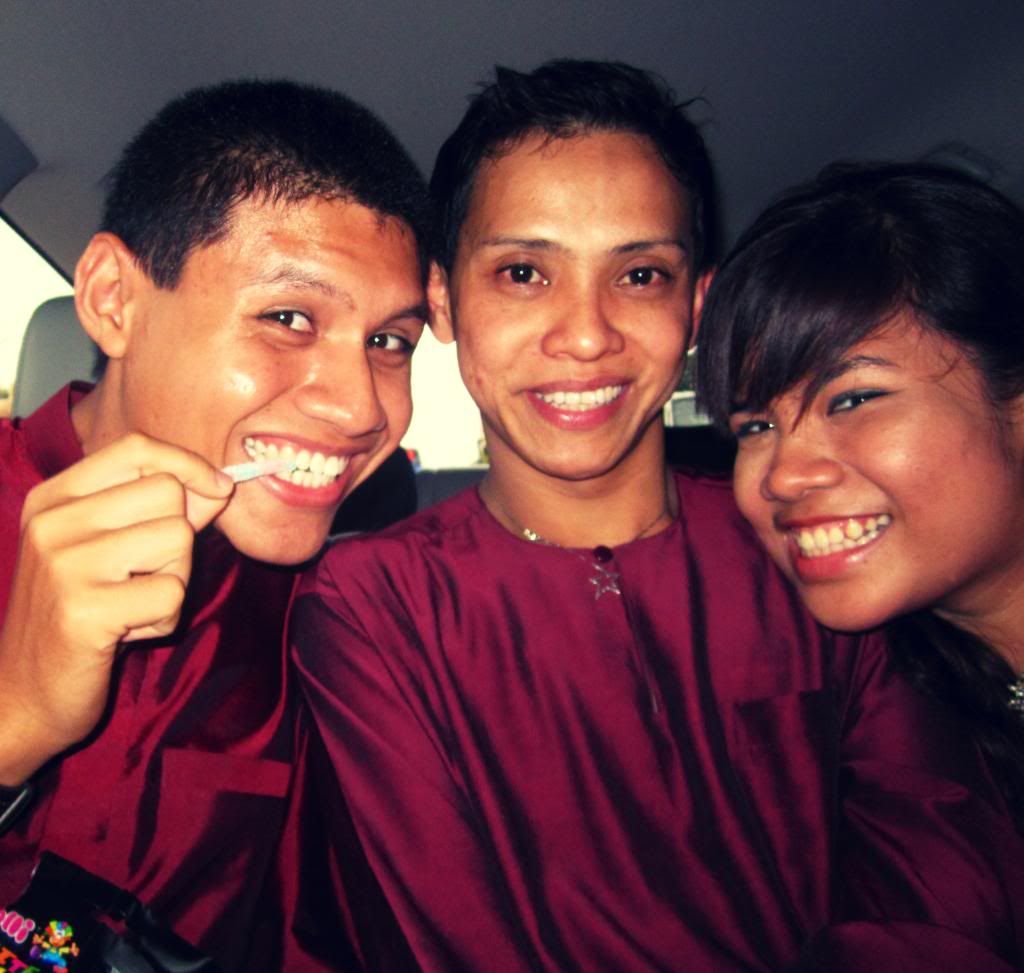 The three bitches.
Ahh. I want next week to be over already so I can spend more time with my uncle. I want to go shopping la! Not house visiting! Haha!
Labels: Hari Raya
Because Hari Raya is all about having fun!
Captured moment - 2 years ago when I was out house visiting with these bunch of people.


When both Nazri and Farhan were still doing their BMT/SCS/Whatever nonsense and there I was laughing at them not knowing that 2 years later, I'll be right here in their shoes doing exactly the same thing that they did 2 years ago.
Oh well. At least I rocked that long hair of mine while I still had the chance.
SELAMAT HARI RAYA TO ALL MY MUSLIM FRIENDS!
P.s I miss hanging out with Nazri, Farhan, Azril etc la. But I miss my hair even more.
Labels: Hari Raya
Every Hari Raya comes along with an
UNGLAM MOMENT.
Captured Unglam Moment - Year 2008.
Oh well. At least I still rocked that long hair of mine while I had the chance.
But seriously, WHAT WAS I THINKING?
P.s Yes. My pants are still torn. Yes. The blue thingy is what you think it is. Oops.
Labels: Hari Raya
Who died and made you the King Of Anything?
Sara Bareilles is on repeat mode in my ipod for the past few days. I wish I was blessed with a beautiful voice like her. Probably a manly version, I guess. Heehee.
P.s But in my own world, I am the King Of EVERYTHING. Wouldn't it be nice to live in my own world? Haha!
P.s P.s Just realised I posted up the wrong song. Oops! haha!
Labels: Song Of The Moment
Attended the MCM21: Black & White Party at Tab last night!
Mass Commers from all over unite for this one special night. It was great to meet old friends to talk, joke and laugh. I wished more people from our cohort (Class of 2010) were there though but it was still cool anyway & MCM is finally LEGAL now!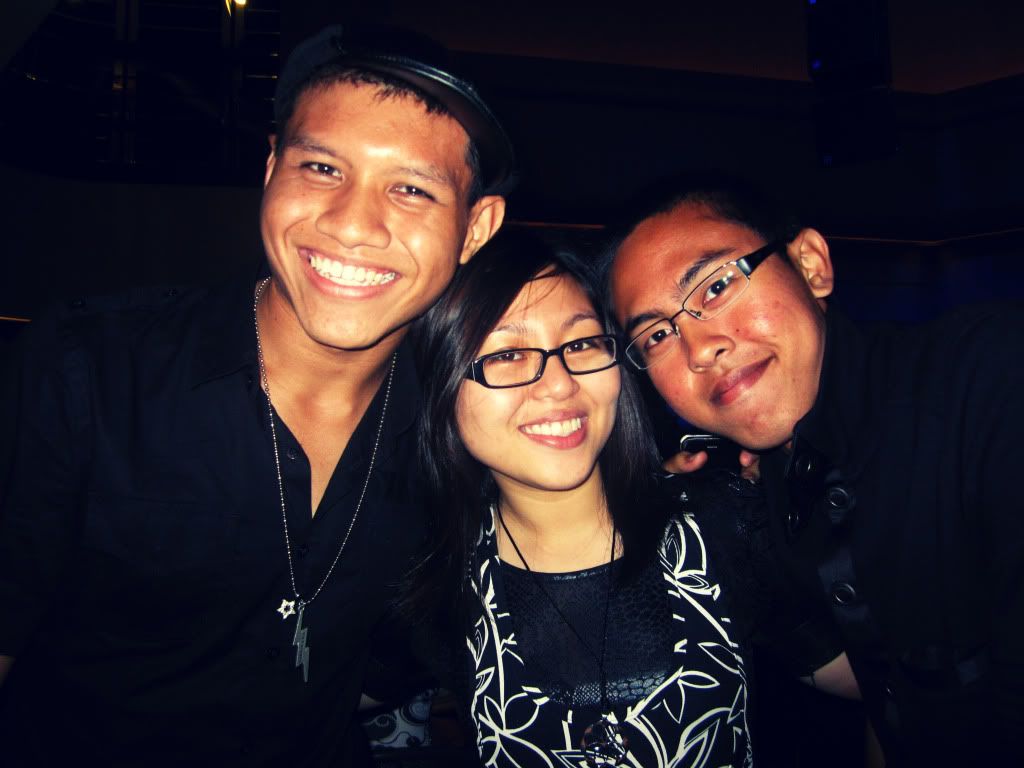 Mun Mun (still as short as ever) & Jarrel.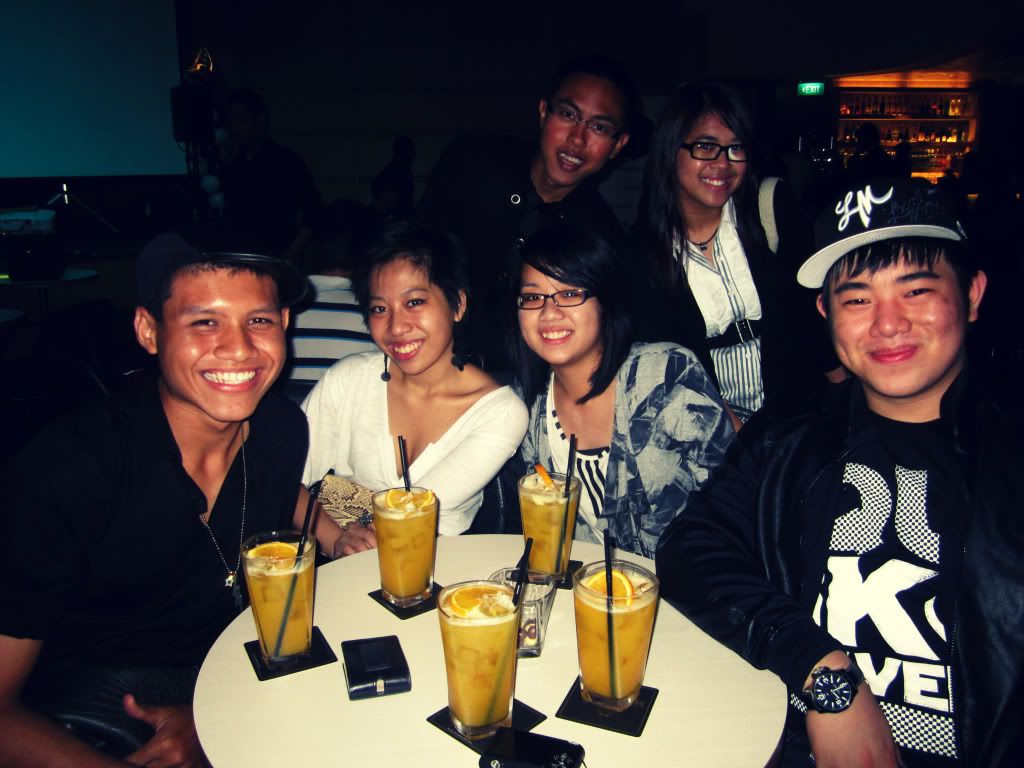 Holla MCM-ers!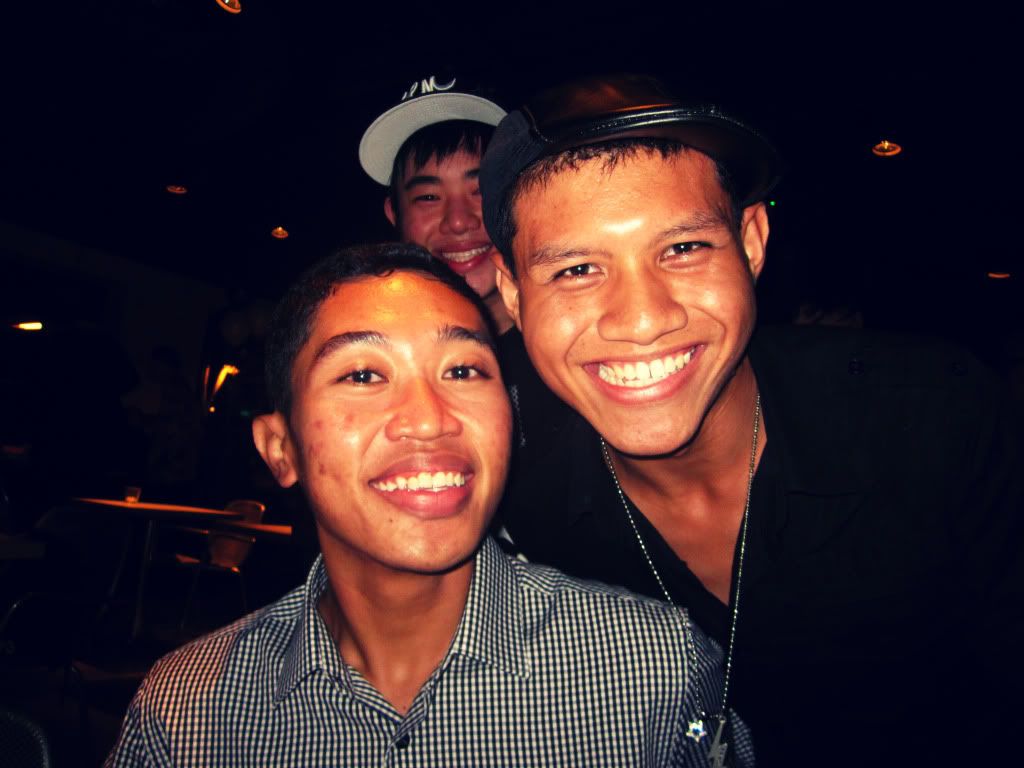 The super slim NOH. I am jealous! He lost weight like crazy!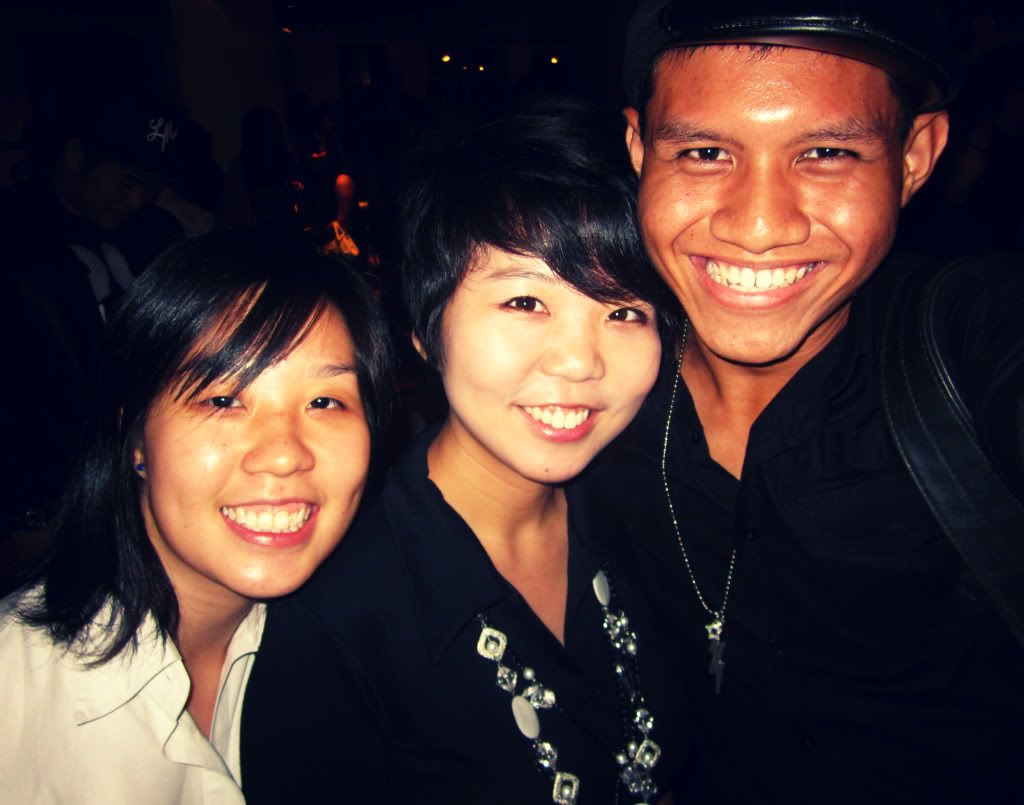 The UrbanWire Girls. heehee.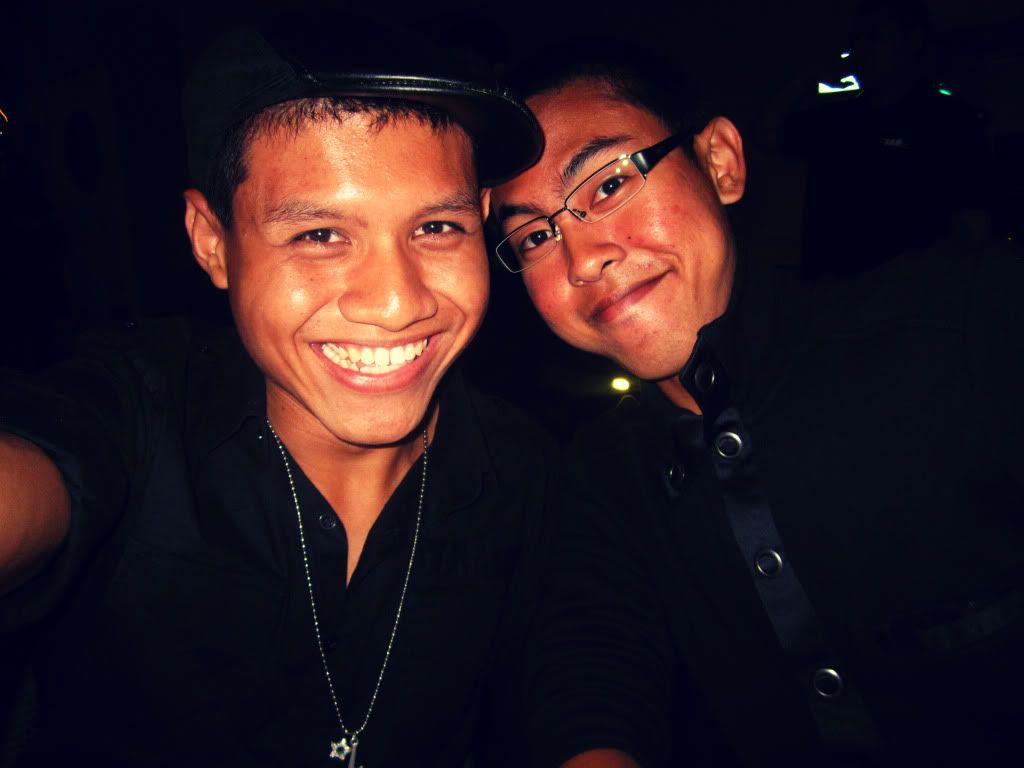 Hello Jarrel. You look drunk.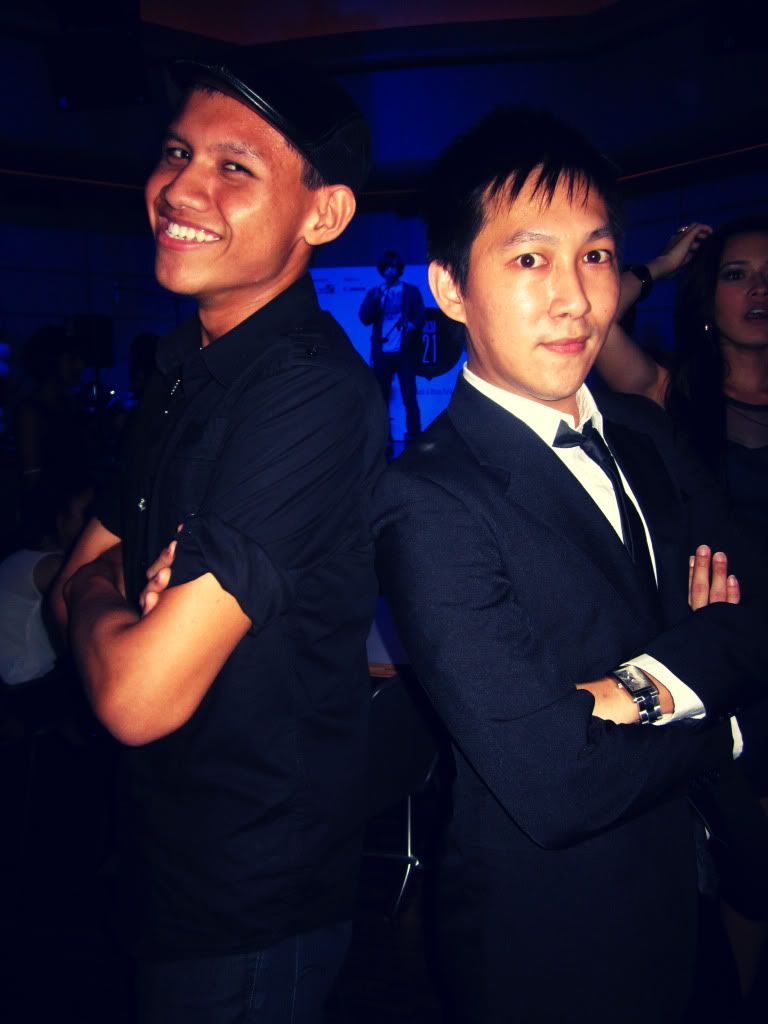 Wah Ronald so hamsum ah?!?!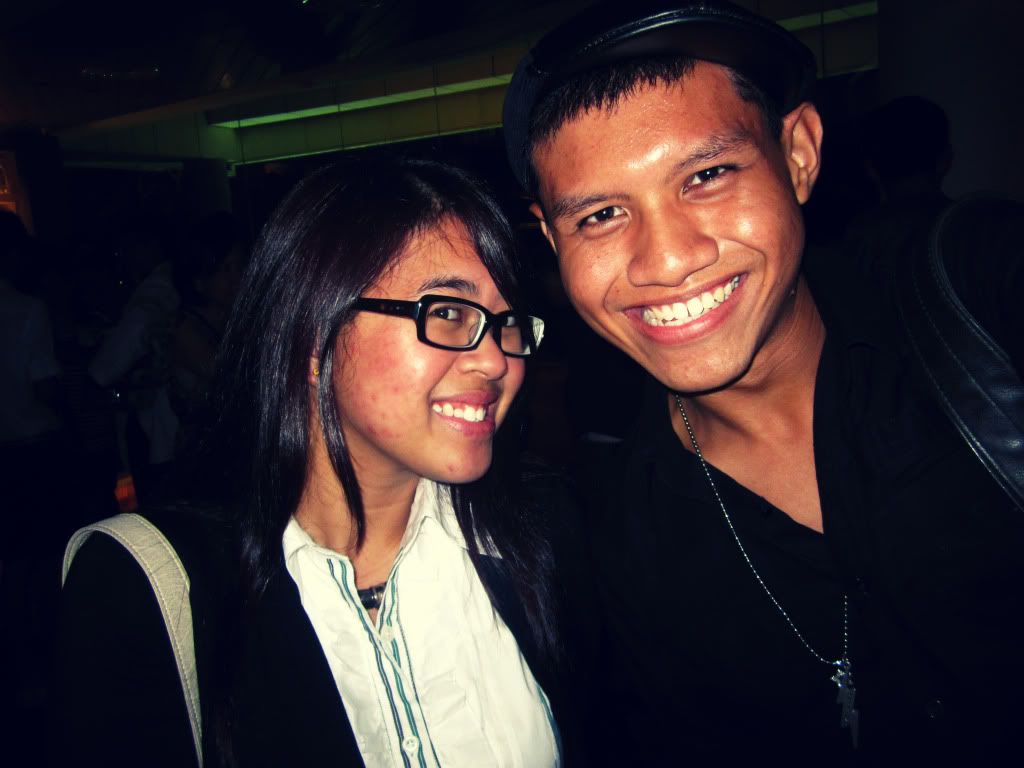 Hey hey Gurlfren!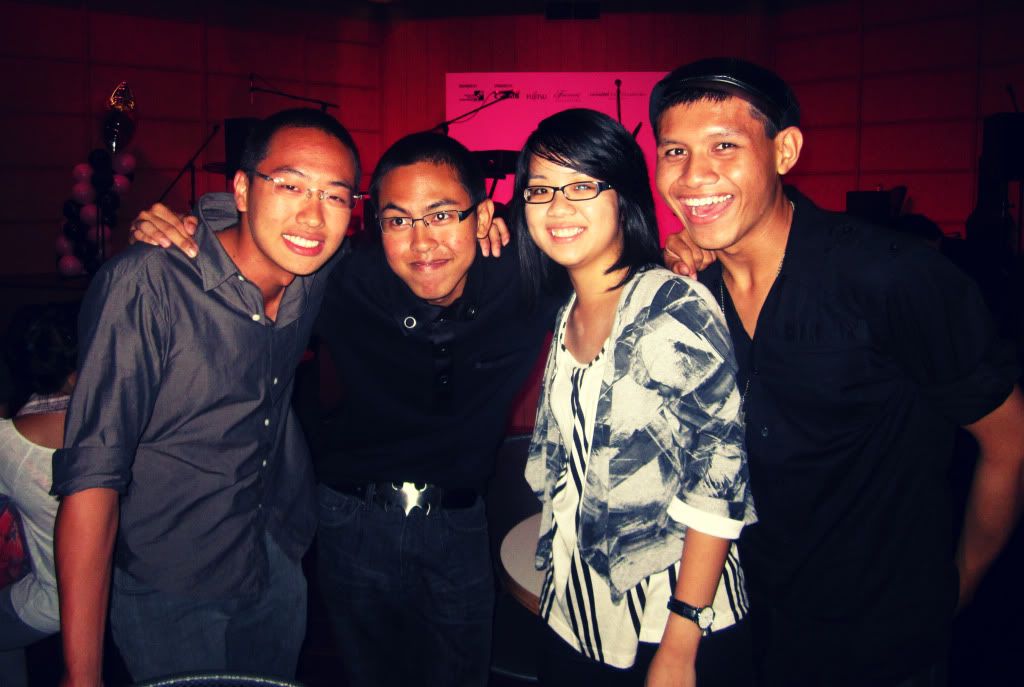 3 NS Boys + 1 Girl.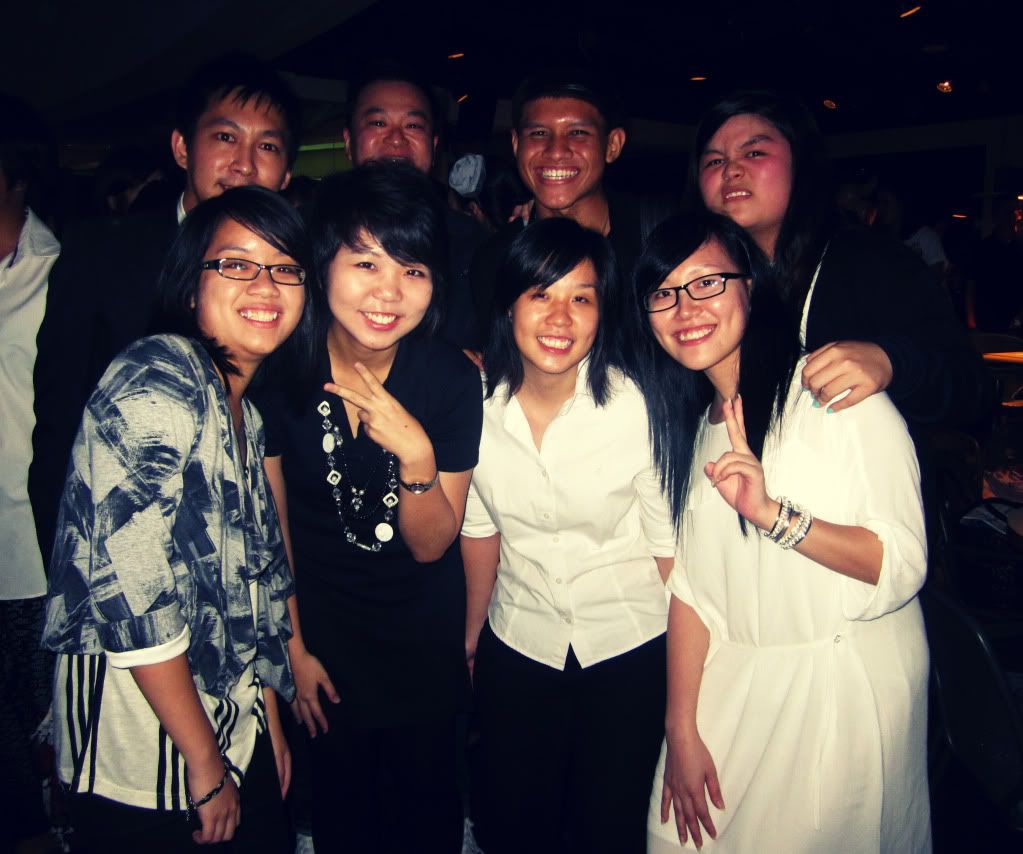 HELLO M:IDEA! Fun times.
And 3 years ago, we were all struggling with the tremendous assignment load.
Labels: Daily Musings
Friday. Book out from camp. Head back home. Dinner with family. Then off to meet my other family - my bunkmates.
It's been a terrible (I emphasize) week for most of us. So terrible I don't even know where to begin because every single mistake they do deserve a -facepalm-. We had a very disgusting steamboat at Bugis.. well I didn't eat.. just got a drink and camwhored. I don't think I'll ever join them for steamboat again - it's dirty and disgusting. Hopefully this will be our first and last steamboat dinner. Heehee. And after steamboat, we headed off to Cineleisure for some pool & arcade action!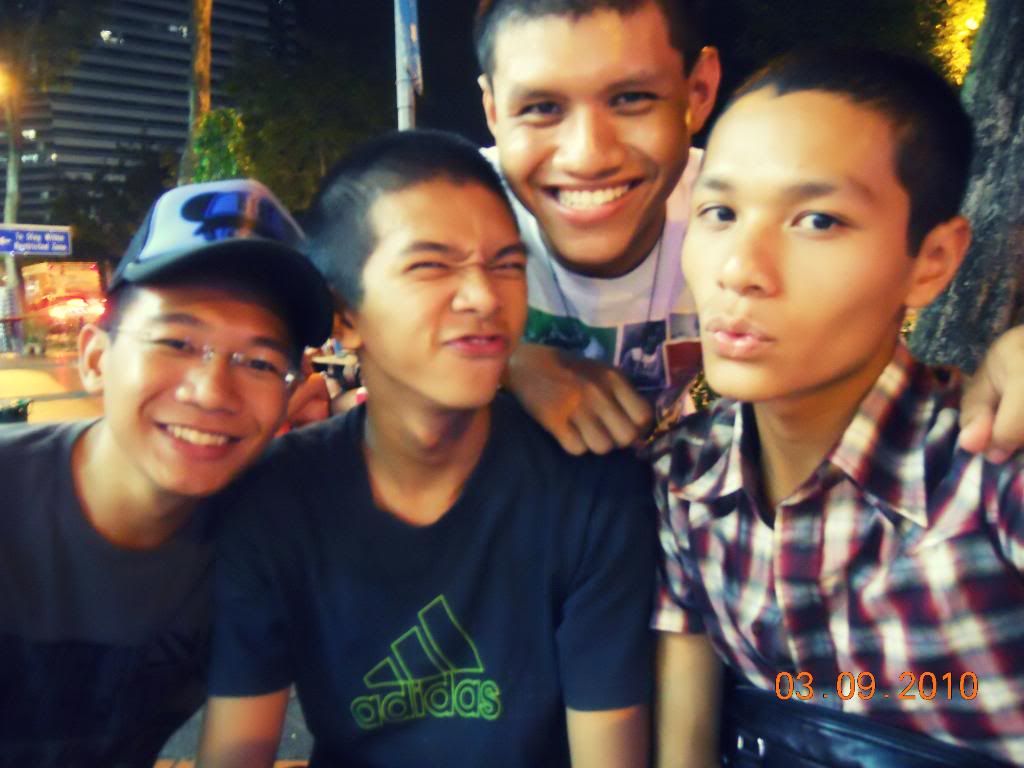 Meet the Bitch crew. Minus Jonathan on the extreme left.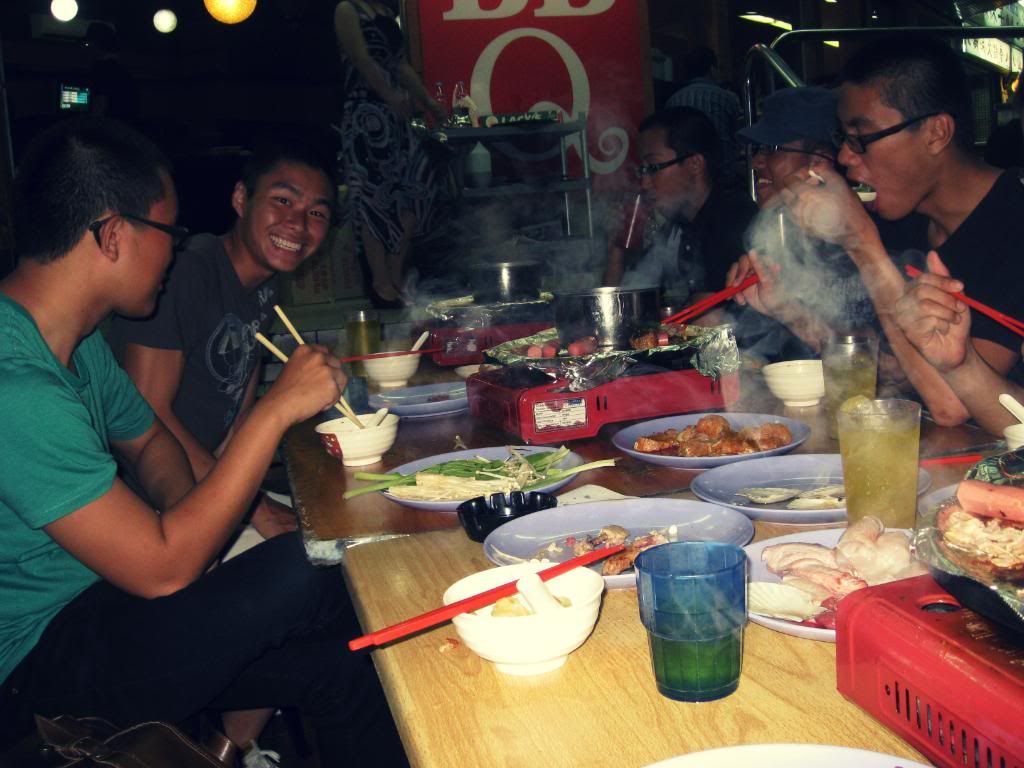 Erk steamboat.
Oh Yuen Pan joined us for the first time!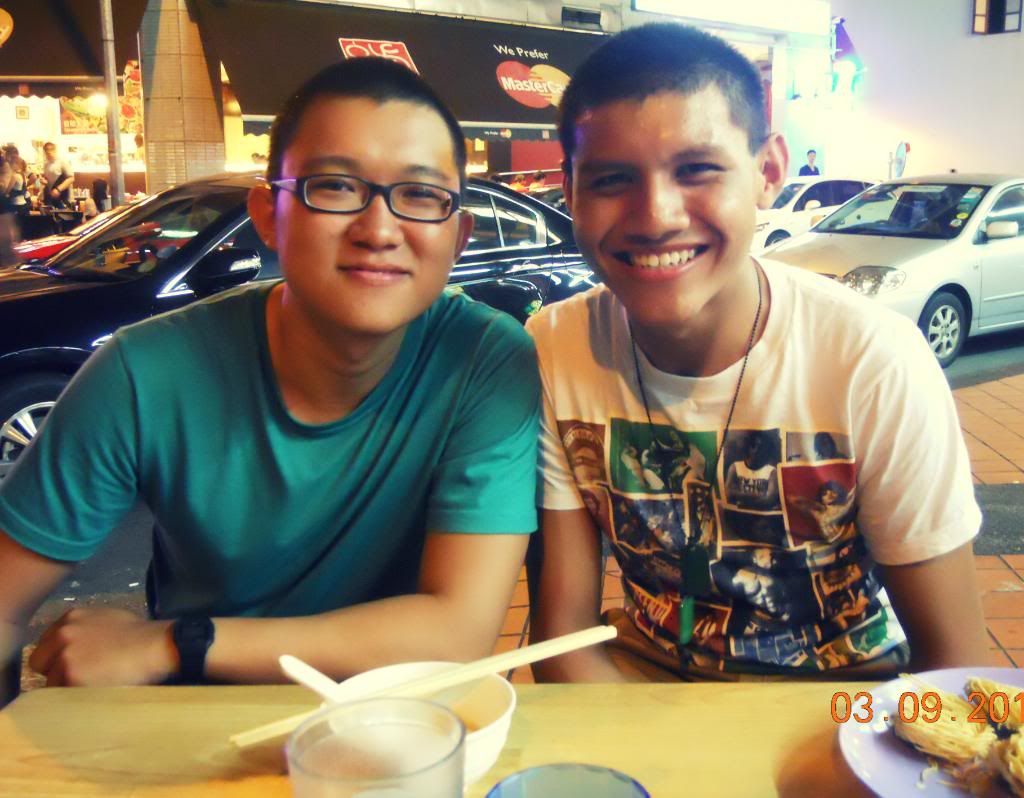 Zaviar who desperately needs a bigger car so that I don't have to walk from Bugis to Orchard again. Oh god, that torture.
And the worst buddy award goes to... Beng Kai!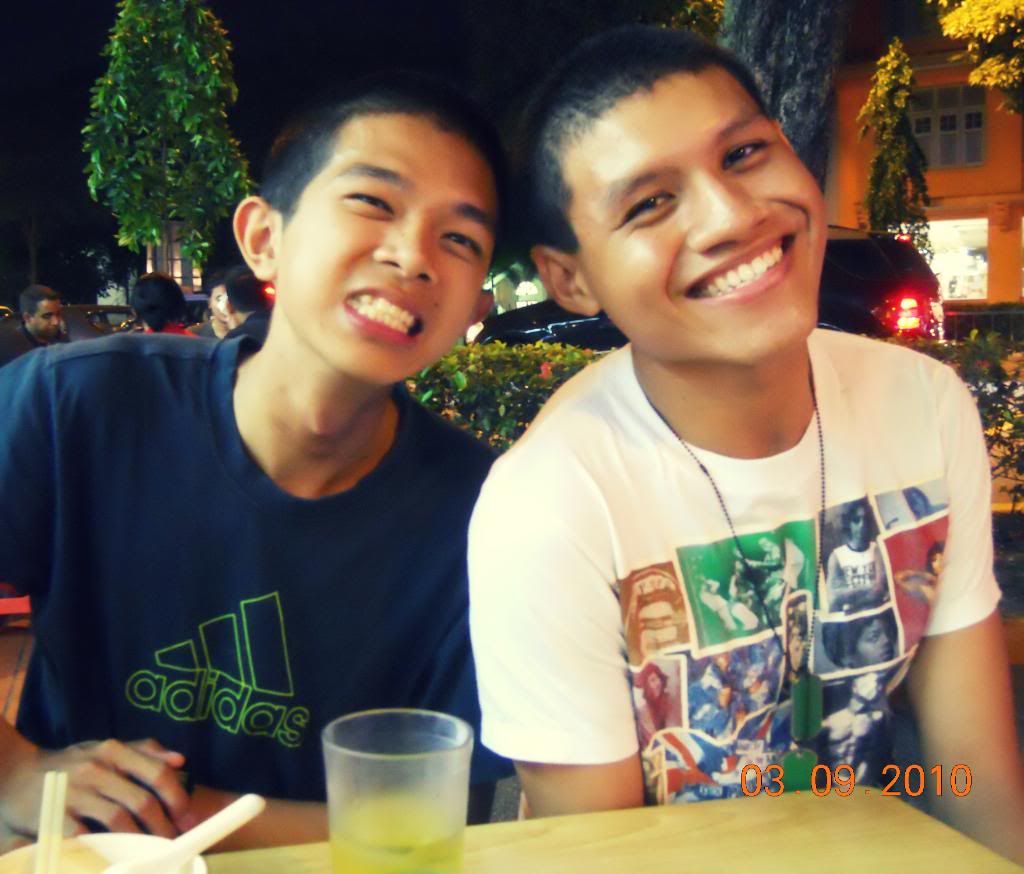 Jimmy and I. We can spend all day just bitching and laughing at other people.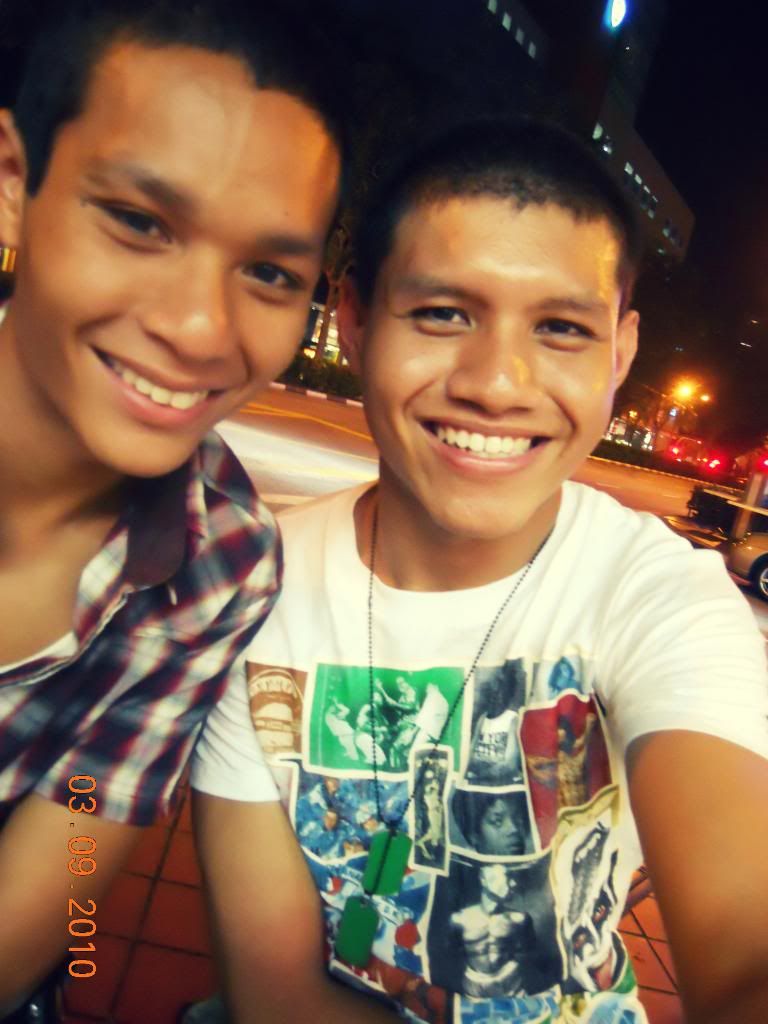 The very competitive person - Andy. Even number of pull ups also want to compare.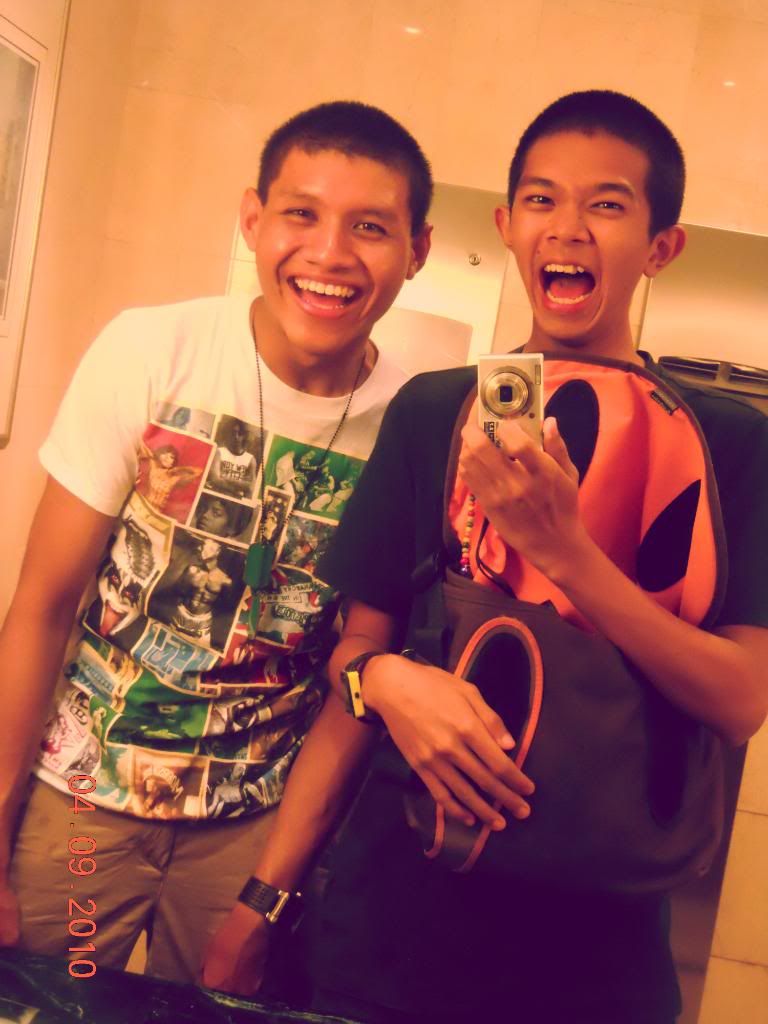 In the smelly toilet filled with the fumes coming from Andy's shit.
Labels: Daily Musings
I absolutely can't wait for next week! Something's telling me that this year's 'Hari Raya' is gonna be feckin' awesome! My uncle in Aussie will be dropping by for a week (but I can only see him during the weekends) and he'll be tagging along with my family when we do our house visiting! He's hilarious and ridiculous at the same time and fun to hang out with so this is definitely going to be exciting!
For some of my other family members, this might not be a pleasant 'Hari Raya' due to the recent passing on of my late grandmother. To be honest, I do think about her every single day, even when I'm in camp. I remember someone telling me that a person is not dead as long as he/she is still living on in your memories. And I use that as my motivation every single time I think about her. Dearest grandma, you'll forever be missed. But I am 100% positive that even 10 years from now, people will still continue to talk about my late grandmother -
The one whom is always willing to offer a helping hand to other people but unable to help herself at the end of the day
.
Labels: Daily Musings

Lying next to you
Wishing I could disappear
Let you fall asleep
And vanish out into thin air

It's the elephant in the room
And we pretend that we don't see it
It's the avalanche that looms above our heads
And we don't believe it

Trying to be perfect
Trying not to let you down
Honesty is honestly
The hardest thing for me right now
While the floors underneath our feet
Are crumbling, the walls we built together tumbling
I still stand here holding up the roof
Cause it's easier than telling the truth

I still keep your photographs
I remember how we used to laugh
I can keep on losing sleep
If you're okay with being torn in half

It's the elephant in the room
And we pretend that we don't see it
It's the avalanche that looms above our heads
And we don't believe it

Trying to be perfect
Trying not to let you down
Honesty is honestly
The hardest thing for me right now
While the floors underneath our feet
Are crumbling, the walls we built together tumbling
I still stand here holding up the roof
Cause it's easier than telling the truth

Stop ignoring that our hearts are mourning
And let the rain come in
Stop pretending that it's not ending
And let the end begin, oh yeah...

Trying to be perfect
Trying not to let you down
Honesty is honestly
The hardest thing for me right now, yeah
While the floors underneath our feet
Are crumbling, the walls we built together tumbling
I still stand here holding up the roof
Cause it's easier than telling the truth
It's easier than telling the truth
Labels: Random