Fun, Fresh, Fierce.
The perfect three words to describe my Uncle who was here in Singapore for a holiday! He calls everyone (including my dad)
"NYAH!"
It always gets me laughing every single time he says it, especially when he brings such a nasal tone to it.
Despite the fact that he was here for only 10 days, I only managed to meet him about 5 out of those 10 days because of you-know-what. It was the first time he came and celebrated Hari Raya Festival with the rest of my family and being the fun person that he is, he always brings fun and laughter everywhere he goes, making everything we do an exciting and memorable one!
I still can never forget our movie experience at Bugis. We watched Haunted Changi, a local production, and he kept making stupid ghostly sounds just to scare me but I knew he was quite terrified also. Haha!
He's like Santa Claus, always bringing us gifts and spoiling all of us. He bought a million of presents for all of us. But little did he know that having his presence here in Singapore was enough. Now that he's back in Aussie, I'm already missing him a lot I can't wait for the next time he'll be back here!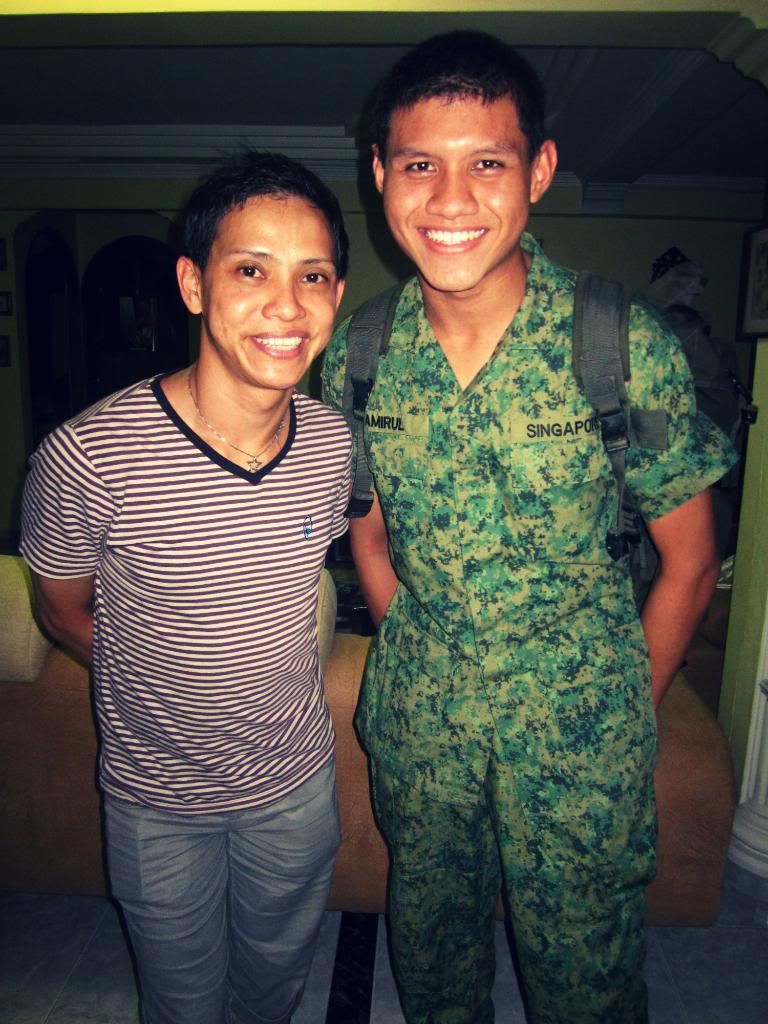 Before sending me off to camp. I was never this happy every previous Sunday.
My uncle was such an inspiration to me. My dad never gave me any encouragement or motivation or what to expect when I enter the army but my uncle did. He called me all the way from Aussie, telling me not to worry and if a "nyah" like him can survive through National Service, I can too. He'd share his experiences with me and we'd laugh over it together. I'm glad I had him before I went for National Service, otherwise I'd just die from depression.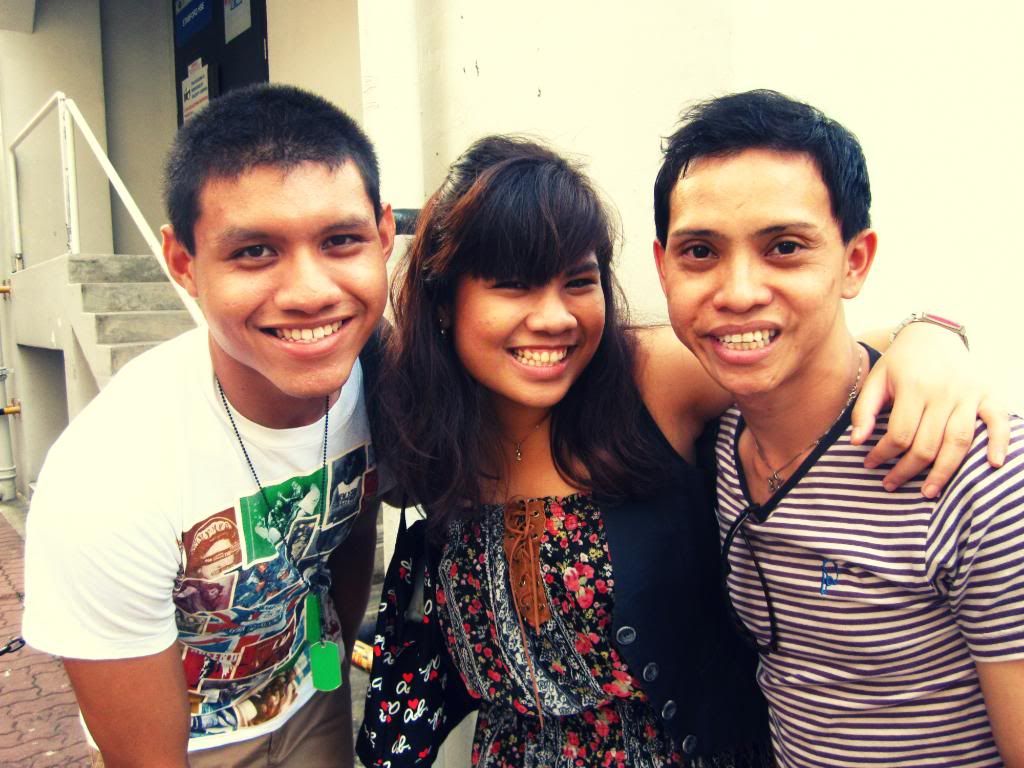 Together with my sister.
As much as the both of them keep telling people that they can not get along together, as they'll end up fighting and calling each other bitch, I actually think both of them actually hit it off quite well! They can fight and fight but I know they love each other's company. Like how the Malay's have this saying, "Gurau-gurau sayang!".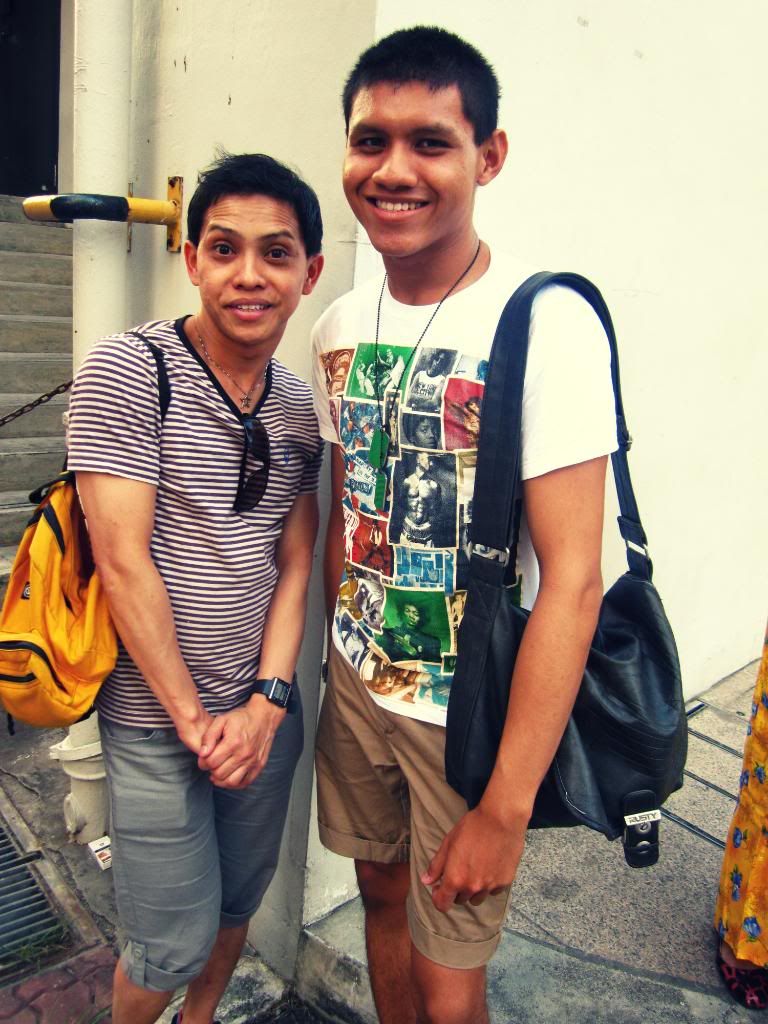 I can lose all the fats from my body but I will still feel extremely huge when I'm with him. He's so small! Me and him.. we both share quite a lot of similarities. He's into music as much as I am and I could spend all day just talking to him about music and gossip(ing) about celebrities.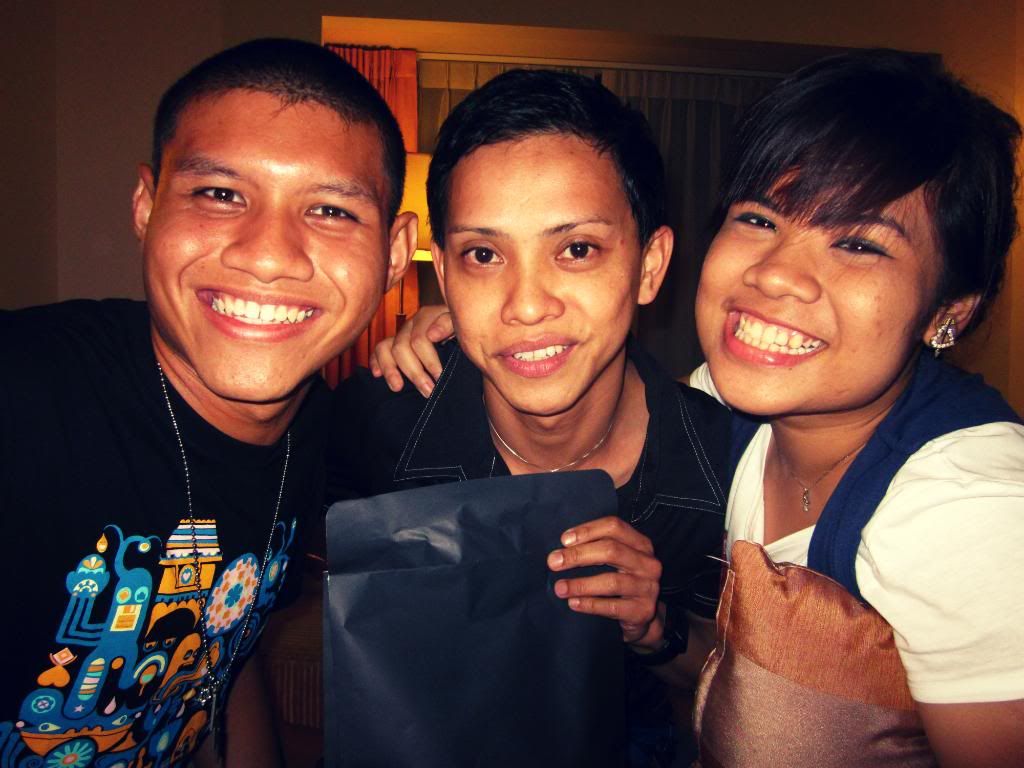 Our uncle holding the present my sister and i got for him.
Just because he was such a darl towards all of us, we bought him something that he'd really love. It's about time we bought him something. He bought too many stuff for us already!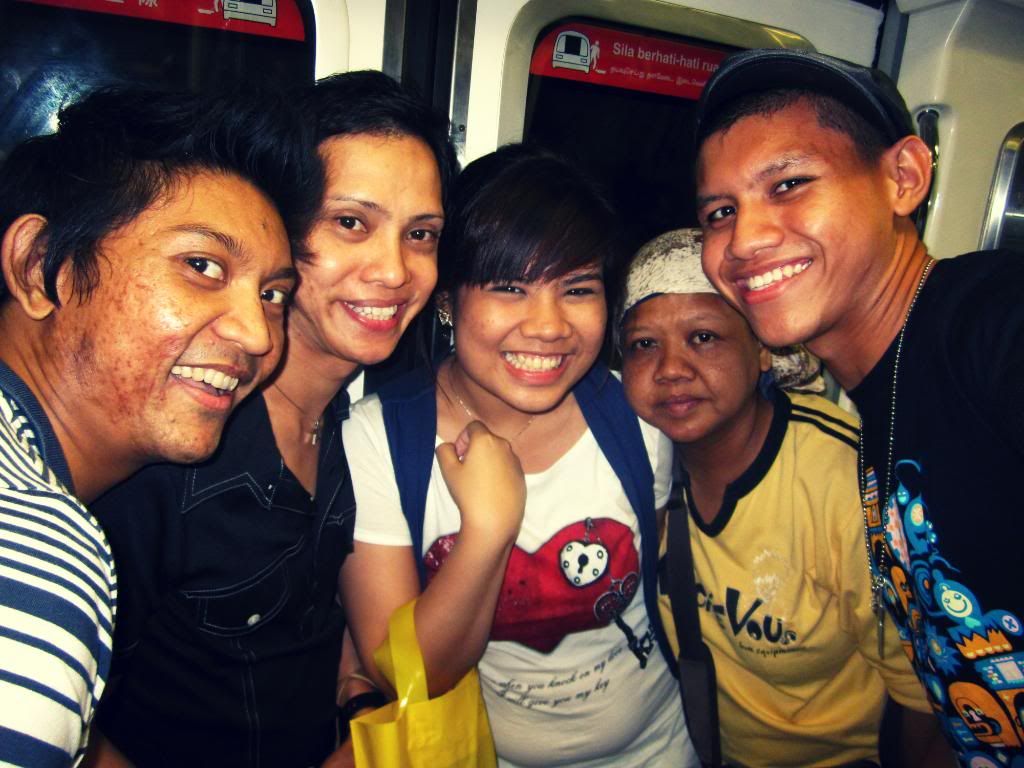 I hate the fats around my neck. This was after we had dinner in Vivo. He met up with all his other nyahs and the convos are just crazy. Haha! I could see my sister feeling awkward at times during their convo. Hilarious.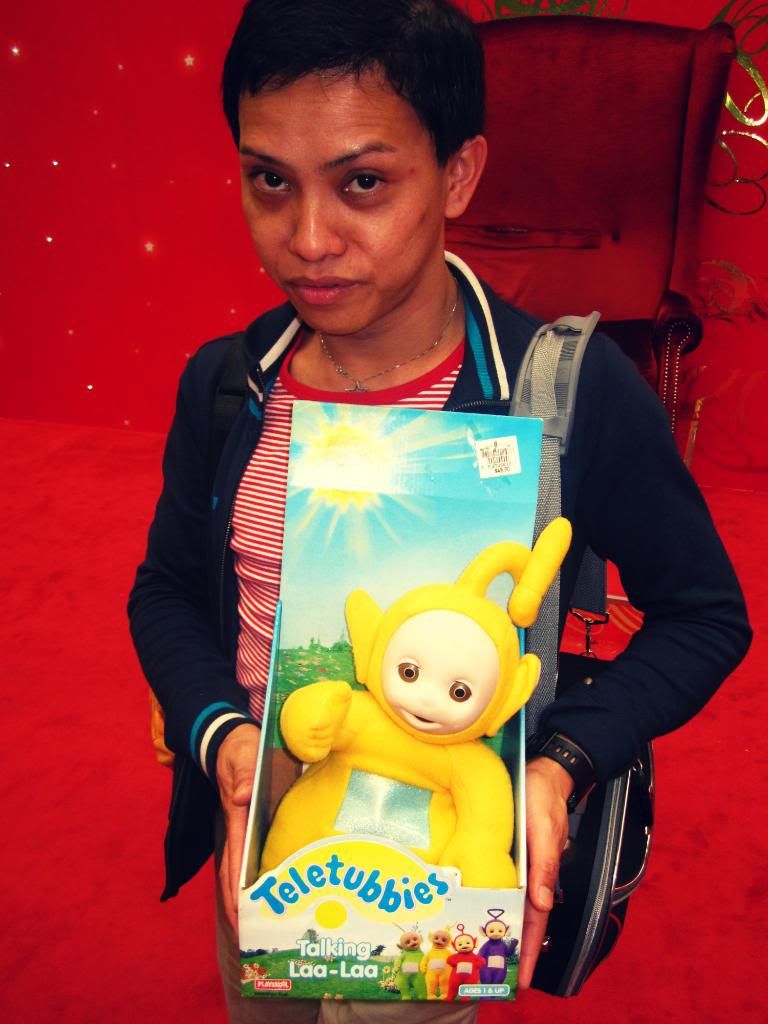 His beloved tellytubby.
I can't believe he used to like tellytubbies last time! His sister found it in his old house and passed it to him. "WTF" was my first reaction. Then all of us kept scaring him and saying that it will walk in the middle of the night and make weird noises because it's satanic. He didn't buy any of our bullshit of course. haha!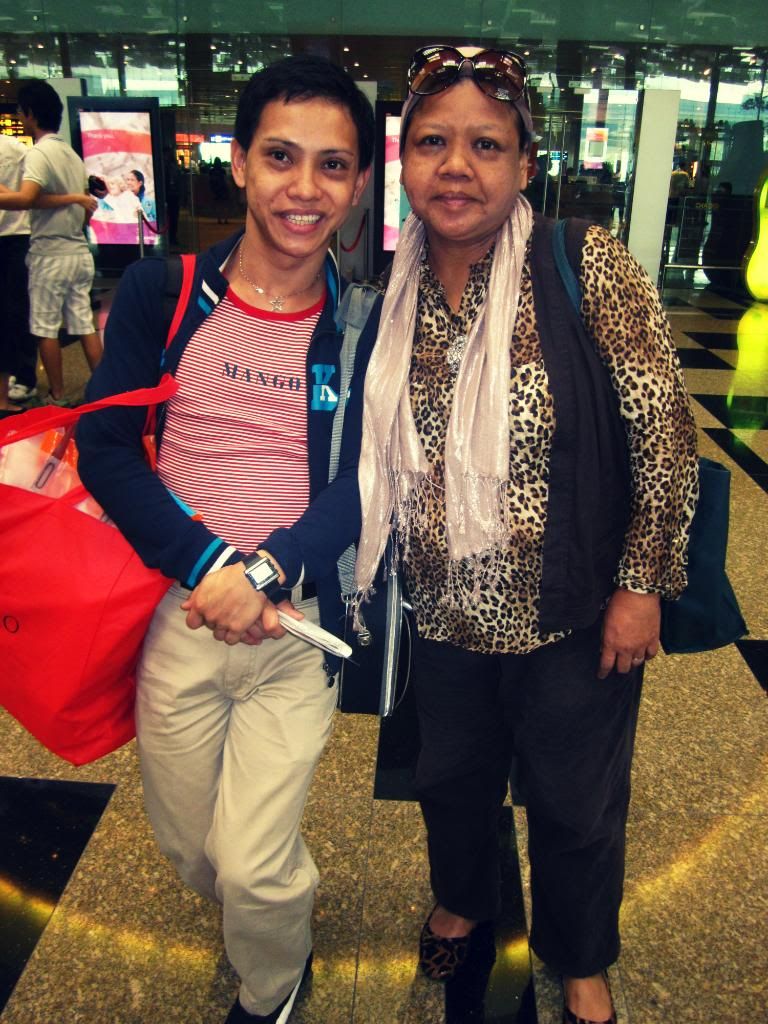 With my mom.
I envy the sibling relationship that the both of them share. At times, I'd wonder to myself and think, "Am i looking into the future of what will happen to both my sister and I?" Honestly, if you bother to notice their personalities and characteristics, you'll be surprised to realise how similar the relationship that I share with my sister is compared to my uncle and my mom.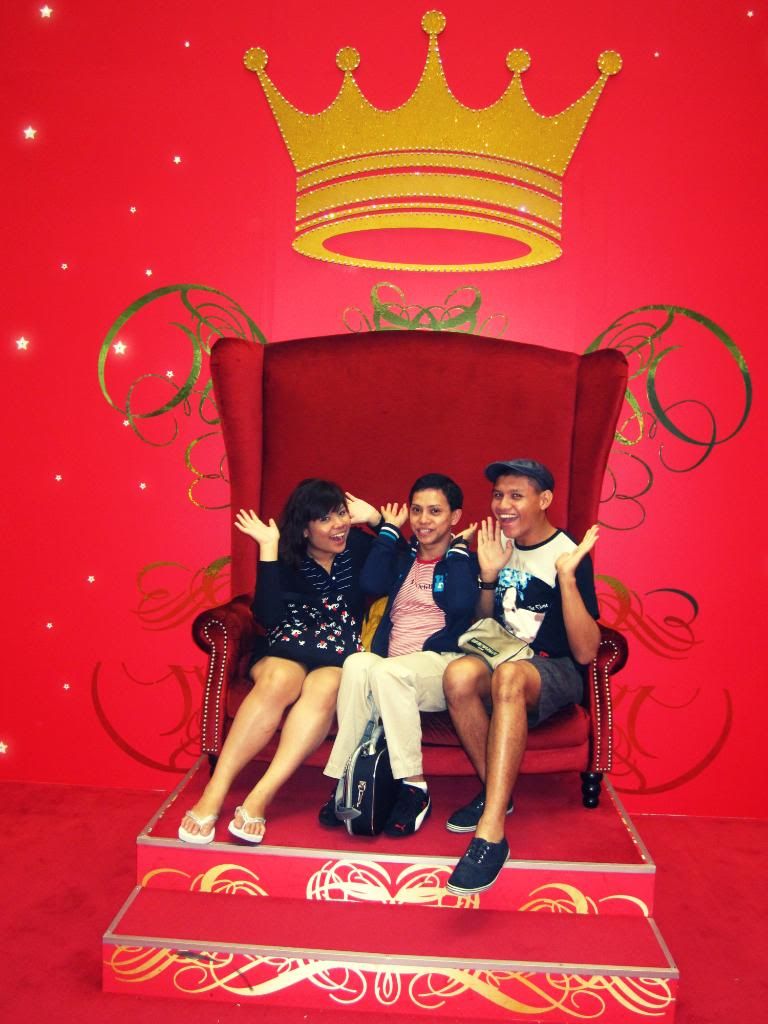 Our last picture together before he had to leave for his flight.

10 days went by so fast... just like that. And it was finally time to send him off, sadly. My mom got all emotional.. as for me, I did get emotional also la a few hours later. And it was on a Sunday. If only he left a day after I go back to camp or something, at least I won't feel this emotional. I miss him already la! Come back soon la Azzy!
Labels: Daily Musings