'
Choc buffet at Fullerton Hotel. Simply Divine.
Selamat Ulang Tahun!
My Birthday Dedication to Nadee!

Just for LOL

I know I sound horrible. HAHAHAHA. And my face so semangat!


Love these girls.
Labels: Birthdays, Daily Musings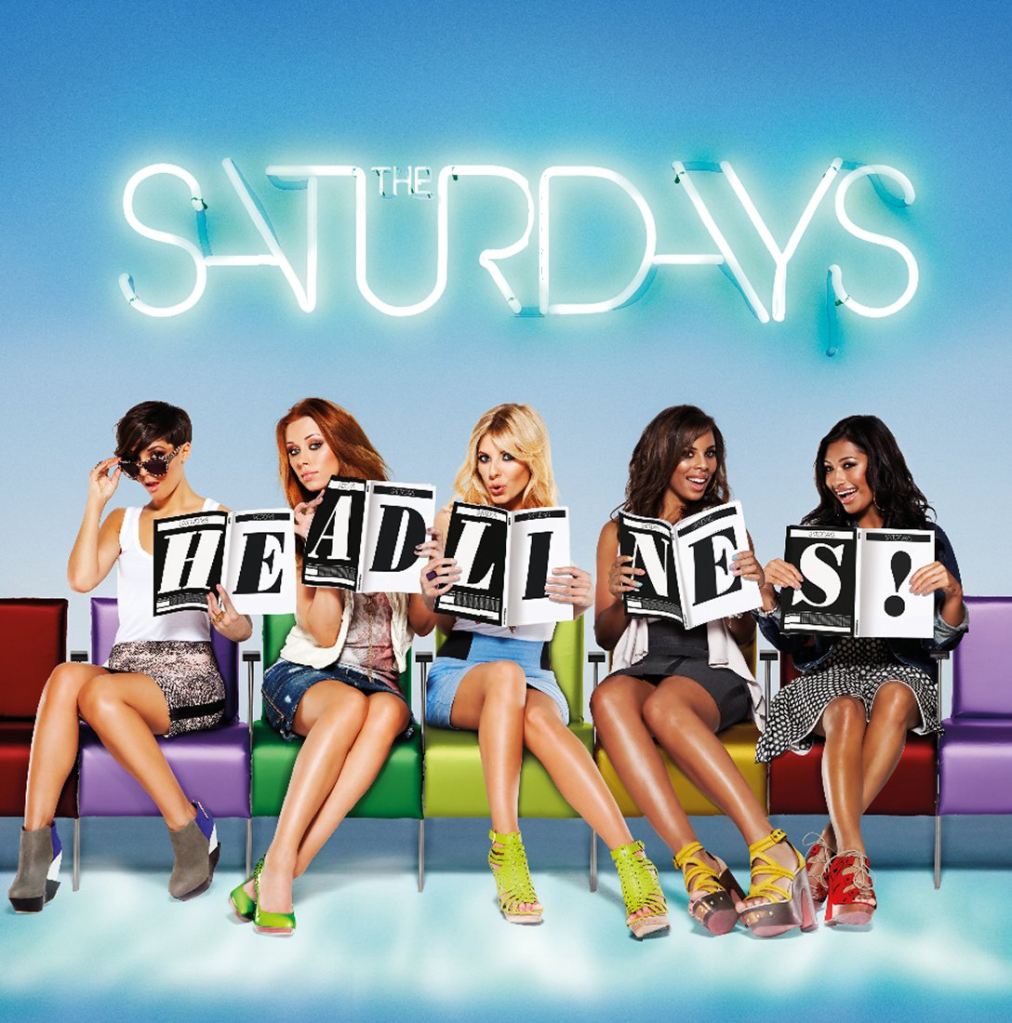 Uh Oh. It looks like
The Saturdays
are creating
'Headlines!'
once again with their third album/ mini-album/ 8 Track EP/ whatever you wanna call it. They are notably known for creating spectacular album covers and
'Headlines!'
is no exception. It's so colourful and bright and very tongue-in-cheek. I love these girls and putting my dancing shoes on, I absolutely can't wait to listen to the new tracks! I hope I don't faint.
Missing You:
Imagine eating chocolate cake minus the sugar and chocolate. That's probably how this track really sounds like. You crave for new songs by the girls and you get
'Missing You'
. But it's not really that bad honestly. Forgive their dance choreography, which is really weak and emotionless and you'll realise that
"I miss missing you, sometimes"
is actually a genius lyric on their part and you'll have no choice but to agree, right?
Ego:
There's really nothing else to say about this track, taken from their sophomore effort,
'Wordshaker'
. It's old, but still great nevertheless and still overpowers some of the tracks
-coughs-
in this EP/ Mini-Album or whatever you wanna call it.
Higher:
"I'm doing nothing. Cos then at least I'm doing nothing wrong."
is another genius lyric on their part. This is set to be their second single from
'Headlines!'
. Smart move, I'd say. From first listen, you'd start expecting for something huge to happen and when the chorus arrives, the song explodes in bursts of ecstasy and excitement bringing you
'Higher'
and
'Higher'
after subsequent listens. Now, where did I put my dancing shoes?
Forever Is Over:
Someone desperately, i repeat,
desperately
, needs to send a message over to
The Saturdays HQ
that this song is not as fantastic as they think it really is. This song is old and although it grows after subsequent listens, it's really not a favourite of mine at all. At least put a remix edit of the song or something. The whole dark theme is so tacky and over the top. It's the kind of song that you'd never realize of it's existence 10 years from now. Nothing to be sad about. Move along now.
Died In Your Eyes:
If there's something that
The Saturdays
are not really strong at, that's probably ballads. Few people would realise that this is actually a cover of
Kristinia Debarge's
song and that is actually quite sad. But do we really care?
The Saturdays
' version is very uplifting but it gets very boring after a few listens. Look, I want to dance with The Saturdays, not weep over their
-coughs-
notsogood
-coughs
ballads. Next, please!
Karma:
Momma told me to prepare my dancing shoes for this song. Hell it's infectious from first listen! And catchy as hell! The lyrics are really witty and impressive!
(I need to stop raving about the lyrics, but I just can't help it! I apologize.)
"If you wanted diamonds, why you settle for a rock!"
- Haha! Okay maybe one more
"Then I hope that you'd choke on some really hot coffee!"
- I'm choking already. Are these girls serious with these lyrics?! Haha! Please choose this as a single, I'm beggin' you! This song has Girls Aloud written all over it with the signature The Saturdays sound! This song is living proof that the world does not need Girls Aloud.. well not for the time being at the very least.
Puppet:
Critics raved strongly about this song. I sat down. Listened to the song. Started bobbing my head slowly without knowing. I feel a little ounce of excitement and when the chorus came, my legs started shaking uncontrollably. Help! This is a typical example of a sure-fire hit from
The Saturdays
and what it does to you. Oh god. I love this song. Yeap, you critics were right, this song is really amazing and gets you hooked after the first listen!
One Shot (Starsmith Remix):
I still wonder why this was never a single from their sophomore effort,
'Wordshaker'
. Looks like they're giving this song
'One Shot'
more and I'm super pleased they bothered including the remix version instead of the original.
(Shame on you people from Saturdays HQ for not bothering to do the same with Ego & Forever Is Over)
'One Shot'
was already impressive on its own and now that you have this StarSmith Remix, it keeps gettin' better!
And then, that's it. I'm annoyed. I really wanted more tracks!
The Saturdays
definitely got me hooked
'like a puppet on a string'
(no pun intended) with
'Headlines!'
. Please have a new album ready by 2011! Oh girls, please come to Singapore! I'll sing, I'll dance and I'll do anything for you to come here!
P.s If you're in the UK, go buy the album from HMV! There's a free giant poster included! I'm jealous! The HMV in Singapore sucks so I bought my album (with the poster of course) online!
Labels: Music Review, The Saturdays
Let me just start by saying, I just had the worst week ever. For the past 20 years of my life, I've never seen myself in a more terrible state - Extremely shagged, Depressed, Low Morale, Discouraged, Disconnected from the world. It's the worst I've ever felt.
Sitting on the mud was 'icky' at first experience but it grew more and more comfortable eventually. I could sit down and stone for hours, sometimes thinking about my purpose in life (yes it's that bad) and sometimes just nothing at all. And I had no watch to even tell the time.
The week starts crawling day by day and it worsens as the days go by. I felt like giving up but I didn't. Despite suffering from night blindness, night time was probably my favourite part of the day. The irony. I could see nothing but pitch black and I just lay dead, motionless. I could hear the wild boars walking and snorting all around my sleeping area and secretly wished for it to just eat me alive so I won't have to go through the next day.
And then we were told that our parents wrote letters to us. Well, for most of us. I felt a teeny weeny excited, butterflies in my stomach and then there was that feeling of holding back your tears only to be disappointed to find out that only a few of us would receive the letters and the rest? Nope. I broke down, resigned myself to fate.
It was a horrible feeling but eventually after a lot of grueling activities, each and every one of us got our letters. I opened my letter. Started reading the first line, "Dear son..." and almost instantly, the tears started rolling. I read the rest of the letter, genuinely laughed for the first time in the week, smiled, thinking about how silly my mom can be and that was the best I've ever felt. I read the rest of the letter, feeling contented.
Other people laughed at me for crying my tears out, I secretly laughed at them for not having their parents to actually bother writing them letters. And that's what separates me from them.
Of course there was a letter from my sister also. All of a sudden, it seems that I have the energy and determination to finish this week so that I can see them once again during the weekends.
So I'm thankful this week is almost over. And I love my mom and my sister because they're the best. Period.
Labels: Daily Musings
"Women have menses, guys go through NS" pretty much explains that guys go through 40 years of menstral cramps and inconvenience (don't forget accidentally leakage and dress stain events) in a compressed period of 2 years! Well-explained pain.
Labels: Random
Natasha Bedingfield - Touch
"Gonna party all night till the sun comes up
'cause it feels like the world disappears around us
When we dance and we laugh and we touch"
I didn't like this song when I first heard it 'cause it's not the classic Natasha Bedingfield sound (Unwritten, These words etc) that everyone adored. But then it grew on me slowly and then I'm listening to it every single day.

Natasha Bedingfield is a very talented musically and her songwriting skills are top-notch. There's just something about this song that just gets to me. Try closing your eyes and listen to this song, you'll be surprised at how visual this song is like reading a storybook.
P.s Who's Daniel Bedingfield? Haha.
Labels: Song Of The Moment
MAD IN LOVE WITH THIS SONG!
"So here's my confession, this time, this time
I don't just want you to love me
I want to be your obsession
This time, this time, I want my name on the marking
I want you to want me, I want you to need me
I want you to hear my confession,
I want to be your obsession"
Labels: Song Of The Moment