Doing this favour for a schoolmate. Summer & its rain is an upcoming short film project done by students. I think it looks pretty cool, don't you think so? Check that website out! Oh and if you are interested in acting for the movie, just head on down for their audition!
Otherwise, follow
@summerandrain
on twitter for more interesting updates!
Labels: Irrelevant
As seen on
The UrbanWire
Our Obsession With Mariah Carey!
Queen of R&B,
Mariah Care
y, is finally back with her 12th studio album entitled
Memoirs of An Imperfect Angel
. Forget the Miss Diva that you once knew from her past antics, odd mannerisms and demands. This album takes on a more serious tone and it's the closest thing for any fan curious about her. She describes that the album was named as such because it was very
"personal and dedicated to her fans".
Filled with many mid-tempo jams and sultry ballads, Mariah's latest album is definitely an enjoyable listen from start to finish. It may seem that
Memoirs of an Imperfect Angel
doesn't match up to her previous efforts such as
Butterfly
or
The Emancipation of Mimi
, but nevertheless, the 39-year-old manages to prove that she still has the special voice that made all of us fall in love with her.
Her first single from the album was "
Obsessed"
. The song speaks about a "boy" who is so "Obsessed" with her. The "boy" is then described as being "delusional" and "lyin'" about "sexin'" her up. Well, it's clear for those who are fans that in this song, Mariah is taking a dig at Eminem, whom she once dated. This is more obviously seen in the music video, where the sensual lady dresses up as a rapper. The perceived "Eminem" then stalks her around town. The tongue-in-cheek effort by Mariah has indeed displayed her ability to maintain humour and produce a chart topping hit.
Kicking it back old school Mariah style is the cover
"I Want to Know What Love Is"
. This song was originally a power ballad sung by the Foreigners in 1984. Unlike the rest of the album, this number was mainly piano driven. Minimal digital snapping sounds were added at the to give the R&B feel that was pretty unnecessary. The song progresses and evolves into a chorale-supported anthem that showcases Mariah as still having what it takes to be a Diva. Her effort to stay true to the same style that matched her 1994 cover of Badfinger's
"Without You"
will surely pay off. We expect this cover to eventually reach the top 10 on the Billboard Hot 100.
One more notable song from the album is
"Up Out My Face"
. The chorus is as infectious as Rihanna's
"Umbrella"
. The lyrics show off her tough front when it comes to dealing with failed relationships.
"So look who's crying now/ Boohoohoo/ Talking about your missing your/ Booooo"
. She really is harsh. Besides snide lyrics, the chorus jumps straight in your face boy!
"Up out my face boy! Up out my face!"
Well, Mariah has surely shown that she is a force to be reckoned with.
All in all, the album is not something that would be stuck on your iPods for long. The similar drum beats throughout the songs make the album as droning as Gregorian monks. The only song that probably utilised the bass beats proper would be
"Candy Bling"
. It's a song where Mariah reminisces a previous "perfect" relationship. That is probably the only noteworthy point to mention about that song.
The 17-track album eventually became terribly boring. Listening to all the songs in one sitting could probably tire you out quicker than watching "Ken Lee"* a dozen times.
Urbanwire gives
Memoirs of An Imperfect Angel
3.5 out of 5.
Standout Tracks: H.A.T.E.U, Ribbon, Angels Cry, I Want to Know What Love Is and Obsessed.
Labels: Mariah Carey, Music Review
Since we're still in the
'forgiving'
month, do forgive me for not blogging for the past few days. You see, Hari raya this year seems awfully long and so draggy. Plus, I'm not having much fun at all except for the times when I'm getting my green packets from my relatives.
Thats my sister. I hope she can give me more $$ next year. LOL.

Since a picture speaks a thousand words and your royal majesty is so fucking tired, I shall just photo blog today. Click the link below to read more!



First day of Hari Raya!



Money was the only thing that kept me excited throughout the entire day. The beginning of the day was filled with awkwardness, i swear! There's this one stupid fat aunt that I do not like and she went around kissing my other cousins and sister and when it was my turn, it was just touch and go. I gave her the awkward look and just snatched the money. Lol!


Hello Family.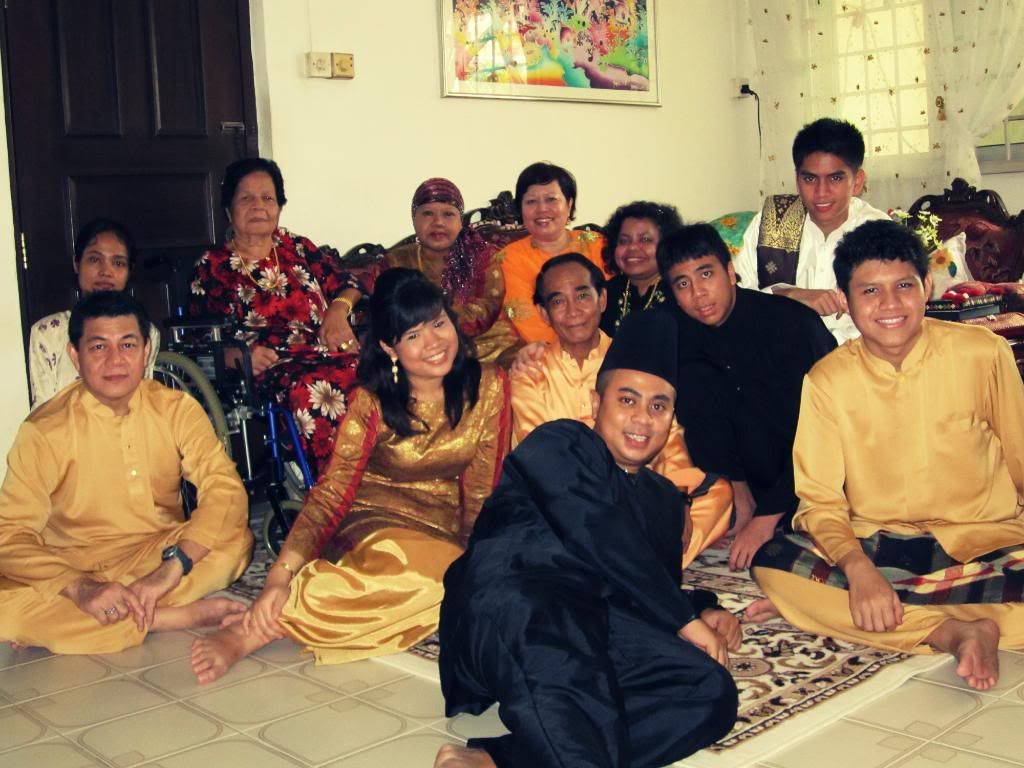 Together with my grandma and the rest of my family. Don't like a few people (maybe only 2). :p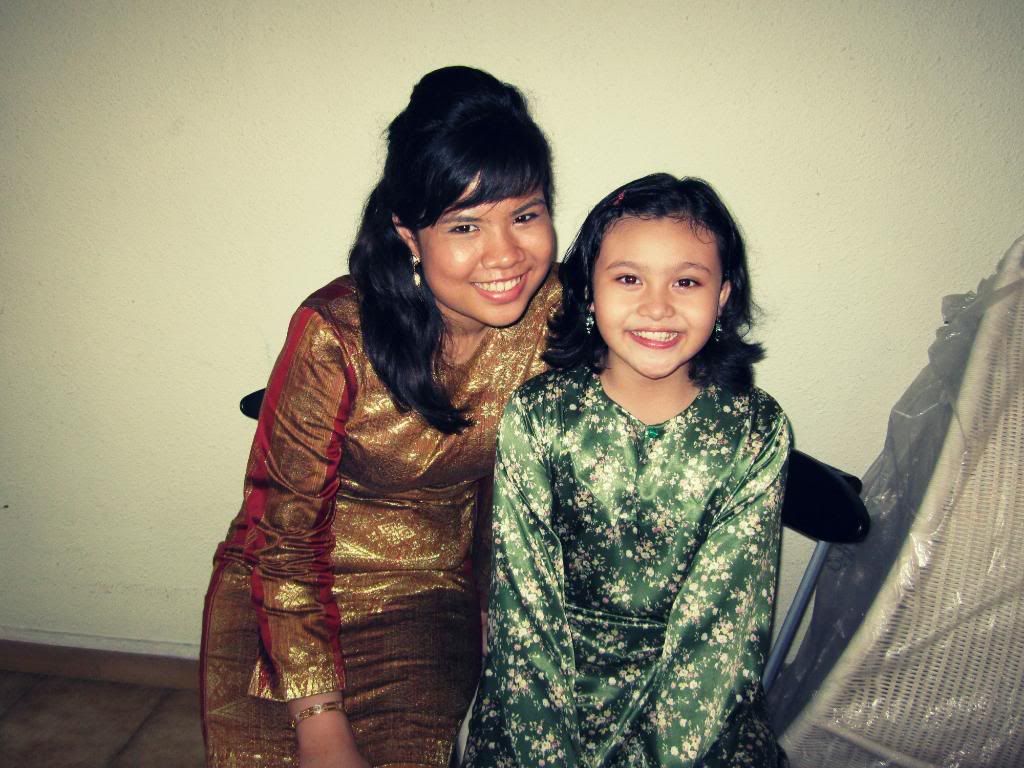 Amira Jr. I swear she is like Amira cept that she has more brains. Lol!



Yeah I am not posting more photos cos 1) We did not go to a lot of houses 2) I was not in the mood. Okay!




Hari Raya Open House



My lovely mom decided to have an open house this year. How nice. So I went to invite my friends to come over and have a lil catching up. And my mom really cooked a lot of great food. She was raving on and on about her Pizza Hut drumlets. Lol!



Aini and Kiki were the first to arrive and also the first to start attacking all my 'kuihs' (pastries). They didn't believe when I told them I helped out in cleaning the house and helping my mom. Hello? The Royal Majesty himself does household chores too okay!



Sooner or later, Feeqah and Imran (her bf) arrived just before Aini and Kiki left. Her boyfriend so shy la! I was scolding him, 'Why you never wear Baju Kurung?'. I don't bite. Heh! And that feeqah better do well for her A Levels.


Top: Eric & Me.
Bottom: Desree, Roslinah, Yi Jun and Karen



Eric was so nice la. He bought mooncakes for my family! Best part is that it was halal! I took a few bites from the mooncake after they left. Haha! Yummy laa. My mom called him a 'player' cos he had so many girls around him. HAHA! Yalor that boy so gatal!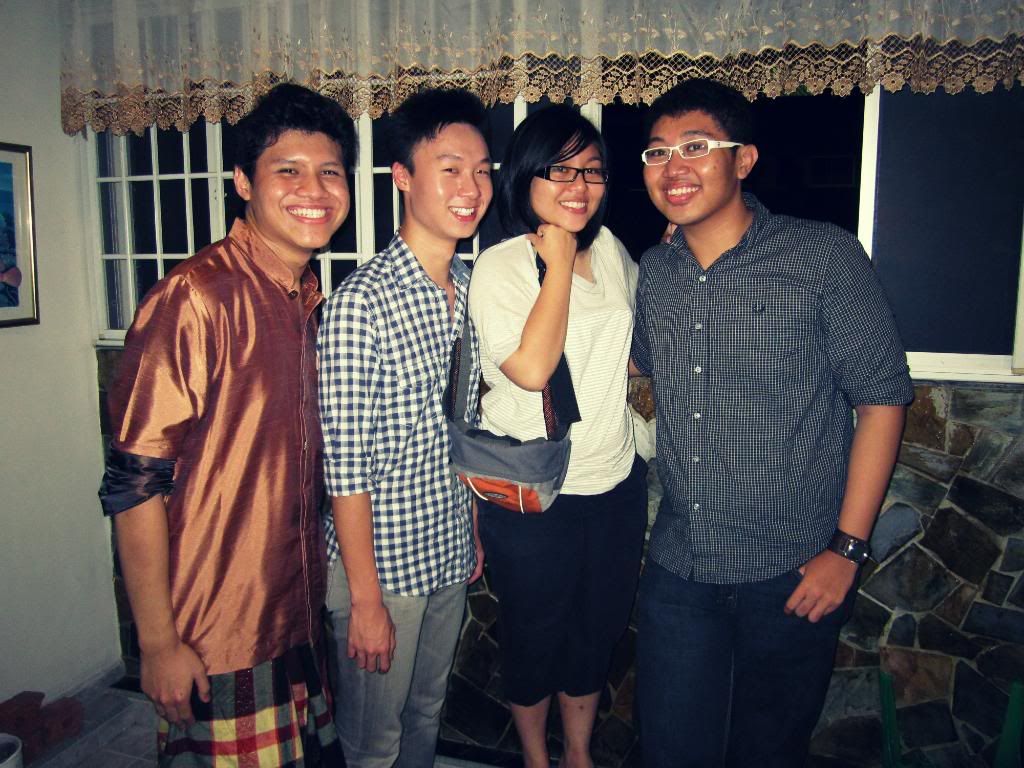 Me, Dion, Xin Mun, Noh



Noh got lost while driving to my house, hence the lateness. If yall got comments about something else, keep em to yourself. LOL. And Xin Mun is so tall! She grew 20cm when she came to my house. Haha! And when we meet, what else? BITCH LA (esp about the twits).


Harith!



He's my primary school friend. Known him for almost 7 years now? That's long. Too bad Prabu couldn't make it. Haha! We were in my room digging up old pictures, couldn't find. Oh well. But still had fun talking about the past. Haha!



So Hari raya is almost over now. I need more money! Please! Oh and I remember Aini talking about hari raya in the office and I went like, "HUH? YOU MEAN HARI RAYA IS NOT OVER YET?" Yeah, explains everything. Heh!



COMMENT ON MY POST AND CLICK THE ADVERTISEMENTS!



P.s If you weren't at my house, SHAME SHAME ON YOU. NANNY NANNY POO POO!
Labels: Daily Musings, Hari Raya