Reflecting back on
2010
- It was definitely a good year for me despite the rocky start in the beginning. I was drowning in my projects at the start of the year,
(I know, a great way to welcome the year for me.)
which explains my absence from the online world. I just couldn't juggle
(being the only designer in my internship company)
between work and personal life, hurting my social life badly. But I'm glad it did. 'Cos at least now I know who's true to me and who's well.. in a ride with me.
I'm also proud to say that I've finally graduated with a
Diploma in Mass Communication
from Ngee Ann Polytechnic!
(My GPA is pretty decent, just so you know)
Upon completion of my three-year course in Ngee Ann Polytechnic, I applied for a place in a Singapore University, NTU, to be precise. I decided to pursure a
Degree in Arts, Design and Media
but however, my application proved to be unsuccessful. Besides, I wasn't quite sure if that was the direction that I wanted to be heading in the future. I guess everything happens for a reason, yes? And I decided to further my studies in an overseas university - Sydney pursuing a
Degree in Communication Studies
. Of course, I got in. Hehe.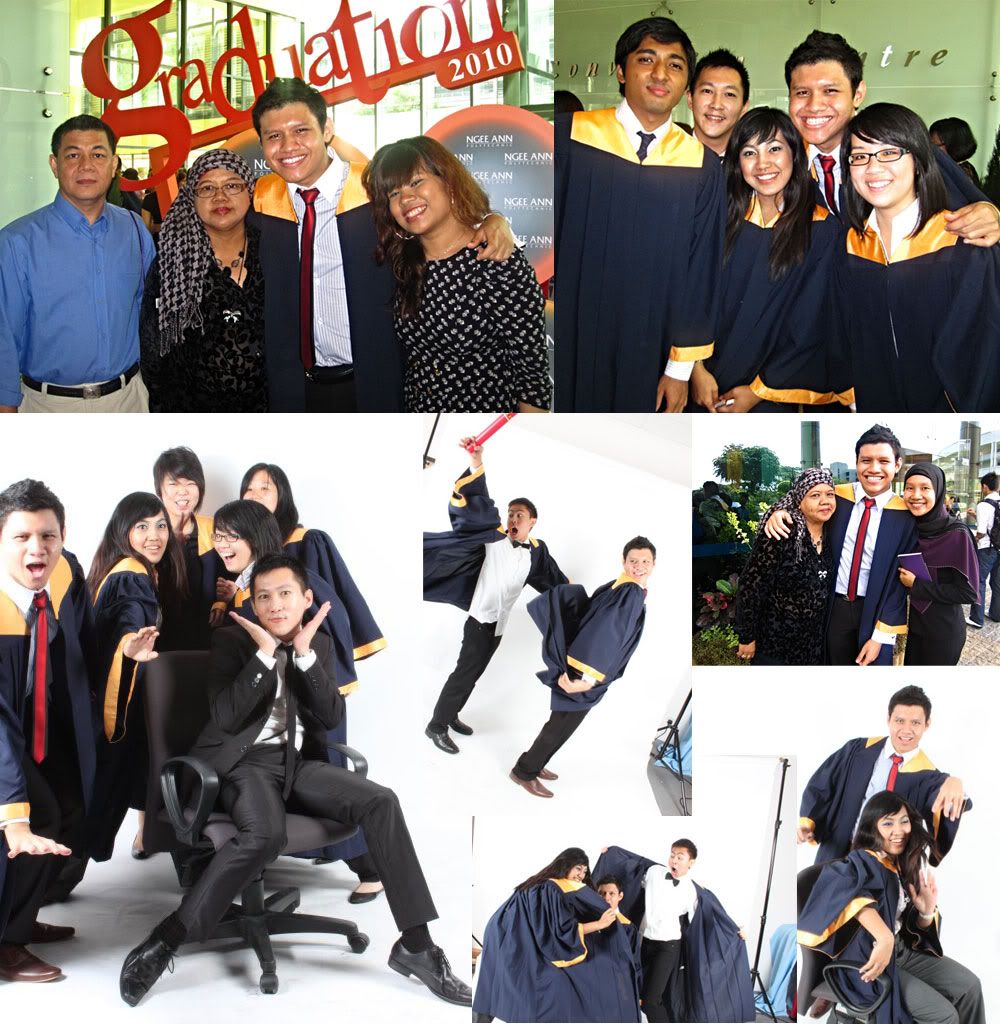 My Graduation! Got photoshoot somemore! Cool, yes?
I'm proud with my fellow colleagues from m:idea for successfully planning the first
m:idea Youth Choice Awards
event over at Ngee Ann Polytechnic. Being the one and only designer handling the event - It was tough work! But hey, nothing is impossible.. right? I'm glad I had that crazy and stressful experience. It was definitely an eye-opener for me, as I was the main guy who had to liase with the celebrities who attended the event. I met a lot of local celebs
(Ris Low, Muttons, Utt etc)
and blogger,
Fauzi Rassull
- Amazing guy! And he won the
'Coolest Blogger I Wanna Gossip With (xoxo)'
award! I'm glad he did 'cos I'd love to hang out with him one day and just bitch and gossip non-stop!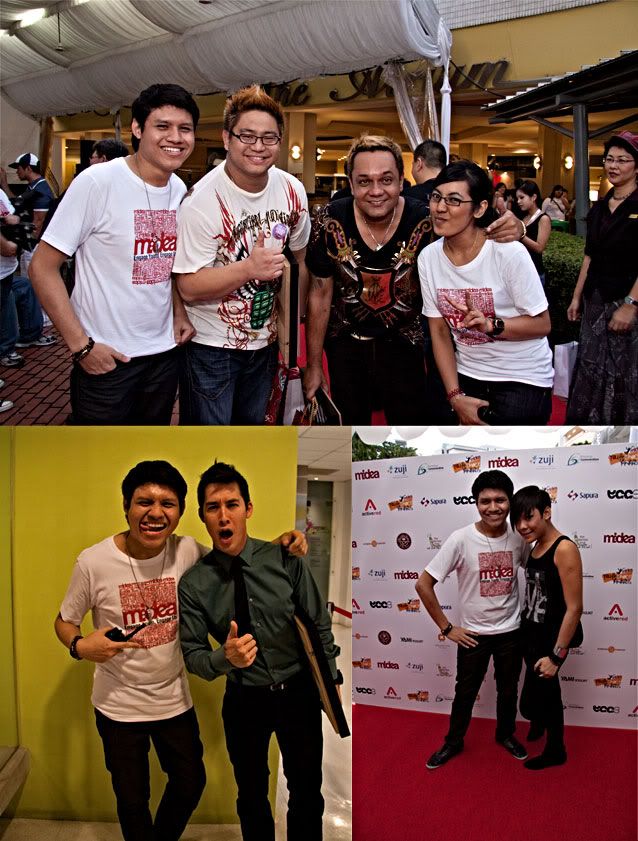 I definitely enjoyed being part of the event.. and also meeting the local celebs!
Also,
Kris Allen
and
Adam Lambert
was in town for a gig! Thanks to
@bchee
and some of the other crazy people at
ontd_ai
, I got to see
Kris Allen
live.. from the first row! I still remembered how all of us just molested and groped him all over and Kris mentioned in an interview that he felt his gig in Singapore was weird. I know I saw a girl groping his junk and then screaming
(after the show, of course)
"IT'S REALLY BIG!"
Man, no wonder he said it was weird. They should really put up an age restriction limit next time!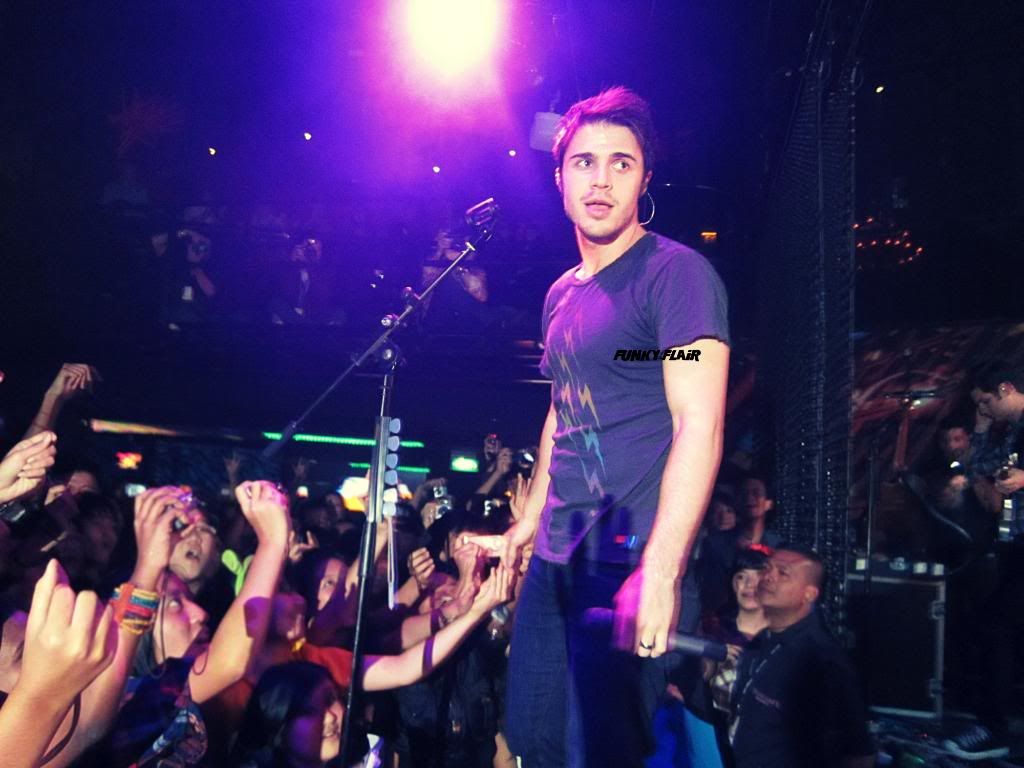 Kris Allen does look quite sexy here, agree? Hahaha!
Moving on, I can't believe I went on
A LOT
of holiday trips this year! (
Phuket
, Kuala Lumpur and
Australia
) I'm glad I got to spend
Phuket
and Kuala Lumpur
(I realise I have yet to blog about this, oops!)
with my close
girlfriends
sisters
(to call them girlfriends is such an understatement. They are my sisters)
. I loved visiting my uncle in Aussie. It was helluva fun! (Which reminds me that I have yet to complete
my travelogue for Aussie
, oops!)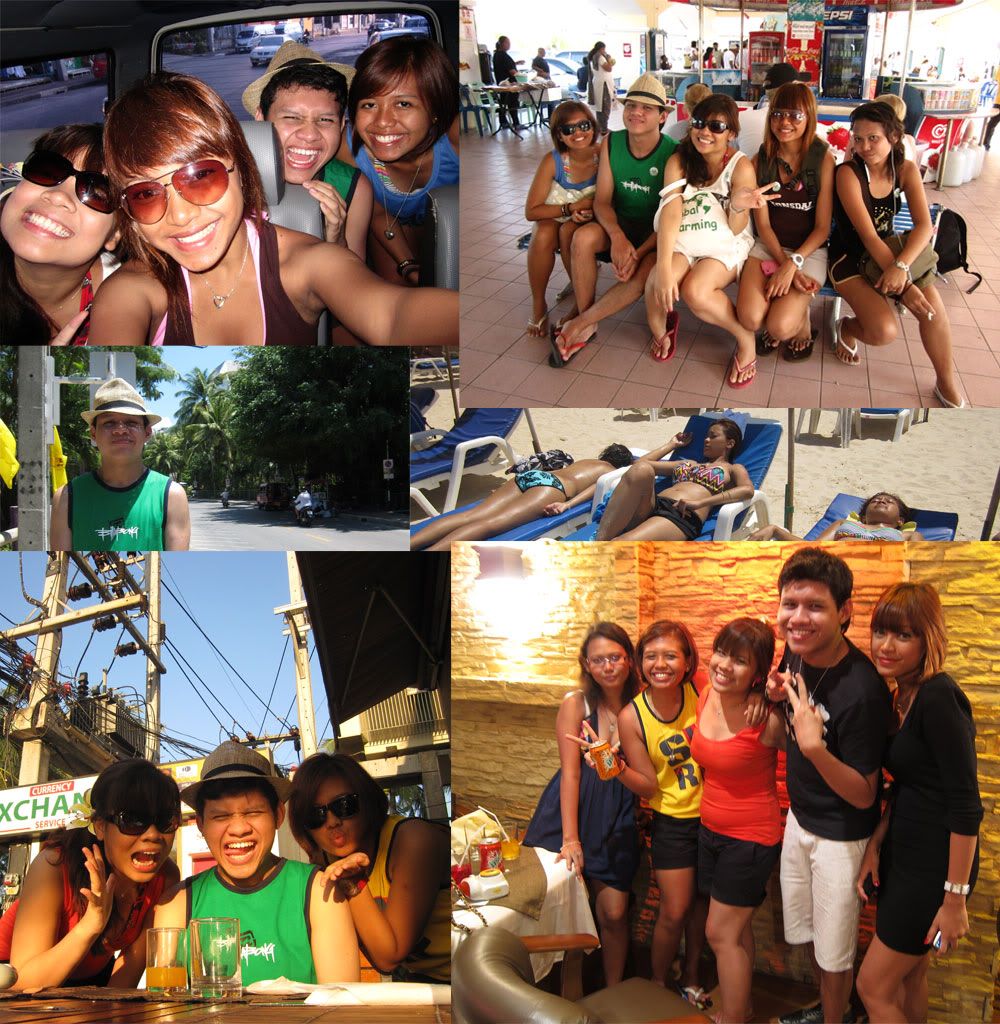 Phuket.. lovely place. Shopping! Beautiful sea. With great friends!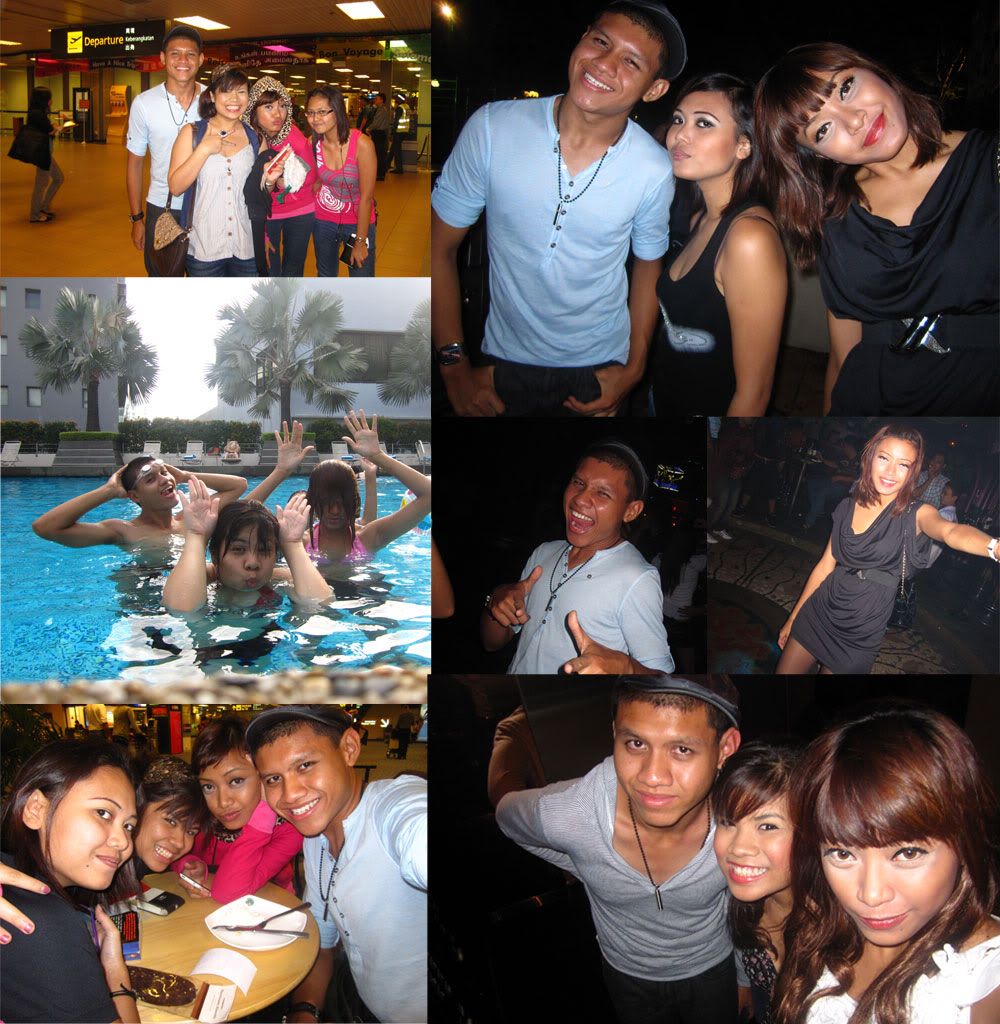 KL WAS CRAZY!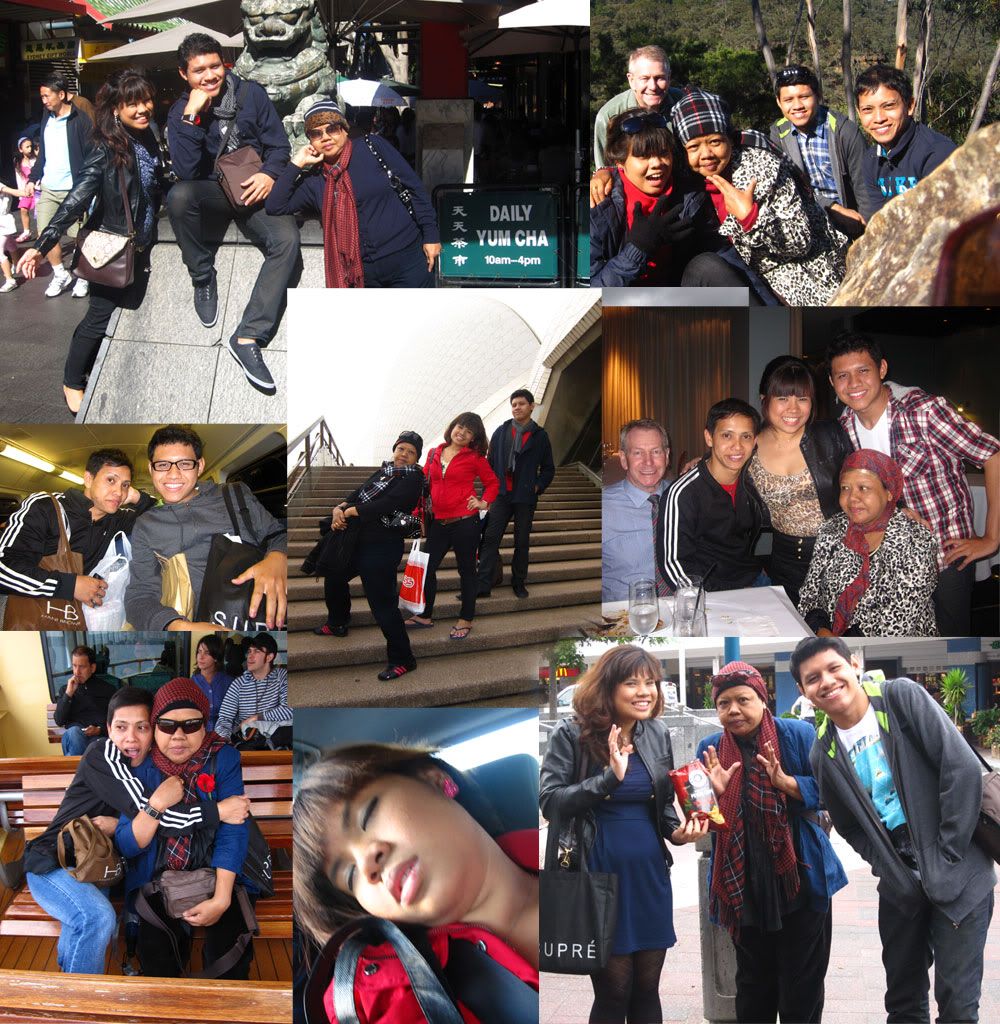 I love Sydney! Can't wait to go there again!
Then of course, there were the
birthdays
. It's like a ritual, every year.
I'm still quite pissed at what happened on my sister's birthday (People planning without informing me about a single thing. People just not caring a single thing) It really showed me the true colors of certain people but I'm way past that.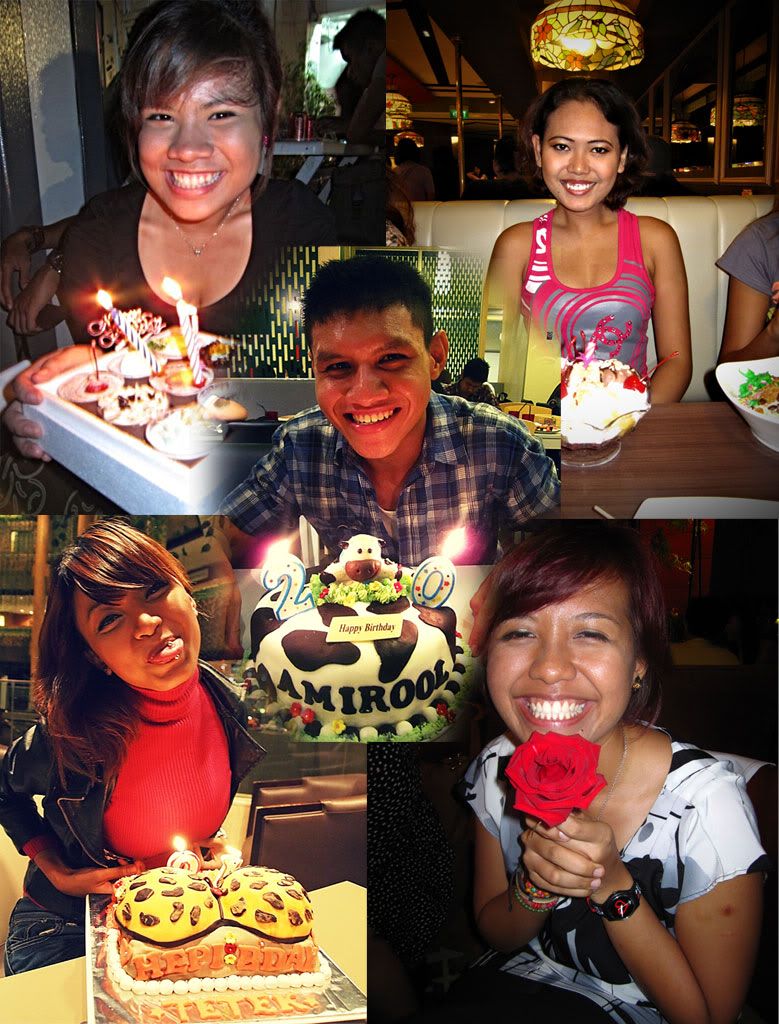 Of course my picture is in the middle! It's my blog! haha!
This was also the year I got enlisted into
National Service
. I can whine and complain all about NS all day long but I did lost a lot of weight ever since then. Being able to fit in S-size t-shirts, the feeling you get is just incredible. Motivates me to lose even more weight.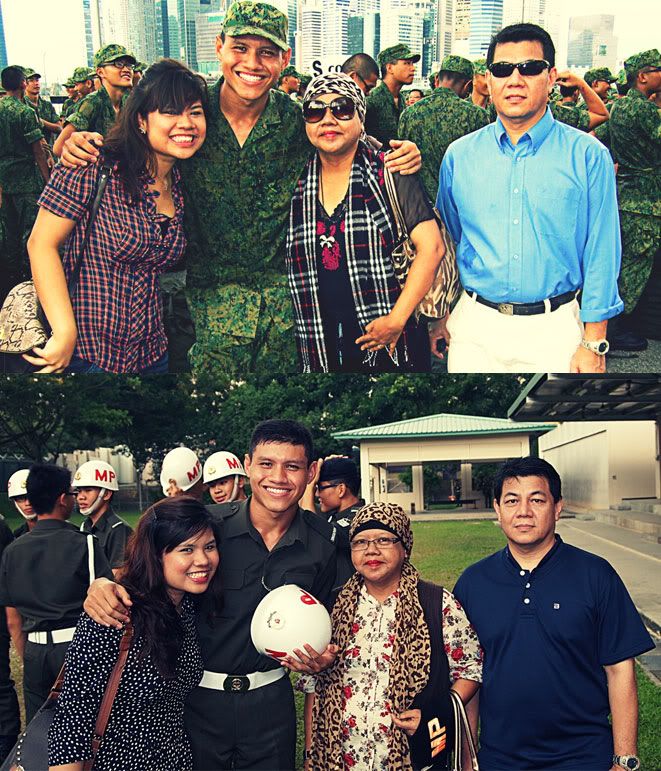 I never realised how similar both of these pictures look. It's omg. Haha.
I've also done quote a lot of stupid things this year. I did a crazy video for
Express Nike
, along with Aini and Jarrel, my two close friends from Mass Comm. Then there were the other crazy videos I did with the Pretty Children and also with my m:idea colleagues. Haha!

The Express Nike Video. Can't Touch This.


I probably overplayed this video a million times alr.
And who could forget
(I did, actually)
that I was on Berita Harian?! I still hate the stupid headline, which reads -
'Sleeping in School'
. Deserves a WTF, seriously.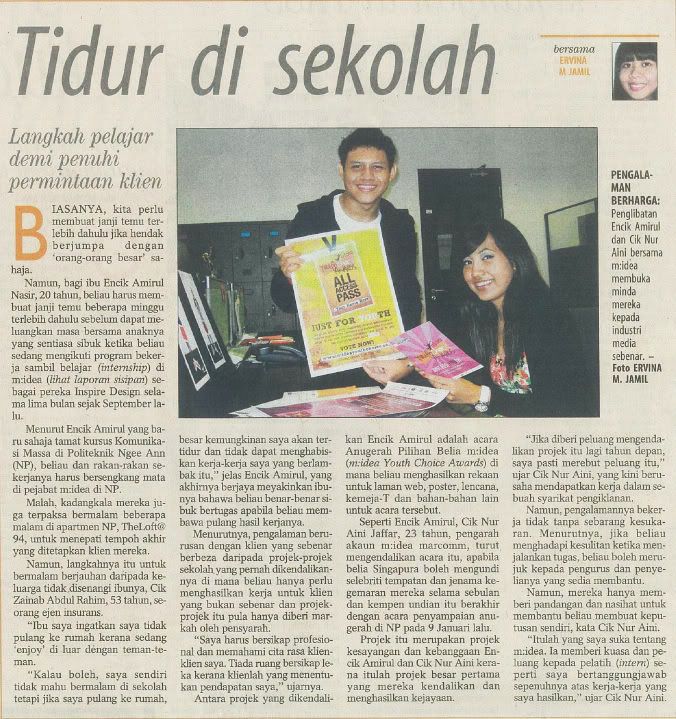 I remember running down to the nearest mama shop and 7 eleven to get a few copies of Berita Harian.
I got my heart broken too.. this year. I guess
'Hurt people tend to hurt people'
and I ended up making stupid decisions. Making stupid decisions is fine.. as long as you come back to your normal actual self at the end of the day.
Well, I guess that sums up my
2010!
Anything more than what I've just written will probably involve my experience in NS, and no I don't like blogging about my NS life because it will bore you ultimately, and we do not want that, eh?

P.s And yes, if you're wondering (or not), I will be away from Singapore for a period of 1 whole year! I'm bummed that I'll be spending my 21st birthday down there and missing out on a lot of other important occasions and concerts. I'll be in Brunei for an overseas NS posting. I have mixed feelings about it but I guess it's a good thing.. to go away from the crazy life I have in Singapore over to Brunei. I'll definitely blog while I'm in Brunei so keep updated with my blog 'cos things will get interesting fo' sure! And once I come back from Brunei.. It's 6 months to ORD! And that.. I look forward to.
Labels: Daily Musings, Last Blog Post for 2010
Don't you just love it when two different bands get together and share the stage? Watch this.
.
.
.
NKOTB VS. BSB - MEDLEY OF THEIR HIT SONGS.
I JUST GOT GOOSEBUMPS WATCHING THIS.
A hair-raising collaboration between New Kids on The Block and Backstreet Boys =
Brilliant!
Of course, now we know which band's vocals sound better live. Heh Heh Heh.
coughesNKOTBcoughes.
Makes me wanna jump out of my seat and dance!
Then, I got reminded of this a few years back.
Labels: Song Of The Moment
Sometimes, it's good to meet old friends that you have not met for a very long time every once in a while. That's what I did! Met Siti earlier today for lunch. I haven't seen her for YEARS. So to finally meet up and talk about nonsense like we used to.. was great. "You still have that chipmunk voice of yours, even till now!" was the first thing I told her when we met. She replied, "Of course. I'm a girl. My voice doesn't change."
We had lunch over at Far East.. brought her over to this place that sells yummy 'asam pedas'. "Are you sure it's that great? Nicer than my mom's cooking not?" Without any hesitation, "Yeah of course! Even though I've never tried your mom's cooking to begin with!"
Although we've never met for the past 2 years or so (cos she has been a bad girl and was grounded by her mom haha), we still communicate through MSN and SMS. Ahh. The wonders of modern technology! I like how she remembers every single thing I tell her.. well most of it! Haha. And funny part is, I don't remember some of it!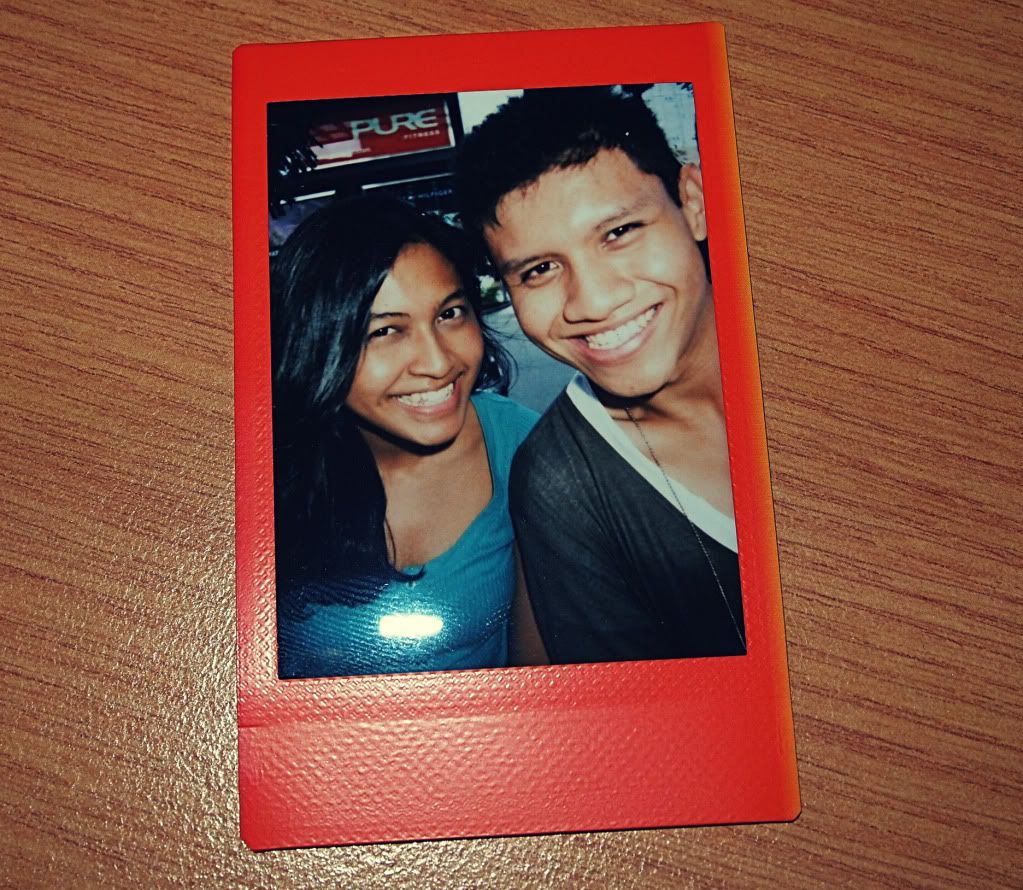 Shiny boobs.
"See you soon babe! Prolly in one year's time!"
I joked.
Labels: Daily Musings
If my body was on fire, ooh
You'd watch me burn down in flames
You said you loved me you're a liar
Cause you never, ever, ever did baby...

But darling I'll still catch a grenade for ya
Throw my hand on a blade for ya (yeah, yeah, )
I'd jump in front of a train for ya (yeah, yeah, )
You know I'd do anything for ya (yeah, yeah, ) Oh, oh

I would go through all this pain,
Take a bullet straight through my brain,
Yes, I would die for you baby
But you won't do the same.
Labels: Song Of The Moment
29th December has finally arrived! Our dearest Mena is now officially 21 years old! We celebrated a few weeks back due to our conflicting schedules. First, we went...
At Kallang Ice World over at Leisure Park.
I absolutely had no clue on how to skate. I mean, I've never rollerblade-ed in my entire life! Of course, I panicked! What shit have I gotten myself into?! I imagined myself in the worst possible scenarios.. like slipping and falling in the middle of the ice skating rink and everyone starts laughing at me. Or a situation when I hit my head against someone else's shoes! I was scared!
I whined. A lot. As always. The shoe was frickin' smelly! It's like they never washed it for a gazillion years or something. The stench.. was intense.
The Birthday Girl who seemed pretty excited to ice-skate!
Hannie just couldn't stop skating. She's probably the most experienced among all of us.. who were struggling to even move a few centimetres. Oh dear.
Moving just one centimeter is just so taxing. I was holding on to the railing super tightly. Moving along the outline of the ice skating rink. Yeah, that bad. Okay. I admit. I suck at this.
Some experienced ice-skater saw me struggling with ice-skating and he gave me some tips. He told me in order to move forward, you gotta make a V-shape everywhere you go. But it seems whenever I do that, my legs will just spread wide apart. I'm beyond hopeless. Haha!
I wasn't the only one struggling! These two.. also struggled! We decided to just sit down and camwhore at the end of the day. Haha! Whining about how our feets were aching!
Well, four of us
(including the birthday girl)
came to a conclusion that we'll never go ice skating again. It was the kind of experience that you'll only try once.. and that's it. Yeah.
The food selection is not something worth raving about let alone the dessert corner. However, the dishes were splendid!
Don't you just love my geek-chic specs? Heehee.
Ice-cream time! Apparently, everyone else can scoop a proper ice-cream 'cept for Mena and her pathetic ball. Haha!
(When I first saw the cake, I was stunned, seriously. But best cake ever!)
Birthday girl and her cake. Mena. Obsessed with boobs since 1989.
Hannie.
(I realised Nadee didn't take a photo with Mena. So I'll leave you out on this. HA.)
Mine! I gave her cups and ashtray with boobies! Haha!
Amira gave her a makeup set in a leopard theme. Gorgeous.
Hearts. Many Many.
Hearts. We had more videos. But I'll upload them separately no thanks to my shitty internet connection!
Labels: Birthdays, Daily Musings
Last night was quite interesting. Here's the story. After having a lovely dinner with both Aini and Chee, we went our separate ways and went home. I boarded the train and being a typical Singaporean
(kiasu, as we call it)
, I frantically looked left and right scouring for a seat, as I didn't want to stand for the entire train journey - A 30 minutes train ride. Fortunately, I managed to get an empty seat and started listening to my music. Despite being squished in between a construction worker and another lady, I was pleased.. at least I was able to sit down and get comfortable. The lady beside me was busy watching videos intently on her laptop.
How interesting, I thought. I decided to take a peek and look at what video the lady beside me was viewing on her laptop. The TV show was familiar. I know this one! Then, Jeff Probst appeared on her screen. I can't believe it! She's watching Survivor?!?! I looked at her judging her from top to bottom... How could she be a Survivor fan?! She doesn't even look like one! She was probably in her mid-30s, probably had a rough day at work and is now heading home to her family, while busily googling the youtube links for the various episodes on Survivor. Once she has gotten the links she wanted, she opened her notepad and pasted the links there, just to serve as a reminder as to which episodes she has yet to watch.
Being a huge Survivor fan myself, I was tempted to strike a conversation with her. Possibly about the latest Survivor results.. or even the next season - Survivor: The Redemption Island. But instead, I didn't. I hesitated for a while.. but I just couldn't do it. Weak, you may call me. I continued listening to my music and stealing glances at her laptop every now and then. She was watching a clip of Survivor Australia.. the scene where Mike fell into the campfire. She laughed. I laughed. Stupid fool. He could've won that season, if not for the incident.. I thought.
Bedok
. The lady started packing her laptop into her bag. "Is she alighting here?" I decided. Fine. I'll talk to her. Give me some time.
Tanah Merah.
Shit. I'm scared to do it! Then I did it.. what normal Singaporeans would not have done if they were me. (Usual Singaporeans like to do what we call, 'Minding your own Business'. I poked her.
(involving a lot of Survivor Talk)
Me: You know, you could go to this particular Youtube user. He has all the Survivor seasons. I figured you were searching for the seasons.. and you could start from here.

Lady: *Taking out her headphones* Oh wow. Thanks. Are you a Survivor fan too?

Me: Yes! Huge fan, actually. The current season (Nicaragua) was boring as hell, don't you think? I guess they could not outdo the Survivor: All Stars season.

Lady: No. It wasn't that bad actually. There were far worse seasons in the past. Nicaragua was quite okay.

Me: I guess so. I can't wait for the next season actually. The Redemption Island. Seems like it could be something. It could be a big success.. or a big epic failure for them actually.
- More Survivor talk that you probably can't be bothered with -
Tampines.
We finally alighted the train. Funny how we just met each other inside the train and now we're talking like as if we knew each other for a long time when we've only just met.. minutes ago! There were certain topics that we didn't see eye to eye.. but it definitely was a very random experience, for me.. an eye-opener. But this random experience actually did make my day so much better. Who knew talking to a random stranger would be this much fun? Especially when you both have a common topic to talk about. It just makes the journey back home so much faster and you won't be that lonely on your ride back home.
Then, we finally said our goodbyes.. and off we went to become strangers towards each other once again.
Labels: Daily Musings
If you could choose, would you...
Live your childhood over again..
Most definitely yes! When we were kids, we didn't have anything to worry about. Sure there's disappointments from the people we love.. but I seemed to handle it much better back then. Just as long as I can come back to right where I am standing right now, Yes I would, just so I can better appreciate it the second time 'round.
Have grown up in a different decade or era..
Weird question. I'd say yes. Probably back in my parents generation. I wanna see how both my parents fell in love with each other.. and if I could, probably even tell my mom, "Don't marry the guy. Go for someone else." But then again, she'd probably think I'm a lunatic and send me to the Mental Hospital. But it'd be really cool. It's like watching a real life movie. When my dad would wait for her when she finishes work.. I wanna listen to what exactly he did/said to get my mother's heart. Haha. Silly me.
Have been a more competitive kid..
I guess not. I was never competitive unless in the areas where I'm good at. When it comes to designs, I'm critical but academic-wise, if you beat me then fine. Whatever makes you happy. From my experience, the competitive kids never got that much friends in life, as they didn't take the time to smell the roses and by the time they reach to where I am at now, it's a bit too late for them.
Have learned more in the "class room of life" than in school..
Of course. Did you apply the algebra or the binomial theorem in real life? I'd call you crazy. But when you fell down and managed to get back up on your feet all on your own.. you learn so much more. You learn to be independent. You learn not to be careless and watch where you're going. Okay, I guess you get my point.
Have been a leader or a follower..
I suppose, both. I prefer being a follower though. It's tough being a leader 'cos you are the queen bee of the group. Sometimes, I think I follow way too much and I wished I lead more often.
Take back something you did, if so, what..
Watched a cat fall down from a few storeys up. I regretted not doing anything to save the poor cat. I wished I did.. at least something. I'm still haunted by it even till now due to a guilty conscience. So whenever I see a cat now, I make sure I treat it nicely but who am I kidding, that will never erase what happened in the past but it does make me feel better though.
Have been nicer to your parents..
Probably yes, when I was younger. But now, I'm treating them nicely.. right? I go shopping with my mom. Go for concerts with her. Movies. Haha.
Have changed your appearance..
Definitely. I hated being fat. I hated being in TAF club.
(I never knew if you reverse TAF Club backwards... it means FAT Club)
I would have put in more effort to lose all that extra pounds. Appearance wise.. It's always the hair. I just wished it wasn't that curly to begin with.
Have had more belongings..
Belongings in terms of bags? Oh yes. I had plenty of school bags. And books? Yeah, there's the library for that.
Have worked harder in school..
Not really. I'm happy with my grades in school. Getting good grades doesn't make you popular. Doing stupid things.. gets you those friends. I was always sleeping in class but thank god I had Aishah, who was seated beside me, and she copied notes for me. She'd ask me, "Are you going to sleep? Do you want me to copy the notes for you?" And I'd be like, "Omg yes. You are such a lifesaver." End of the day, I got better grades than her. Moral of the story: Just sleep in school.
Have made more friends..
Acquaintances.. yes. But these are the kind of things you can't change. Sure you can get more friends but you can't change their attitude towards you. I'd probably have done the same and remain close to those that deserved it.. but then look where it got me now. Zilch.
Labels: Random
It's
Music Mondays
once again! I've been looking forward to writing this blog post since the first
Music Mondays
, which featured
Jack's Mannequin
.
I first discovered this next band from
One Tree Hill
, one of my all-time favourite TV drama series and I have instantly taken a liking to them. I present to you...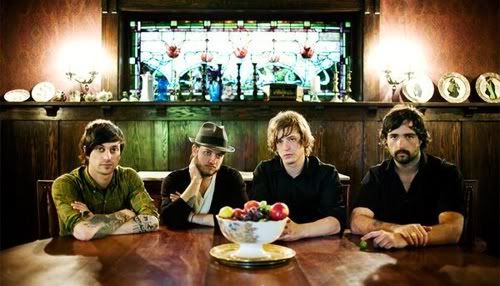 The Honorary Title
It's been years since I last got hooked to a proper indie/rock record
(and have moved on to Pop ever since then)
so I'm definitely happy with my great discovery.
The Honorary Title
is an Indie/Rock band from New York with
Jarrod Gorbel
as the lead vocalist. They have since released two albums
(Anything Else But The Truth, Scream and Light Up The Sky
) and five EPs
(The Honorary Title, Untouched and Intact, The City on Christmas and Ten Years Older).
I've finally gotten my hands on their sophomore album,
Scream and Light Up The Sky
and it proved to be an enjoyable listen from start to finish, which is quite rare for me since I tend to get restless in the middle of it. It's a brilliant record filled with beautiful melodies and well-written lyrics. It's not your typical indie record that you can head bang to... but
Scream and Light Up The Sky
.. has this very special and distinctive sound, mature sounding yet emotional at the same time.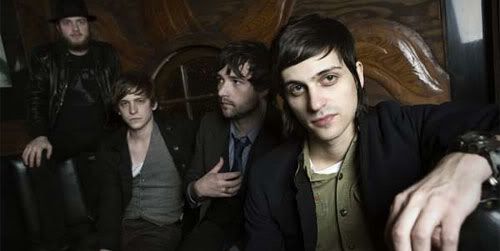 It wasn't that hard choosing my favourite song from the album. Plenty, to be honest. But only one song from the record really stood out for me at the end of the day -
Stay Away.
Stay Away
No, I can't dance less it's slow or sad
To a song that's far less obvious
If you're using me, do it slowly
Make it last until I have to go
Frontman
Jarrod Gorbel
mentioned that
'Stay Away'
is about the
romantic dynamic between two individuals when one person has more emotionally invested than the other
. I completely agree to that.
Stay Away
is an utterly heart breaking song of the internal conflict of a one-sided relationship that isn't going anywhere. I get depressed listening to it and I've known of friends having this sort of a situation and this song could probably be the story of their lives.
"If you're using me, do it slowly"
- My favourite lyric from this song. It's like, You know the other party isn't good for you but you still want to be with them.
"Make it last until I have to go"
- I'll leave you when I'm ready to get over you. Sigh.
Till the next Music Monday!
P.s I hope I didn't get you depressed listening to that though.
Labels: Music Monday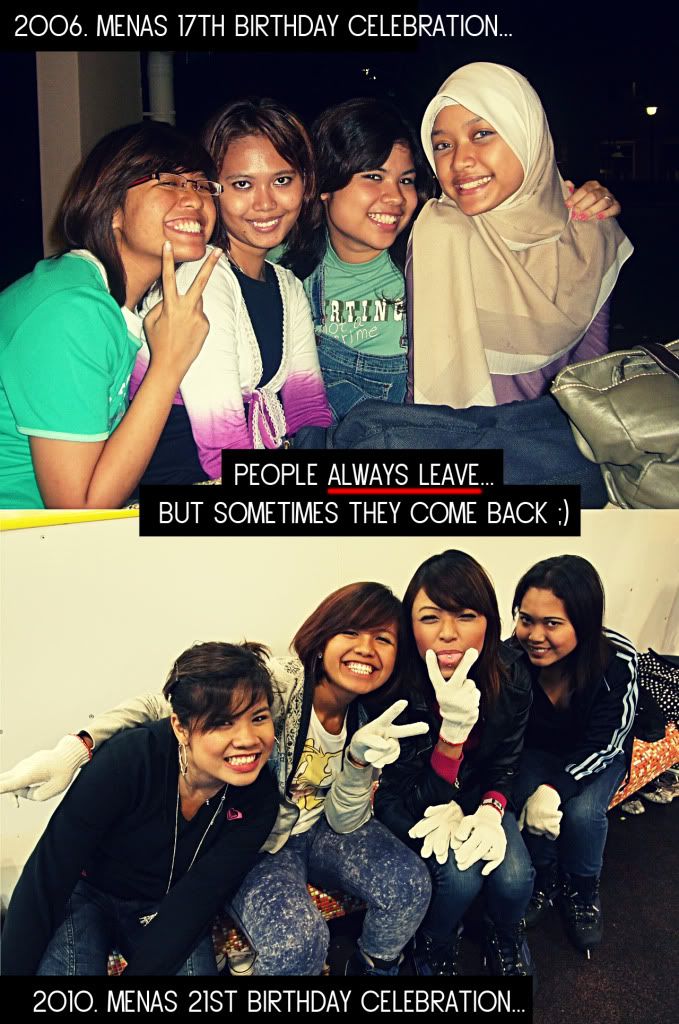 Far More - The Honorary Title
(Fave song of the moment!)
Our dearest Mena is gonna turn 21 in a matter of days and I'm quite excited for her. I was digging up old photos for blogging inspiration and I found the first photo (2006) above. We were celebrating Mena's 17th Birthday under her void deck. I remember all of us waiting for her to come back from work just so we could surprise her. Birthday cake.. Check! Presents... Check! Pizza.. Check! Our plan was set in place and we just needed the birthday girl to show up at the void deck. We waited.. for hours. Oh god. Then she came and started screaming, as always. Thinking about it now.. it's just a very nostalgic feeling.
The years that followed after that.. she went missing. In the beginning, I was quite confused about the whole thing.. like What happened? But I slowly put the pieces together and well, she had a huge fight with her bestfriend, my sister. I felt sad of course. I once bumped into her at Cineleisure, while I was out with my Mass Comm friends and till now, I could still remember what she said. She ran up to me, gave me a hug, then she said, "Amirul! Omg! I'm so happy to see you! I just want you to know that although your sister and I aren't on talking terms right now.. you'll always be like a little brother to me. Always remember that." And yes, I still remember.. till now!
Every single time I entered my sister's room during that period of time, she still had photos of herself and mena up on the wall.. in the photo frames. As tempted as I was to ask my sister, "Why do you still bother putting up photos of Mena when you fought with her?" i decided not to. My sister, she's amazing. Whenever I looked at her, I see a girl who never ever lose hope in anything at all despite her being a total mess with the incidents that followed after that. I think somehow she knew that Mena was a big part of her life back in Secondary school and she somehow believed that Mena and herself would come together once again. I thought she was silly for thinking that way.
But sometimes... They come back. ;)
2009. Mena came back into our lives once again. Don't take this the wrong way darl. To be honest, I was quite annoyed when she came back. I was happy with our foursome - Amira, Hannie, Nadee, myself. It did take me quite some time to get used to Mena like how it was in the past. I guess these kinda things needed to take time.
Time passed. And now I can never imagine us being without Mena anymore. Mena was like another sister to me (all of them are!) She's the life of the group.. the blonde sometimes. Heeehee. I'm pretty sure everyone else feels the same way too. I'm happy she's back, I really am!
I love all of you girls btw.
P.s Just don't ever leave again! Or I'll smack your head!
Labels: Daily Musings
(Because I refuse to post any Christmas song on my blog, here you go)
Merry Christmas and have a great weekend ahead!
Labels: Song Of The Moment
Labels: Random
Memory...
I remember when I was little, I always enjoyed snuggling up in between my parents. My parents would get fed up and they'd carry me to my room to sleep together with my maid. I'd end up feeling frustrated and walked back to my parents room, snuggling in between them once again. Then they'd carry me back. This went on for the whole night until my parents just gave up and let me sleep there. Now that I've grown up, I kinda knew why they wanted me out of their bed!
Time Left Alone At Home...
My parents and sister were out to somewhere, can't exactly remember where but I was alone at home nd my only companion were my usual toys and action figures. I got bored of playing with them after a while so I decided to make a house for them using only cardboard and construction paper.
(Don't judge me.)
I used a penknife for the first time and everything was going smoothly until I accidentally cut myself. It's not your usual small little cut. This cut was huge and pierced deep inside my skin. Blood was flowing out of my fingers like a tap that can not be stopped. I ran to the toilet without realising that my blood was all over the floor. Next thing I knew, my mom came back home and started screaming just because she saw blood. That was the last time I ever saw my penknife. Haha.
Day at School...
My first day in Ngee Ann will always be a classic story. I brought all of my orientation booklets.. including the one that came with a map. And yes, I got lost in Ngee Ann. I was supposed to go to LT 79 but it was not written in the map or anywhere! And I couldn't ask anyone. So I flipped my Ngee Ann map wide open in the eyes of everyone. It was embarrassing. I called Nadee in the end (cos she was enrolled there too!), panicking and asking her on directions to get to my first lecture. I was slightly late for lecture and then it was lunch. Everyone went on their separate ways and as for me.. I got shy to eat alone. Thank god (once again) Nadee called me asking if I wanna meet her for lunch. So yes, Nadee saved my life during my first day of school. I'll always be grateful. Haha.
Punished for doing something bad...
My parents always punished me for every single thing I did wrong. The worst was when they used a clothing hanger to spank my butt until the clothing hanger broke. And we were running around the house and I was so scared, I ran to the toilet and locked myself in there. And then i took a pee. My mom kept saying I pee-d because I was scared of her. But I seriously needed to pee at that point of time!
Childhood crush...
Her name was Nilam. In primary school we had this small little diary of ourselves that we pass around to each other so that people can write stuff about themselves in there. It was cool actually. Nilam was my classmate and I guess I thought she was pretty. I was shy and didn't dare to approach her.. not even a hello. And she was always with her inseparable little group of girlfriends. So one day, I did something bad. Together with another classmate of mine, I stole her diary just so I could read personal stuff about her. Little details about her favourite drink, movie got me excited. I'm such a stalker. I remember she was in a total frenzy when she found out that her diary went missing. She suspected that my friend took it so when we couldn't take it anymore.. we left her book in the library and told her we saw it there. She believed that she left her diary there. Things moved on from there and well.. the rest of the story? Well.. Not that interesting.
Experience with death...
I've had this feeling once and I can still remember it vividly.. even till now. As always, I was jaywalking on the road outside my house without bothering to wait for the traffic light. With my earphones on, I just jaywalked like as if I own the road. And there comes a car coming at full speed towards me. I wanted to run but for some reason, my legs stayed glued to the ground. I froze with my eyes wide open. Thank god the car stopped in the nick of time just inches away from me. I apologized and from that day on, I always always make sure that I wait for the traffic light to turn green before crossing the road... unless in certain cases when there's really no car in sight.
Great Accomplishment...
When I first saw my O Level results, I was ecstatic! I stared hard at the results slip just because it was hard to believe those were even my results! My form teacher was like, "Wow! Amirul. You did it. These are very good results! You've improved by 5 grades in most of your subjects!" I was proud of myself. All those late nights burning the midnight oil were worth it. And I even passed my Pure Biology paper, which I didn't bother studying for JSYK. Haha.
Labels: Random
Bought these 4 movies over at Nex last night, while I was out with Xin Mun just because they were dirt cheap (Buy 3 Get 1 Free; $6.95 ea at Laser Flair) and also partly because today was my off day, I thought of watching 'em all. Ended up sleeping throughout the afternoon. Haha! But
Sex and the City 2
was absolutely hilarious!
Labels: Random
(My cure for Monday Blues)
I'm gonna start this
Music Mondays
blog post from now onwards. My mind is like a jukebox. In times when I'm unsure of what song to listen to in my iPod, it'll just start playing any random song from any music artiste. And that artist / song.. will be part of my
Music Mondays
.
Being an obsessed fan of
One Tree Hill
and having watched the soap drama since my secondary school days, I must say that it definitely influenced my taste in music. I get to discover bands that I've never heard of such as
Relient K
(
Okay, so they're popular now. Big deal. They were quite underground back then.)
,
Athlete
,
Across The Sky
(Everywhere she goes is still a fine tune... even now!)
,
Angels and Airwaves
(Like i said, they were underground back then),
Aqualung
,
Augustana
(Boston will always be a lovely song),
Yellowcard
,
Red Jumpsuit Apparatus
,
Tyler Hilton
.. and the list goes on and on.
Peyton Sawyer
(Hilarie Burton from OTH)
believed that music saved her life and as I was re-watching past episodes of
One Tree Hill
, what she said remains etched in my memory. Funny how I could still remember what she said.. even till now. Why? Because I believe in her theory. I believe in her.
I believe music can and will save someone's life.
"You know, I've got this theory; There are two kinds of people in the world. There are lyric people and music people. You know, the lyric people tend to be analytical. They know, all about the meaning of the song. They're the ones you see with the CD insert out like five minutes after buying it, pouring over the lyrics, interpreting the hell out of everything. Then there's the music people.. who could care less for the lyrics as long as it's just got like, a good beat and you could dance to it. I don't know, sometimes it might be easier to be a music girl and not a lyric girl. But since I'm not, let me just say this: Sometimes things find you when you need them to find you. I believe that. And for me, it's usually song lyrics."


- Peyton Sawyer
The one band that still stays with me after all these years of teen angst:
Jack's Mannequin
. I may seem to have forgotten about them until I was watching
Alex Goot and his rendition of 'Dark Blue'
and that's when I realised,
"Hey I know this song!"
and in an instant I knew it was
Jack's Mannequin
.
Their two albums; Everything in Transit & The Glass Passenger
I was exceptionally pleased to find out that they had a new album just last year. Song after song, I was inspired. Inspired to do a lot of things. It's like this feeling you get when you rediscover a band that you loved so much in the past and you just wanted the whole world to listen to them. And that's when I knew, I have to blog about them. I must. My favourite songs
(it was hard to choose)
from them include
Mixed Tape
,
Dark Blue
and
Swim
.
"This is my mixed tape for her. It's like I wrote every note with my own fingers."
Hilarie Burton's appearance in the Mixed Tape music video just makes it all perfect. She is amazing. Mixed Tape is probably the song that you'll listen to from having the frustration of having the person you once loved (best friend, lover etc) becoming an enemy. I've been in this situation many times in Secondary school.. even till now; The situation of love turned to hate and having to deal with that change although it's hard and you try to believe that the person hasn't just changed but instead become someone else entirely leaving you wondering, "Where is that person I used to know?"
Thank you Jack's Mannequin for filling me with determination and hope and I hope you guys are reading this 'cos the world could do with more bands like you guys and less of those mainstream nonsense that has plagued our society today. On a further note, do drop by Singapore for a gig or something! You'd be surprised by the number of fans you have here. ;)
Labels: Music Monday
14th December 2010
- Marks another important milestone in my life; My Passing Out Parade as an MP. Okay, so it's still not the end... yet for another 1 year plus but it's a step and I'm getting closer there.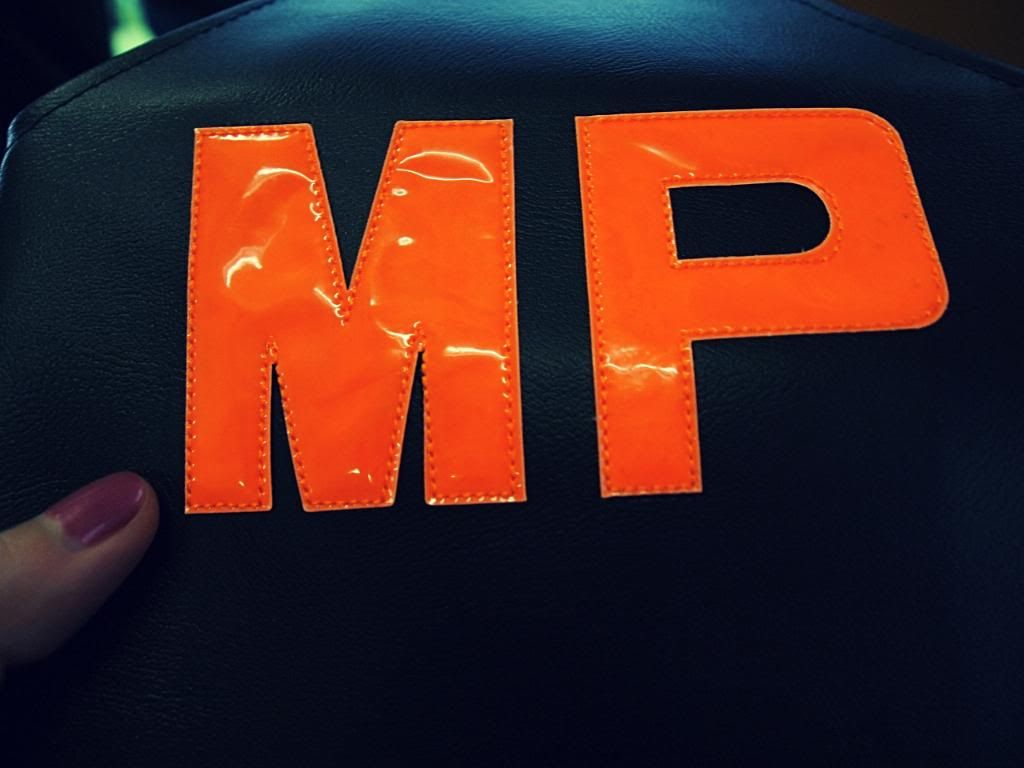 I'm glad to be posted there actually and I've never felt as depressed as I was during my BMT phase in Tekong, which was horrible to be honest. People were jealous of me. Some cursed me for being in MP. But I don't care. Hah. I've met some great people during my 9 weeks there and I'll definitely miss them now that it's over.
My family who are always showering me with their endless support and love.
My sister. Some of my coursemates thought she was pretty. 0.0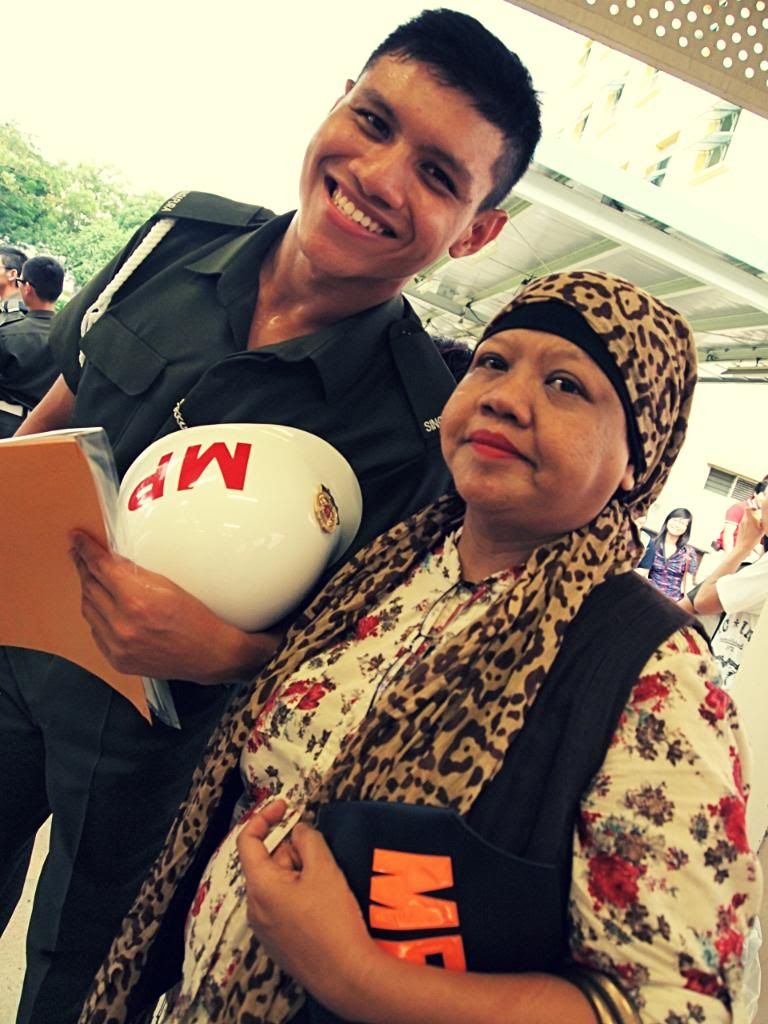 My mom. That day also happened to be her birthday!
Parents. ;)
Someone told me, 'Wherever you go, you will always have a bitch buddy.' I had a bitch buddy since Primary school and till now. He made my life as an MP so much fun tho I am still annoyed with him for not going to Brunei at the last minute. Hurr.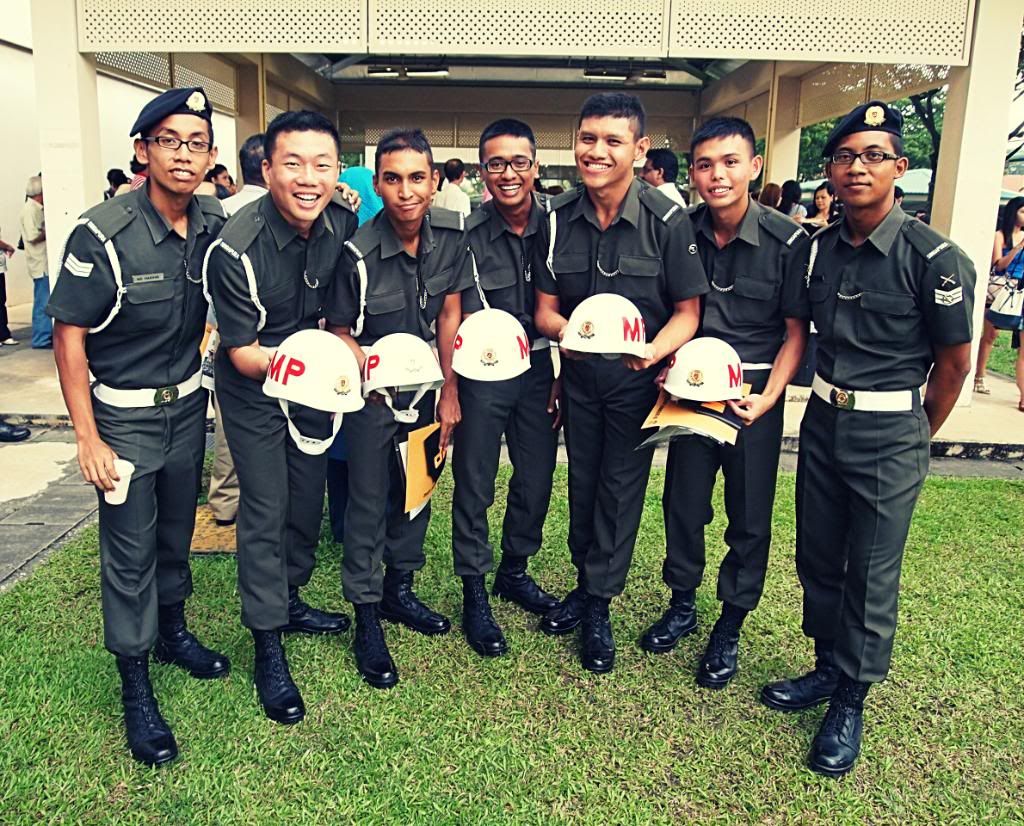 Section 4! I definitely won't forget each and every single one of them. Hopefully we'll still keep in touch with each other although this is over! I'll probably see them around since all of 'em got posted internally with the exception of Paris Hilton who wasn't in this photo 'cos he had HFMD. Oh dear.
17 JAN 2010 - 16 JAN 2011
(Yeap. I'm posted to an overseas camp for a whole year. I'm depressed. But I'll be fine. Though I won't be in Singapore for a whole year, I'll still be here blogging! Trust me. I know a lot of people are pretty bummed about me going there but I can't change it la. I'm gonna meet the ones I love before I leave, most definitely.)
Labels: Daily Musings