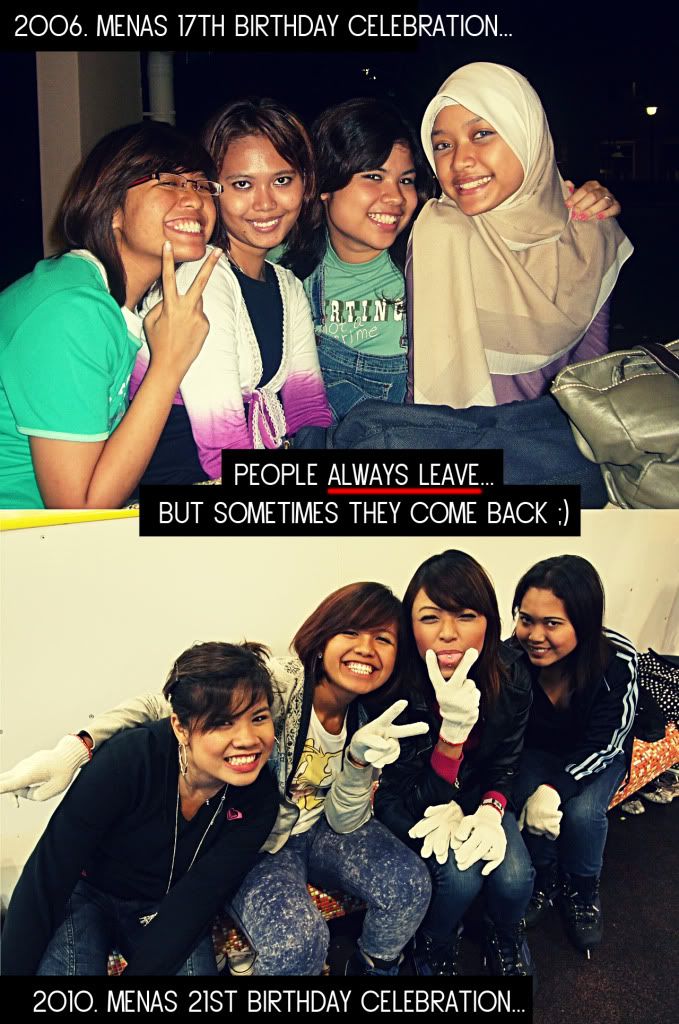 Far More - The Honorary Title
(Fave song of the moment!)
Our dearest Mena is gonna turn 21 in a matter of days and I'm quite excited for her. I was digging up old photos for blogging inspiration and I found the first photo (2006) above. We were celebrating Mena's 17th Birthday under her void deck. I remember all of us waiting for her to come back from work just so we could surprise her. Birthday cake.. Check! Presents... Check! Pizza.. Check! Our plan was set in place and we just needed the birthday girl to show up at the void deck. We waited.. for hours. Oh god. Then she came and started screaming, as always. Thinking about it now.. it's just a very nostalgic feeling.
The years that followed after that.. she went missing. In the beginning, I was quite confused about the whole thing.. like What happened? But I slowly put the pieces together and well, she had a huge fight with her bestfriend, my sister. I felt sad of course. I once bumped into her at Cineleisure, while I was out with my Mass Comm friends and till now, I could still remember what she said. She ran up to me, gave me a hug, then she said, "Amirul! Omg! I'm so happy to see you! I just want you to know that although your sister and I aren't on talking terms right now.. you'll always be like a little brother to me. Always remember that." And yes, I still remember.. till now!
Every single time I entered my sister's room during that period of time, she still had photos of herself and mena up on the wall.. in the photo frames. As tempted as I was to ask my sister, "Why do you still bother putting up photos of Mena when you fought with her?" i decided not to. My sister, she's amazing. Whenever I looked at her, I see a girl who never ever lose hope in anything at all despite her being a total mess with the incidents that followed after that. I think somehow she knew that Mena was a big part of her life back in Secondary school and she somehow believed that Mena and herself would come together once again. I thought she was silly for thinking that way.
But sometimes... They come back. ;)
2009. Mena came back into our lives once again. Don't take this the wrong way darl. To be honest, I was quite annoyed when she came back. I was happy with our foursome - Amira, Hannie, Nadee, myself. It did take me quite some time to get used to Mena like how it was in the past. I guess these kinda things needed to take time.
Time passed. And now I can never imagine us being without Mena anymore. Mena was like another sister to me (all of them are!) She's the life of the group.. the blonde sometimes. Heeehee. I'm pretty sure everyone else feels the same way too. I'm happy she's back, I really am!
I love all of you girls btw.
P.s Just don't ever leave again! Or I'll smack your head!
Labels: Daily Musings