The Fasting Month is

FINALLY OVER!

30 days of fasting is no easy feat. It takes a whole lot of determination, motivation and endurance - the qualities that I'm lacking. HEH. (But at least I fast-ed more than last year! Will aim for the big 30 next year!) But it seems that the 30 days whizzed past us this year. Its so fast!
I'd be lying if I say that I am very excited about Hari Raya tomorrow because seriously, I am not looking forward to it. I'm only looking forward to the moolahs that I'll be receiving from my friends (*coughes those who are working *coughes) and my relatives so that I can save money! (And a little bit of shopping lah. Heh!)
Oh and yes I received my exam results yesterday. Pretty nerve-wrecking I must say to be woken up by a stupid sms from my school. I'm feeling contented and satisfied with my results. I just wished I could convert all of my B+ to an A. And my GPA would be so much better eh?
Anyway, during the fasting month, I had dinner with a bunch of my awesome group of friends! I was at Fish and Co with Jarrel, Leeling and Ray. Then I also had dinner at Breeks with the gang - Nazri, Amira, Nadee, Zul, Farhan. And last but not least my Mass Comm classmates - Noh, Irma and Feeqah. They're all amazing people and
click read more if you wanna see photos and if you want to know the verdict of the tagboard.
1) Dinner at Breeks!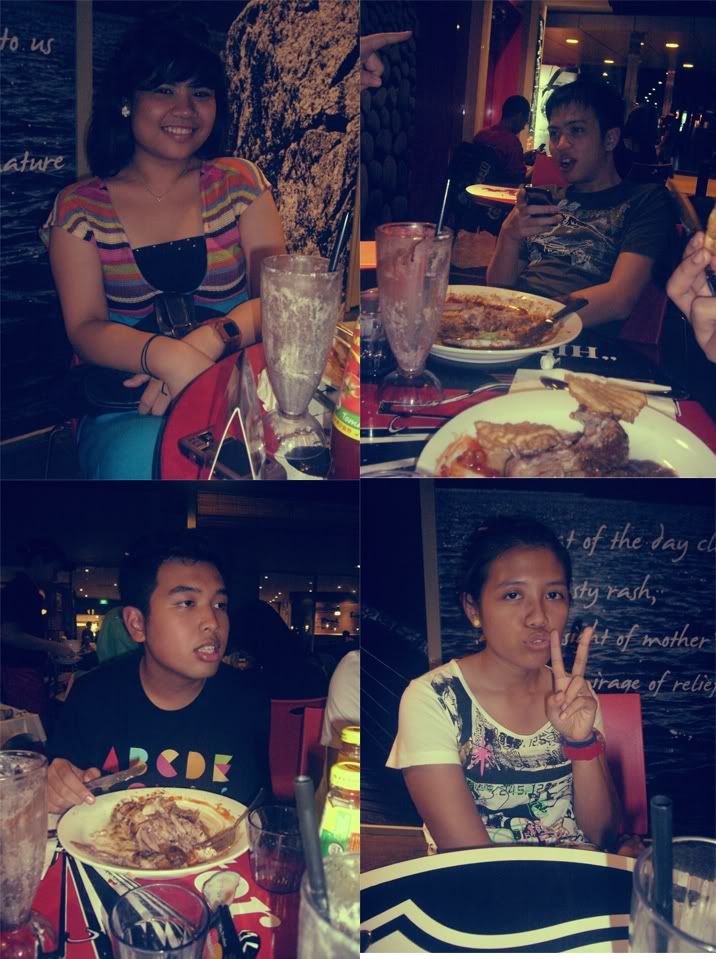 The four that came. (Amira, Nazri, Zul and Nadee)
I'm not gonna begin with the disgustingly bad service that we had at Breeks Marina Square. It totally ruined our dinner. No amount of ice cream or brownies can make me feel better. My food was served so late, even the soup! But we still enjoyed ourselves at the end of the day.

After dinner, we headed to the Comex IT fair at Suntec City! I bought quite a few stuff such as the mobile phone charger and also a Wacom Drawing Tablet, on another occassion. Nadee bought her wireless router. And there was also the usual teasing of Nadee and her imaginary boyfriend with the fantasies. Haha!

Can't wait to hang out with them again!

2) MadJacks with Mass Comm mates!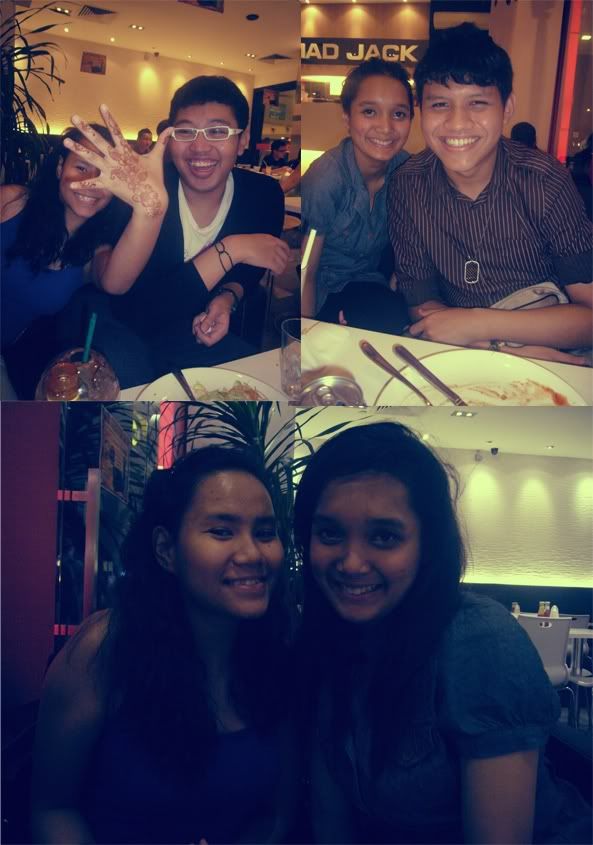 Irma, Noh and Feeqah. :D
Actually this was planned by Noh. Haha! During the hectic school schedule, he randomly asked me to ask the rest to have dinner and break our fast together. Kiki and Aini were invited too. Aini couldn't come as she was in Vietnam (I want presents, okay!) and Kiki was grounded by her mommy. Haha!

Being the fickle-minded person that I am, I could not decide on what to order. Settled for the chicken chop at the end of the day, which was quite yummy! Irma treated me to a Starbucks drink and my drink at MadJacks! So nice of her!

And I'm happy that Feeqah was there. Omg! I miss her la! The last time that I met her was really two years ago! Then she had a boyfriend and decided to lose all forms of contact with me. Annoying right, this kind of people?

Noh came late but it doesn't matter. Haha! He's the one with the car! And after dinner he drove all of us to Geylang to window shop and Irma bought her clutch handbag. Oh and he sent me home too! Thanks Noh! So nice of you!

P.s Don't start talking about my hair. Seriously.

3) Fish & Co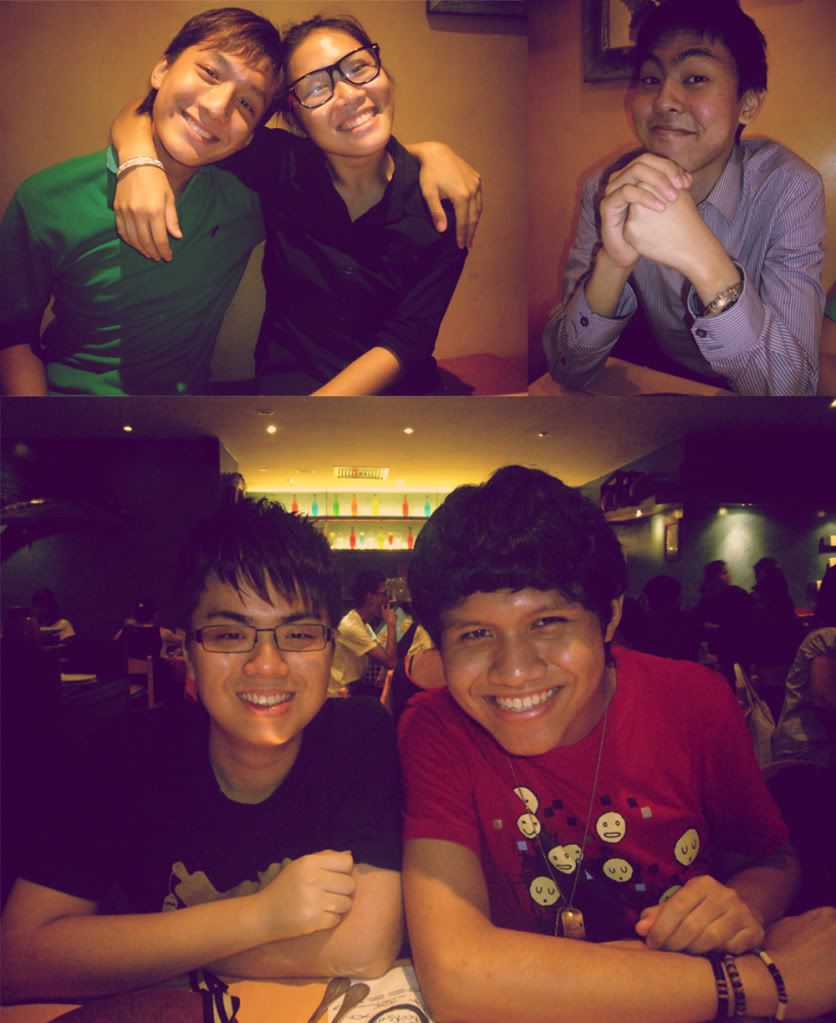 While waiting for our food. Nat, Leeling, Jarrel, Ray and yours truly.
This was probably my last dinner with Mr Jarrel Tan before he flew away to Hong Kong (I want presents!) He kept on repeating the fact that I'm fasting and EVERYONE had to wait for me. Annoying.

Before this, we were at Haji Lane browsing through clothes and bags. I wish I can go for a Halloween party this year! Oh and Leeling just told me that her mom thought that she and Nat were an item. Haha! She's so funny la!

After dinner.. we were at Starbucks!



I brought my poker cards and we had so much fun playing Bluff! and Heart Attack! Heart Attack really gives you a heart attack! Haha! We made so much noise while playing this game. hahahaha! Can we play this again? And we kept on playing the game although it was time to go! Haha!

Oh and Jarrel could do the cadbury eyebrow dance! Omg!

P.s I'm already missing Jarrel and Ray and Leeling! Aaah! Haha! If you're reading this, we need to go clubbing together one day okay! Before we get thrown into the hell hole they call National Service!

P.s I have decided that I will include a small tagboard in my next blog layout. The new blogger layout sucks ass, so I am reverting to my old layout style. Look out for that!
Labels: Daily Musings