As seen on:
The UrbanWire
The Saturdays Shake Things Up!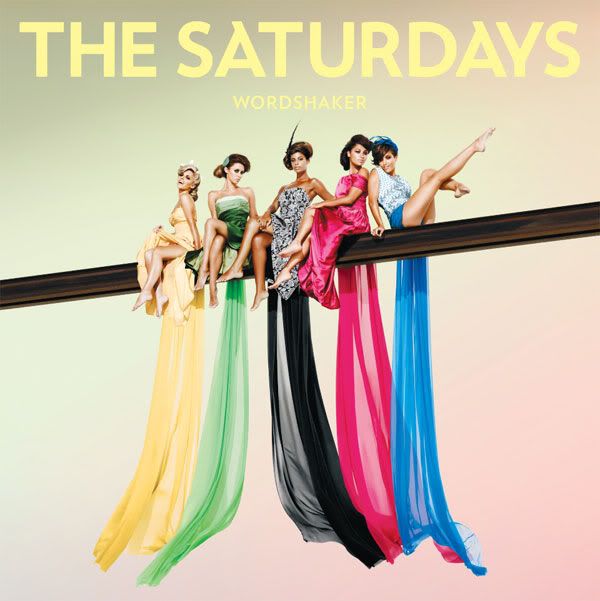 Naming themselves after a day of the week, platinum-selling 5-member
The Saturdays
is finally back with their second album,
Wordshaker
, and they're on a mission to establish themselves as one of Britain's biggest girl group in the decade.
It seems that Lady Luck is on their side this time round, as their competitor
Sugababes
is imploding due to their recent change in lineup while
Girls Aloud
, on the other hand, is on a short hiatus. Keeping our fingers crossed, we hope that The Saturdays will make the best out of this situation to finally score their first number 1 hit and possibly a number 1 album.
The Saturdays are famous for their catchy dance-pop tunes such as
"Up"
and
"If This Is Love"
and it's very surprising to find out that the girls take on a bolder and brasher offering on their sophomore effort, sounding more confident and edgier.
Take
"Forever is Over"
, the brilliantly-produced first single of the album, which was originally intended for
Kelly Clarkson
. It left many fans worried and questioning the new direction that these girls are taking – pop rock and brimming with attitude. However, fans would be relieved to hear that The Saturdays are standing by their original dance-pop genre for the rest of the songs. Nevertheless,
"Forever is Over"
was successful on the UK charts as it debuted at number 2, making it their sixth top 10 hit.
The girls also proved that they aren't afraid to spice things up by showing off their fierce and sassy attitude, especially on notable tracks such as
"Ego"
, "One Shot" as well as UrbanWire's favourite, "Wordshaker". The title track sees the group experimenting with different sounds and it's one screaming to be a hit. In the song, the girls describe a fickle-minded guy as a
"Wordshaker"
, someone who twists the truth by saying one thing and doing another. The track is highly infectious with its addictive hook,
"You such a wordshaker/ Talk and you take it back/ Twisting turning
".
The Saturdays also bring a refreshing side, especially on noteworthy ballads such as
"Here Standing"
and
"Deeper"
for which they were given writing credits. Both numbers sound sincere and heart-felt, exuding a fresh experience for your listening senses. In the song
"Deeper"
, the girls talk about going
"deeper and deeper, head over heels"
about a certain guy "hoping its for real this time" round.
Although the girls need some work on their ballads, the album makes an enjoyable listen from start to finish, with the perfect blend of various up-tempo and mid-tempo jams, which makes it more impressive than their debut album. Don't belittle The Saturdays, they may still be a new girl group but they've constantly proved that they're in a league of their own with a distinct and individual sound, setting them apart from others like Girls Aloud. This album didn't disappoint and it definitely sounds as good as it looks.
Get ready to shake up the entire room with Wordshaker.
Standout Tracks: "Wordshaker," "Here Standing", "Deeper", "Ego", "Forever is Over"
Labels: Music Review, The Saturdays