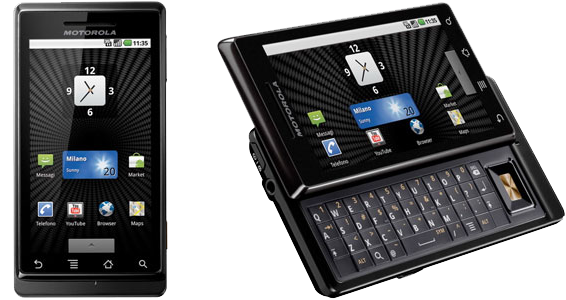 The Motorola Milestone!
*I actually did a video. But I'm having problems uploading it since last night. Can anyone help me out?
As mentioned in my
previous post
, I'm elated that
RippleVox
chose me as one of their 20 Trialists for Motorola's first ever smartphone,
The Motorola Milestone.
Just so you know, The
Motorola Milestone
was released in SG on the 27th of March BUT I was invited to attend the private launch party of the Motorola Milestone held at Pan Pacific's Stereolounge.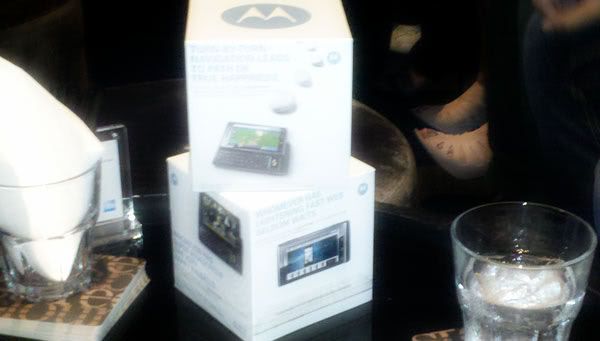 At the private launch party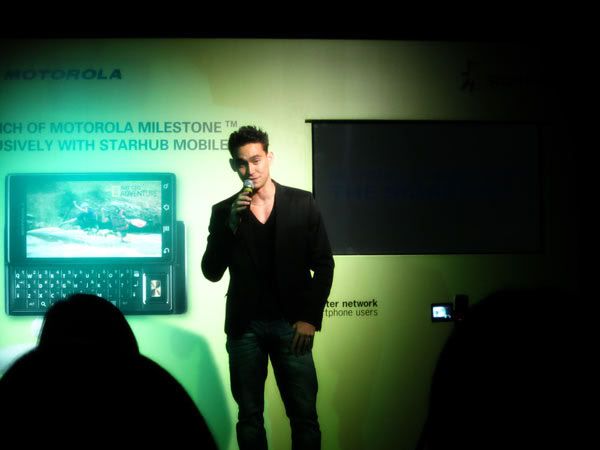 Paul from Polo Boys
The event was hosted by Paul from Polo Boys, perfect eye candy for girls who attended the event. I didn't know I could bring a friend along, otherwise I'd have brought em. I'm sure they would have loved the open bar..right girls?
(Free Drinks. Heehee.)
So we finally received our new phones. I was totally psyched that I began unboxing the phone right away! Being the
'Tech Noob'
that I always am, I was clueless as to modifying some of the phone's settings like importing contacts from the SIM card and changing ringtone. But I finally got the hang of it while listening to the briefing! It wasn't that hard! Haha!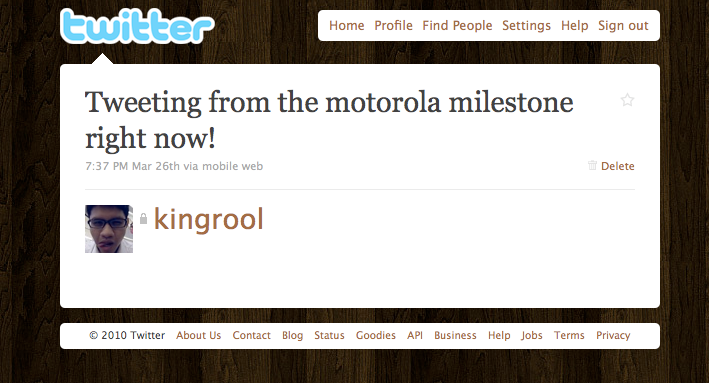 Yes. I was really excited and first thing I did? TWEET!
My first thoughts about the Motorola Milestone
Upon receiving the phone, I was actually pretty pleased with the design and concept of the phone. I love the design interface and I can even create folders within my Home Panels to store my various applications! It's very chic and professional looking. Moreover, it has a
QWERTY
keypad, which gave me the sense of feeling like I'm Blair Waldorf from Gossip Girl! However, I just wished that the keypad wasn't very flat and more 3D-ish so that it's easier to type messages and emails.
I extremely love the display interface for the Motorola Milestone. It's very bright and very clear. And I love my new wallpaper too.
(Just cos it's Victoria Beckham!)
Since the briefing, I have downloaded about 80 applications into my android phone. I'm a social media whore so I made sure I have an application for
Twitter (Twidroid), MSN (MSN Droid) and Facebook
. I can multi task with this phone and do a lot of things at the same time. I tested the response rate for MSN messages and it's instant! You'd really be surprised at how fast this phone really is.
Oh and the phone has this
crystal talk setting
so your friend can still hear you perfectly clear (like crystal) when you're talking. My friend called me while I was at the briefing and although the music was quite loud, she could hear me loud and clear! The person who thought of this -
GENIUS!
The downside of this phone upon first impression was the battery life. Being the social media whore that I am, I use the various social applications whenever I'm out and about and the battery could last me for an entire day at best. I don't know if it's the applications that's draining the battery or if it's just the battery itself. However, I am able to check which applications on the phone consumes the most amount of battery AND
charging up the phone only takes less than 1 and a half hour!
That's a plus point!
Hopefully I'm able to find a solution to reduce battery consumption in my next post!
Another thing that really annoyed me was my own fingerprints. I had to constantly wipe the display using my cloth so that there are no fingerprints. I'm fussy like this because I like my phone to be clean and shiny all day long with minimal cleaning needed.
But apart from that, I'm extremely pleased with the phone! It's been working fine and I have yet to encounter any major problems at the moment.
Satisfied with the Motorola Milestone phone!
P.s This post is part of a RippleVox trial and I am in no way affiliated with Motorola
.
Look out for my next post which I'll be writing more in detail about the functionalities, Various Applications that I'm using and the technical specifications of the phone itself!
Labels: Advertorial, Ripplevox