(Extremely talented Singer-Songwriter a.k.a a former teen pop star)
There's just something that I find insanely hot for girls who knows how to play the guitar. I had my first girl crush on the talented Michelle Branch back when I was 13-years-old. At that point of time, she just seemed like the perfect girl.. with the guitar and all.. and I did kinda wish that my future girlfriend would be somewhat like her. She was the main reason why I decided to pick up guitar lessons just so that I can sing and play her songs just like her.
As inspired I was by Michelle Branch, her songs got me through all those tough times and teen angst that I had as a struggling teenager. Heartbreak, Friendship problems and even the loss of someone that meant a lot to you in your life. Thinking about it right now, yeah I was such an immature brat. I first heard 'Everywhere' playing on the radio everywhere and that's when I knew 'I've gotta get her album.' I got her album and spent the rest of the week starving during lunch break. Worth every penny? Yes!
Michelle Branch
has actually released three solo albums
(Broken Bracelet, The Spirit Room and Hotel Paper)
, one album as the famous Country duo
The Wreckers
(Stand Still, Look Pretty)
and most recently, an EP
(Everything Comes and Goes)
that showcased her as a Solo Country Artist. Out of the lot, my favourite album of hers is still
The Spirit Room
with crazy infectious songs like
Everywhere
,
All You Wanted
,
Goodbye To You
. After all, that was the album that got her nominated for a Grammy, yes?
Many people still have yet to hear of her very first album,
Broken Bracelet
. You'd be surprised that she actually did more Rock stuff down there. (
Listen to Paper Pieces
)
Michelle Branch
admitted that she was embarrassed of the songs she used to sing when she was very young
'cos it sounded very immature with the cheesy lyrics'
. Listen to
Hold My Heart on YouTube
.
(When you hold my hand, you hold my heart.)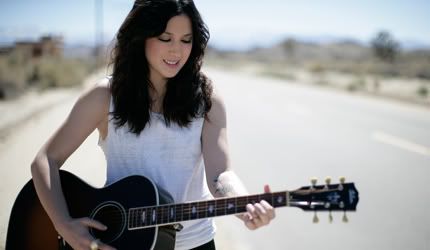 I was most disappointed when she decided to crossover to Country Music and that's when The Wreckers was formed. But my disappointment quickly faded when I heard their new songs and I knew that the old Michelle is still somewhere there... just that she's singing songs with more of a country twang to it. After all, The Wreckers were a huge success for Michelle, as it got her nominated for another Grammy Award.
I'm glad that she has now decided to go back to her Pop roots once again (great news to all her fans!) because that's the Michelle we all fell in love with right from the very beginning and she should stay that way!
Here's my favourite song from
Michelle Branch
(also her biggest hit so far) called
'All You Wanted'
. No thanks to copyright issues, I am unable to embed the music video but this is an acoustic version of the song. Definitely brings back memories!
Call me crazy. But when I first heard the song, I did not think that it was not about a boyfriend/girlfriend relationship. Honestly, I think that
Michelle Branch
is singing about wanting to help a good friend of hers who'd gotten depressed, feeling lonely (not having anyone else to turn to) and completely lost in the world.
If you want to
I can save you
I can take you away from here
So lonely inside
So busy out there
And all you wanted
Was somebody who cares
Looking at the lyrics now, I can still somehow relate to it. Love you Michelle. Man, I wished she'd come to Singapore to perform for a gig or something.. you know I'd be first up in line!
Labels: Music Monday