OMG! I'M ON BERITA HARIAN NEWSPAPER!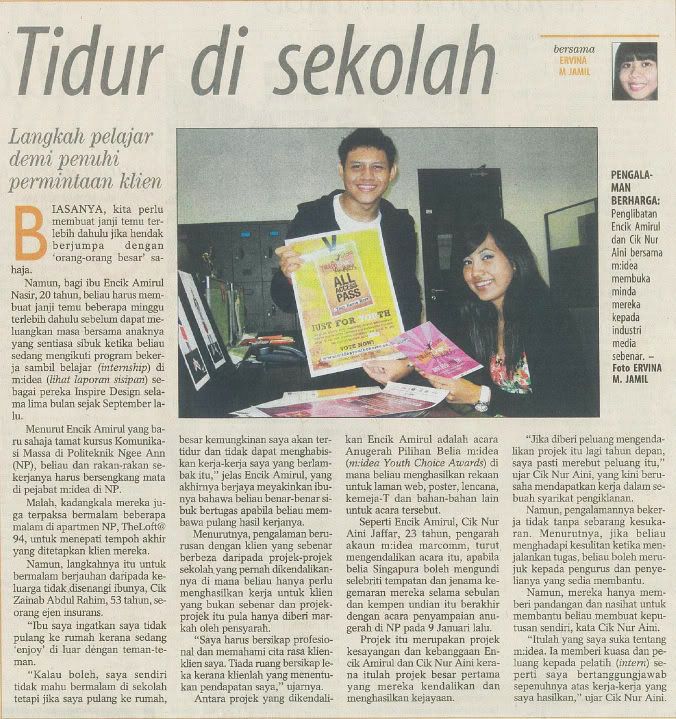 PAGE 10 OF TODAY'S BERITA HARIAN NEWSPAPER! Betol nyah! Tak bedek! Believe!
Apart from the very
WTF
headline, this is actually a pretty decent story featuring my minah, Aini and I! Oh who am I kidding, I barely understood half of the story until Aini explained the whole story to me.
The article mainly speaks about my contributions to my internship company,
m:idea
and reading it pretty much reminds me of the sufferings I had to face within the past year. Not having enough sleep. Juggling between 10 design projects all at the same time and sleeping in the school's loft apartment and not going home. Crazy, right? And then there's also the
m:idea youth choice awards
, in which ALL (mostly 99%) of the event collaterals are designed by me. I can't live like that. Haha!
But I'm still disturbed by the title.
"Tidur Di Sekolah" = "Sleeping In School"
? Ape kene mengena ni? I don't sleep in school..
(innocent face)
The moment I woke up,
(I CANNOT EVEN SLEEP IN PEACE YOU KNOW)
one by one people started smsing me, "Amirul you're in Berita Harian!". And when my sister woke me up to tell me, i told her, "Don't have la! The writer never tell me!" But I was wrong. Nyehehe
Okay this article - good or bad - is gonna be framed up inside my room for sure!
Labels: Berita Harian, Daily Musings