After playing around with the
Motorola Milestone
for almost a month now, I feel like I am probably a pro at using it right now. Hailed as the smartest smartphone out there in the market right now, I really hope I won't be disappointed with it though.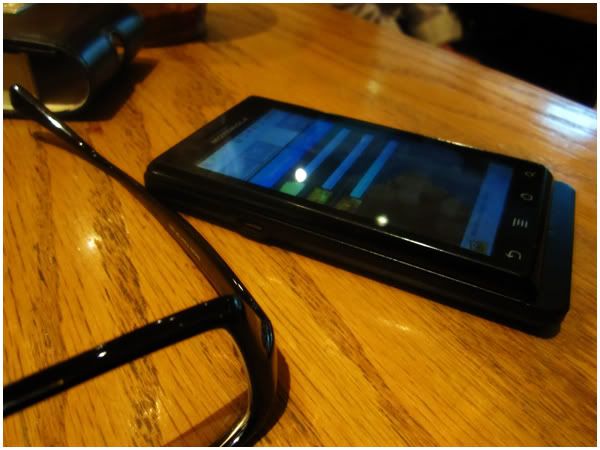 The design still amazes me every single time I look at it.
I've probably mentioned this a million times but I don't really care. I love the way the
Motorola Milestone
is shaped and built. It gives the phone a very professional look and feel without compromising any of its functionalities.
Here's what I love about the Motorola Milestone
1. Internet Browsing & Multi-touch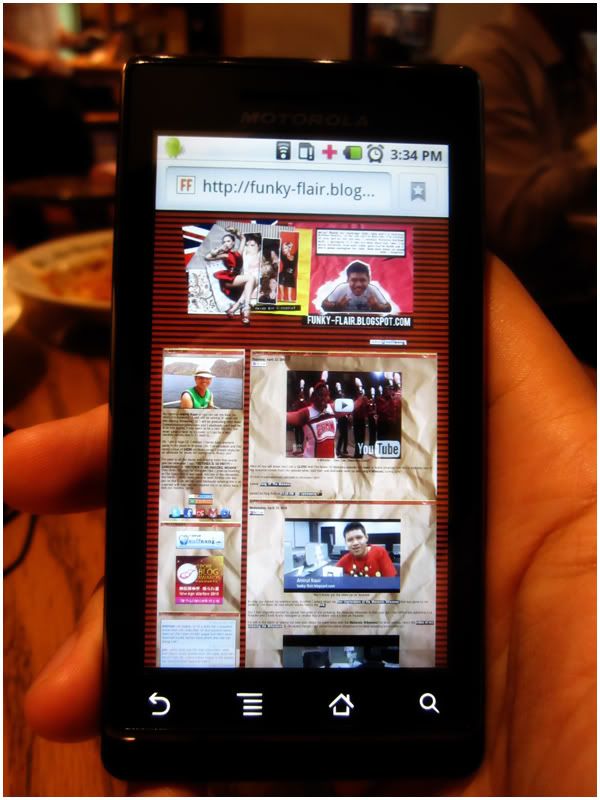 I love viewing my blog on my Motorola Milestone.
The size of the screen makes viewing websites super comfortable!
I was really impressed at the speed of the phone, especially when I am using it to browse the internet. It takes
seconds
mili-seconds to load a webpage. Although it does not have the multi-touch effect, I could still zoom in on the site by double tapping on the screen. It all boils down to the user's preference though.
2. High-resolution Home Screen Display & Folders to keep your apps organized!
And of course, my wallpaper just had to have Victoria Beckham.
Another favorite aspect of the phone that I really loved was the
AMOLED
display of the Home screen. I was really impressed at the high-res quality of the screen. I uploaded one of my largest photo of
Victoria Beckham
, set is as my wallpaper and it looks
super sharp
and the colour details are really amazing!
Just so you know, unlike other phones out there, the
Motorola Milestone
can only have up to
9 Home screens
. However, to make up for it, you can create useful
folders
to dump your apps. I love this function as it keeps my home screen organized and neat! Just the way I like it!
3. Directional Pad & QWERTY Keyboard makes typing messages so much convenient and fun!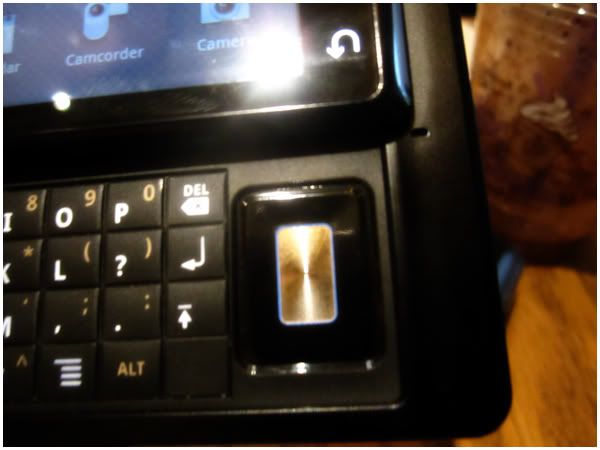 The D-Pad. Not to be confused with the other kind of pad you girls use though. Haha.
Many would find the directional pad to be a hindrance and would expect it to be replaced with a bigger keyboard but i disagree! I actually like the D-pad. And it is extremely useful when I am typing out my email or smses, whenever I make a mistake! It is also useful whenever I am playing my own games. Haha! Especially those RPG games and it makes for easy movement.
The
QWERTY keyboard
is smooth. But I always make a lot of typo though! Now, if only the keypads have a bigger bulge to it by the side. But then again, I don't really mind because what matters most is that it works and it is definitely one of the best mobile
QWERTY keyboards
I've used so far.
4. With 5 Megapixels Camera & Camcorder function, there's no need for you to bring your digital camera when you're out!
Supports location tagging and upload to your favourite social media (Twitter, Facebook, Tumblr) in just a single click!
I also tried out the Camera and Camcorder function of the phone. Having a
5 megapixels camera
with flash installed on the phone is pretty nifty. And I love it! It supports location tagging so I can remember exactly where I took a picture when I'm outside!
Plus, I can upload the picture almost instantaneously! This is a
MAJOR PLUS
for me. Because it syncs to my Twitter and Facebook so I just have to click
UPLOAD
and you'll see the photos in my social media within seconds!
5. A lot of the Android Apps that you probably need are FREE!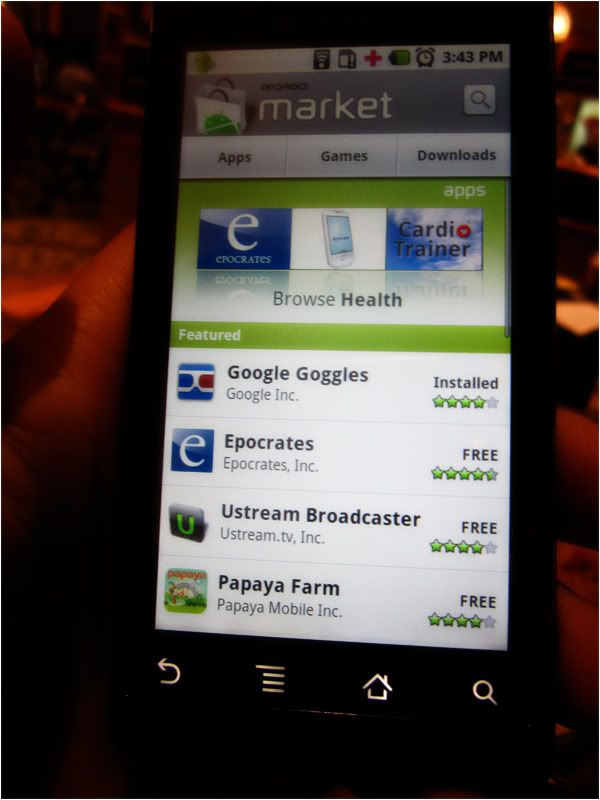 Easy navigation on the android market!
Next, I just can't help but to check out the
Android Marketplace
for free apps for my phone. After all, What good is a phone without any applications, right?
You'll be surprised to find out that most of the paid apps that you find on the iPhone such as Shazam are actually free on the Android Market!
Major plus! Vital apps that I need would include, Twitter, Facebook and MSN. Apart from that, I downloaded quite a number of games to occupy my time when bored. So for those android or potential
Motorola Milestone
users, I have come up with a list of Apps that you might find useful.
With an android phone like the
Motorola Milestone
, you can be assured that purchasing your phone apps will never burn a huge hole in your pocket!
1. Twidroid
- To check my tweets on Twitter! Highly Recommended!
2. MSN Droid
- Log on to MSN on the go!
3. Facebook
- Self-explanatory!
4. SBS Next Bus
- To check the timing of the next bus arriving!
5. Advanced Task Killer
- Very important! To force close stubborn applications!
6. FX Camera
- Useful app when taking pictures!
7. Starhub TV
- I'll never miss another TV show with this. :D Sure there are not that many channels at the moment but this will definitely perk you up on the train or on the bus when you have nothing to do. Plus, it's also available on the iTunes app store also! You should check it out if you haven't done so!
I do have one slight problem though. There's very very limited apps on the android market so I kinda got bored after a while. Here's hoping for more apps on the android market though!
As much as I love the Motorola Milestone, there were several problems that I encountered and I shall list them below.
1. It is not Macintosh Friendly.
This was and still is probably one of my biggest disappointment from the phone. I am a
Mac user
and there is no way in hell that I will convert back to being a Windows user. It's hard for me to sync photos, music and ringtones from my Macbook to my
Motorola Milestone
since there were no applications given (on the cd/ internet) that can help me sync between both devices.
As a result, I ended up using the
Bluetooth function
to transfer everything I needed from my Macbook to my Motorola Milestone. Troublesome, yes I know but it gets the job done quickly.
However, there are certain applications online
(unofficial and I do not recommend)
that you might want to use to sync both your Macbook and the
Motorola Milestone
. You can download
Salling Media Sync
if you're a Mac User but I just found it troublesome and time-consuming. Motorola needs to come up with a Mac Application of their own and once they do that, I'm pretty sure that will lure a lot of Mac users out there!
(myself included)
2. My android applications loves to Force-Close on their own.
It's like they have a mind of their own and refuse to listen to me. Yes, I love that it can multi-task between applications and while I'm playing a game and halfway through it, I get an sms from a friend and it will force close. Crazy!
Same thing happened while I was listening to music on the headset. It force closes randomly and I'd be shocked and surprised thinking that my phone got stuck when all that happened was that it force closed.
3. Bluetooth pairing can be a problem most of the time.
Sure the bluetooth could be a problem. For instance, I had difficulties pairing the
Motorola Milestone
with my Macbook. However, I managed to find a solution to this. I did some research online and found out that all I ever had to do was to install this Free Android App called
'Bluetooth File Transfer'
and Bluetooth is not a problem at all!
4. Battery Life is so short! No percentage indicator of the battery remaining!
For those that find charging up the phone every single day a big nuisance
(just like me)
will probably not like the phone. Granted the first week it died very very quickly just because I was always downloading new apps but by the second and third week, I sorta got used to it. But I feel this could be better had there been an indicator of how many percentage is left till the phone goes dead.
5. Android Performance is average.
The moment I got the phone, it was very very fast. But as weeks passed by, it started lagging crazily slow probably due to me taking up a lot of the memory with my photos, music and videos. I had to constantly delete files from my phone to make it run faster.
So the final question remains.
To buy this phone or not to buy?
Even I had this dilemma of my own because it was so tempting for me to get it after trying it out for one whole month! Everyone has their own opinion about this phone but as for me? I shall reveal about my final summary about this phone in my next post! Stay tuned!
Labels: Advertorial, Ripplevox