As of late, I have been staying at home... slowly rotting away. Okay, not really. I had to do household chores. And you thought that I was a spoilt brat who doesn't bother to do any household chores right? Hah!
Went out with the two Anak Ajmans earlier. Just so you know, I was really craving for Ramen Ten okay! Haha! But we ended up eating at
BBQ Chicken
. I don't really know why that place is such a favourite amongst my pals but still, it's not bad.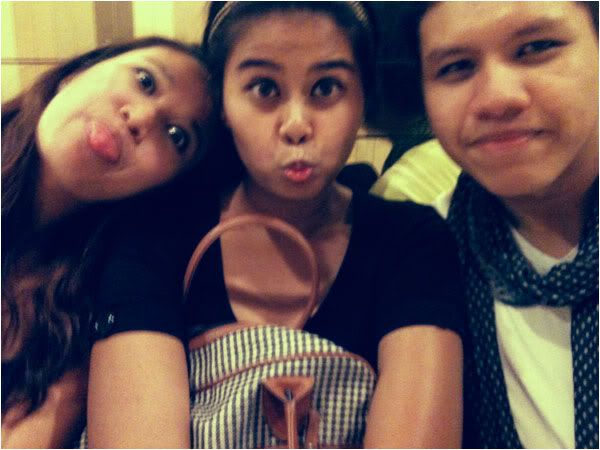 The two crazy Anak Ajmans and yours truly. iPhone camera really suck balls.
Of course there had to be some discussions about vaginas and penises whenever I meet either Aqilah or Kristel. I keep on thinking that one day I'll be a lonely old man without any kids of my own. So, I conveniently told Aqilah (the same thing that I told Kristel),
"If one day, I have no wife but I want babies, can i donate my sperm to you? And no, not by fucking you. That'd be fucking disgusting. Eek! Just put the sperm and go!"
And all the weird reactions from her started coming, as usual. For example,
"What if my mom ask me whose baby? And I reply its yours? But we never fucked? And i'm carrying the baby just because you wanted a baby?"
HAHAHAHAHAA. I never thought of it that way though.
And that stupid minah is going on a holiday tomorrow. For someone who's going for a 2D1N holiday trip, that girl is definitely more paranoid than me. Ahh whatever, I just want to go for my Overseas Trip to Australia next weekend! Absolutely can't wait!
Talking about Australia, I am starting a
"Amirul's Shopping Fund"
for my shopping expenses in Australia! Any amount of donations will be greatly appreciated! I really hope there's a lot of shopping to do down there though!
Sidetracking, This macbook of mine is driving me insane. I can't do any design work at all. I need to upgrade the memory now, which will cost me about 300$? Sigh. I shall think of it as an investment!
And I need to sleep now. I have a long day tomorrow. Goodnight!
Labels: Daily Musings