One could probably say that I am taking my short holidays to the
extreme
level -
Meeting up with my friends for a good time almost every single day till late nights and going back home at wee hours in the morning, Overseas trips to Phuket and Australia, Clubbing on weekends, Swimming and exercising on certain days and then there's window shopping
, which I can't resist doing just because it makes me happy and I end up buying stuff I don't need impulsively.
Just two days back, I was out with my fellow
'Mass Commers' (@jarrelt @kingrool @bchee @sadyn @sahiraa @almostlikesushi)
belonging to 3 different generations. I love how twitter made all of us super close with all of our constant random flailing about
Adam / Kris / Other random stuff
and for that I am thankful that god created Twitter...
indirectly.
:p
Thank you
@bchee
for the Autographed Adam Lambert Cd. I would hug you but you don't do hugs, so it's your loss. And also
@sahiraa
for passing me the
Flaunt Magazine
! Zomg. Adam is so sexy!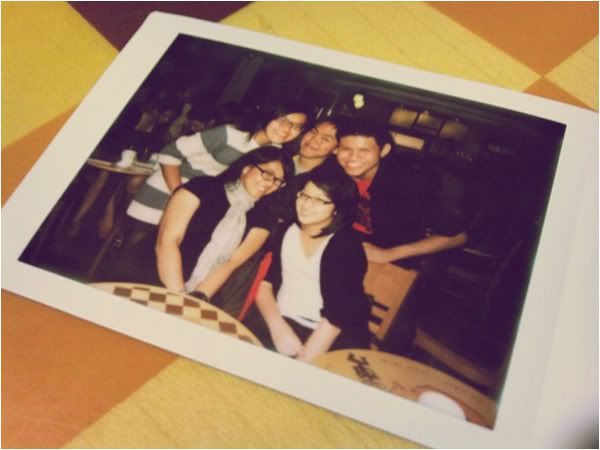 The bunch of us (w/o Sammie cos she left already by then. :( )
I really want the new Polaroid tho.
We had dinner at the
Sakura
outlet over at
Far East
while
'Foursquare-ing'
and tweeting along the way. Look at what technology has turned all of us into - A bunch of kids super obsessed with twitter and
foursquare (an app on the iphone that tells your friends the location of where you are at)
After which, we headed to chill at
Starbucks
. Somehow, it just reminded me of
'F.R.I.E.N.D.S'
, you know when a bunch of friends just hanging out at their favourite cafe. A lot of molesting was involved though. Sahira's very own macbook pro was the victim
(I'm sorry!)
and all of a sudden, it was back to year one all over again and began the
'Photobooth madness'
and shameless camwhoring. Don't judge us, though.
And there was plenty of R-21 talks that are not suitable for your reading pleasure. Haha! For example, those 3 girls were drooling over
Kris' Allen's shirtless photos
then there was the talk about the bulge and the package and yeah you get the drift. Haha!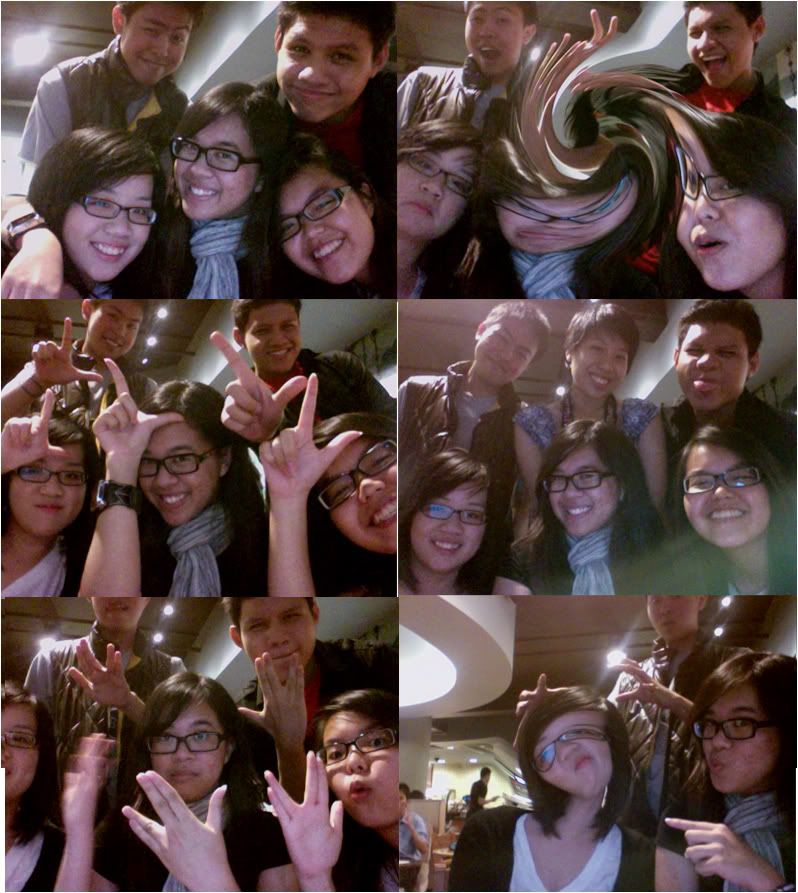 1/10th of the Photobooth madness
Mass Comm people are fun, yes? Haha! I loved hanging out with all of 'em. We need to meet again soon! Omg I just remembered about our Disney Marathon! Yes, please!
And it was only a few hours ago that I met up with my secondary school friends of almost 8 years now for Sushi!
(lol, yes, you can say it again, sushi!)
To be honest, I actually forgot about this because we set the date like 3 weeks ago or something but it was still awesome! Both of them just got back from their overseas trip at Hong Kong though. I'm filled with jealousy right now because Hong Kong is definitely one of the places I would love to go to - Just for the shopping!
At Sakae Sushi!
The sushis were excellente.. although I think I'm starting to get sick of Sushis after eating it for like almost every other week. It's insane! But I really love the
Wakame Udon
. Slurps! Yummy! Or should I say, Oishi?!
Both of them were so nice to have bought me some souvenirs from Hong Kong and Taiwan!
Jun Jun
bought me a T shirt that has the Chinese character of
"Bad boy (I am not)"
. Aww I think it really complements my personality! I am a good boy!
Qiu Ling
, on the other hand, was slightly naughty. She gave me colouring pencils and a lollipop, which I was actually excited about! I was almost in the midst of opening the wrapper until she told me it was a
Condom
. I was stunned for a while. Haha!
I got for them the small elephant pouches from
my trip to Phuket
, the
MYCA
badge
(I promote!)
and also the
HYPE
magazine that I had a part in designing during my internship
(I promote!).
Oh and the game of Shoot, Shag or Marry! never gets old, does it?
After the satisfying meal, I accompanied the both of them for their job interview though. I really hope they get the job though!
Qiu Ling
promised to treat when she gets her first pay! I am excited for that! Which reminds me, should I get a part-time job? I need the money for shopping!
And the rest of this week is gonna be a busy one for me. I can't remember who I'm going out with from tomorrow onwards but yeah, I think I'll be reminded at the last minute.
P.s I hope my money from school gets deposited into my bank by tomorrow, please! I need the money for my trip to Australia!
Labels: Daily Musings